Meghan Markle & Prince Harry Are Replanning Their Honeymoon For This Scary Reason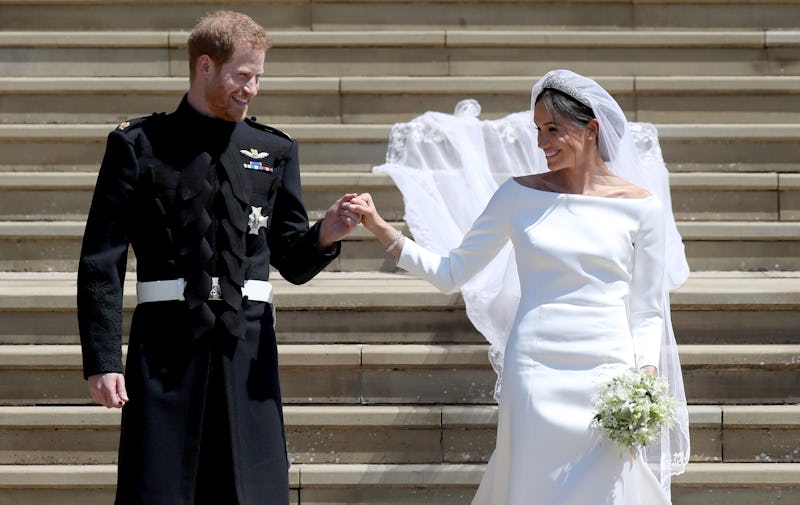 WPA Pool/Getty Images Entertainment/Getty Images
Attending your own wedding, I would imagine, has to be pretty fantastic. You're surrounded by all of the people you love, you're wearing a fabulous dress, and you and your new spouse are full of the joy and hope that can only come with being fresh newlyweds. I'd have to guess that, at their royal wedding, Prince Harry and Meghan Markle had a spectacular time — based on the broadcast of it, it certainly seemed like they did! But I would also argue that they're more than excited about their honeymoon. After all the chaos of planning and then being the center of attention of the entire world, basically, for months, they are probably craving some serious rest, relaxation, and alone time. Unfortunately, it looks like that's being put on hold, though; according to ELLE, Prince Harry and Meghan Markle are replanning their honeymoon due to safety concerns — and we definitely won't find out any of the details until after it's over.
This is the second issue the royal couple has run into with their honeymoon. First, it was postponed due to a public event they were required to attend — you may remember that Prince Harry and Markle first stepped out as the official Duke and Duchess of Sussex at a garden party at Buckingham Palace for Prince Charles' 70th birthday. Not such a bad reason to delay a honeymoon, really. This second delay, unfortunately, is slightly bigger: According to royal expert and commentator Omid Scobie, the two had to cancel the honeymoon plans they already had because, after details of where they planned to go leaked to the press, there were concerns about the royal couple's safety.
The couple had supposedly previously planned to head to Namibia in Africa for their honeymoon, according to sources who had spoken with Travel + Leisure. Reports said they would probably be at the luxurious Hoanib Valley Camp, enjoying some well-deserved relaxation. Not anymore! Right after the wedding, E! reported that Namibia was no longer the destination. The reason behind that is most likely because the information had been leaked to the press — Scobie spoke to Elle, saying that any place the press had information about couldn't be considered, for the royal couple's own safety and privacy.
Scobie said, "If a location leaks prior to travel, it compromises their safety on the trip, and they'll be advised by their protection team to change plans. William and Kate's protection officers ended up doing recon on two destinations before they settled on the Seychelles for their 2011 honeymoon. I heard that just over a month before the wedding, Harry and Meghan hadn't even booked a destination, so these plans have come together rather quickly!" It's unclear if the plans were changed because information had been leaked, or if they had just been considering somewhere like Namibia, and didn't book it after the source spoke to the press. Either way, that royally stinks.
So what do we know about the new plans? Not much. According to Scobie, though, it will definitely be in Africa, which has played a very big part in Harry and Meghan's relationship. As Scobie pointed out, it was where they fell in love (Harry took Markle to Botswana after two dates), where they went on a vacation before the engagement (Botswana again!), and "where Harry bought the center diamond for Meghan's ring." Scobie said, "It's the one side of the world where Harry says he feels like he can be himself. He has laid roots there and has a huge amount of love and respect for the African continent. The couple have been keen to explore other countries in Africa, and I'm certain we will see them do that on this honeymoon."
The exact location is not going to be made public, but Scobie claims to have heard it being discussed, and thinks they'll be heading somewhere on the beach. He doesn't think they'll go on a safari, or back to Botswana, as he believes they want to try something new. The couple loves to explore, and so there will definitely be a lot of that going on.
Things will also be kept super top secret. Scobie says that Harry and Markle will be traveling with "two or three protection officers" and that every detail will be kept under lock and key. Kensington Palace also won't be making any announcements about the honeymoon, as they want to keep things private and quiet. I definitely don't blame them! No one wants the press following you around on your honeymoon.
Wherever they choose to go, the new Duke and Duchess of Sussex will no doubt have a wonderful time — and while I wish I could see evidence of that, I also hope the couple manages to maintain the privacy and secrecy they definitely deserve.