Meghan Markle Revealed The Classic Book She Can't Wait To Read To Her Own Kids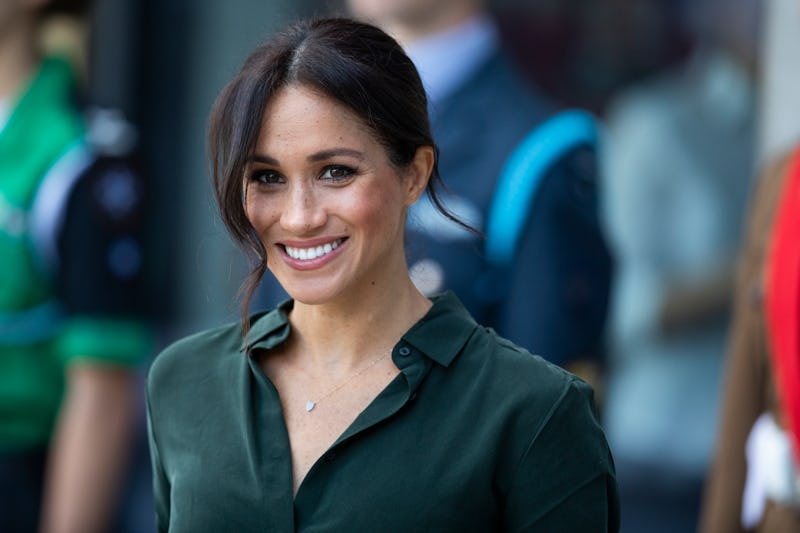 Dan Kitwood/Getty Images Entertainment/Getty Images
When actress Meghan Markle married Prince Harry of Wales and became an official member of the British Royal Family this past May, everyone began speculating on whether the couple would choose to become parents, and when. On Oct. 15, the Duke and Duchess of Sussex announced that they are expecting their first child in Spring 2019. And as much as Markle's pregnancy is uniquely special — the child will be seventh in line to the throne and will inherit a royal title — there are no doubt some very real-world concerns going through the parents' minds as well. And if the 2016 video of Markle below is any indication, building her child's perfect home library is definitely one of them.
In the clip below, Markle answers a series of rapid fire questions as part of the bonus content for Season 5 of the USA show, Suits. Markle appeared as paralegal Rachel Zane from the show's premiere in June 2011 until its seventh season in April 2018, just a month before her royal wedding. The questions range from the silly to the more serious, but things take a turn for the decidedly bookish when the interviewer asks Markle, "What children's book can you not wait to share with your kids?" Head to minute 1:15 in the video below to hear her answer, which will definitely make you squeal with joy if you read this childhood classic, too.
So, not only have fans learned that Markle is most definitely going to be handing down a copy of Shel Silverstein's classic tearjerker picture book, The Giving Tree, to her future child, but she also already has the perfect title locked in should she ever decide to write a children's book about her own life. At minute 1:19, the interviewer asks Markle, "If your life was a children's book, what would the title be? Markle replies: "'The Glorious Adventures of Freckle Face Meg.'" And honestly, can't you just see the adorable cover now? Something tells me that Markle will be putting her acting skills to good use when it comes to storytime at Kensington Palace come spring 2019.
The Giving Tree by Shel Silverstein, $17.99, Amazon or Indiebound
It's no secret that Duchess is a reader, of course. On her now defunct lifestyle site, The Tig, Markle shared several book recommendations (another childhood classic, The Little Prince, made her list) and she recently published the cookbook Together, which benefits survivors of the 2017 Grenfell Tower fire. The book is Markle's first solo project as a royal, and it not only proves her commitment to furthering the women's rights movement of which she has been an outspoken member, but her proclivity for lit-based pursuits, as well. Of course, fans of Markle can only cross our fingers that there are more books from her on the way, but for now, we will just have to follow her glorious freckle face adventures off the page.