Meghan Markle Made The Sweetest Gesture To Princess Eugenie On Her Wedding Day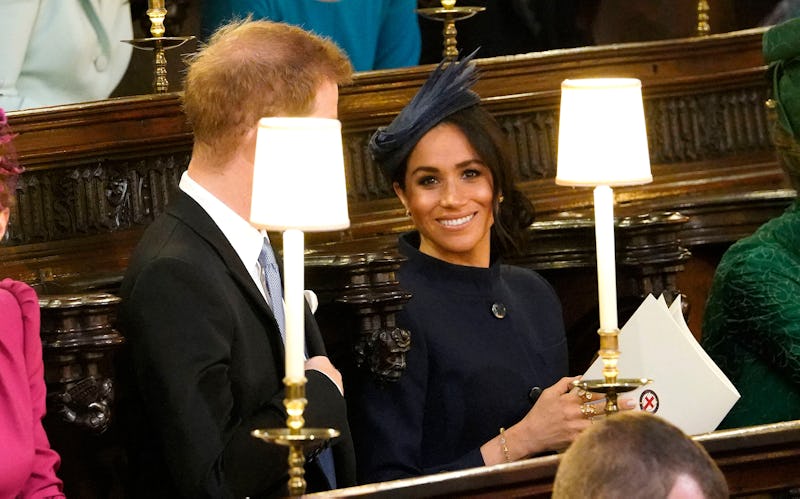 Shutterstock
Princess Eugenie's big day has finally arrived and with it a bunch of b-e-a-u-tiful outfits. While the bride herself obviously stole the show, attention also turned to the fashion choices of the other women in the royal family. Namely, the Duchess of Sussex. Meghan Markle's outfit for Eugenie's wedding was the epitome of elegance, and both she and Kate Middleton opted to make a swift entry into the church so as not to upstage the bride on her special day.
Wearing a navy blue dress by Givenchy, Meghan arrived with Prince Harry and swiftly disembarked from her car and flew into the chapel very quickly. When they emerged in the interior area, the pair were holding hands. Meghan accessorised the look with a navy blue hat by Noel Stewart.
It was predicted that the Duchess would choose a dress by French brand Givenchy. After all, the high-end label did design her stand-out wedding dress and has outfitted the royal on several occasions since. There was the pristine white shirt dress worn for her Royal Ascot debut, the subtle caped dress shown off for her first outing alone with the Queen, and the sheer black design chosen for her first solo outing as a royal.
Prior predictions stated that the wedding's October date would likely see several autumnal colours worn by female guests. "I wouldn't be surprised if we see some kind of rich autumnal tones as part of their attire, perhaps reds, oranges, or yellows," royal expert James Brookes told the Express. This was born out in the rich colours worn by many of the guests, though there were some super cool additions like Cara Delevingne's top hat.
Eugenie and Jack Brooksbank's dress code adhered to the tradition laid out by other royal weddings. According to Town & Country, the invitation to the ceremony stated that women must wear day dresses and hats. While some regular guests may try and bend the rules, a member of the royal family must oblige hence why Meghan and Catherine, Duchess of Cambridge were seen in formal-esque dresses accessorised by custom-made hats.
Of course, this isn't the first time Meghan has attended a royal wedding. She may have only married into the royal family in May but was also photographed at the wedding of Prince Harry, Duke of Sussex's cousin, Celia McCorquodale, in June.
Her outfit on that particular occasion was rather surprising. While many expected Meghan to look prim and proper, she chose a relaxed floaty dress by Oscar de la Renta. The printed style featured a blue-and-white pattern and earned her a few mean comments from people who either compared her look to vintage curtains or said she wasn't dressed appropriately for such a high-profile occasion.
Only time will tell if today's outfit will provoke the same response. It seems that no matter what royal women wear, there'll always be one naysayer looking to stir the pot, but what's clear is that as Harry and Meghan revisited their own wedding venue, they looked totally happy and in love.