Meghan Markle's Sister Reacted To Her Baby News With A (Mostly) Positive Statement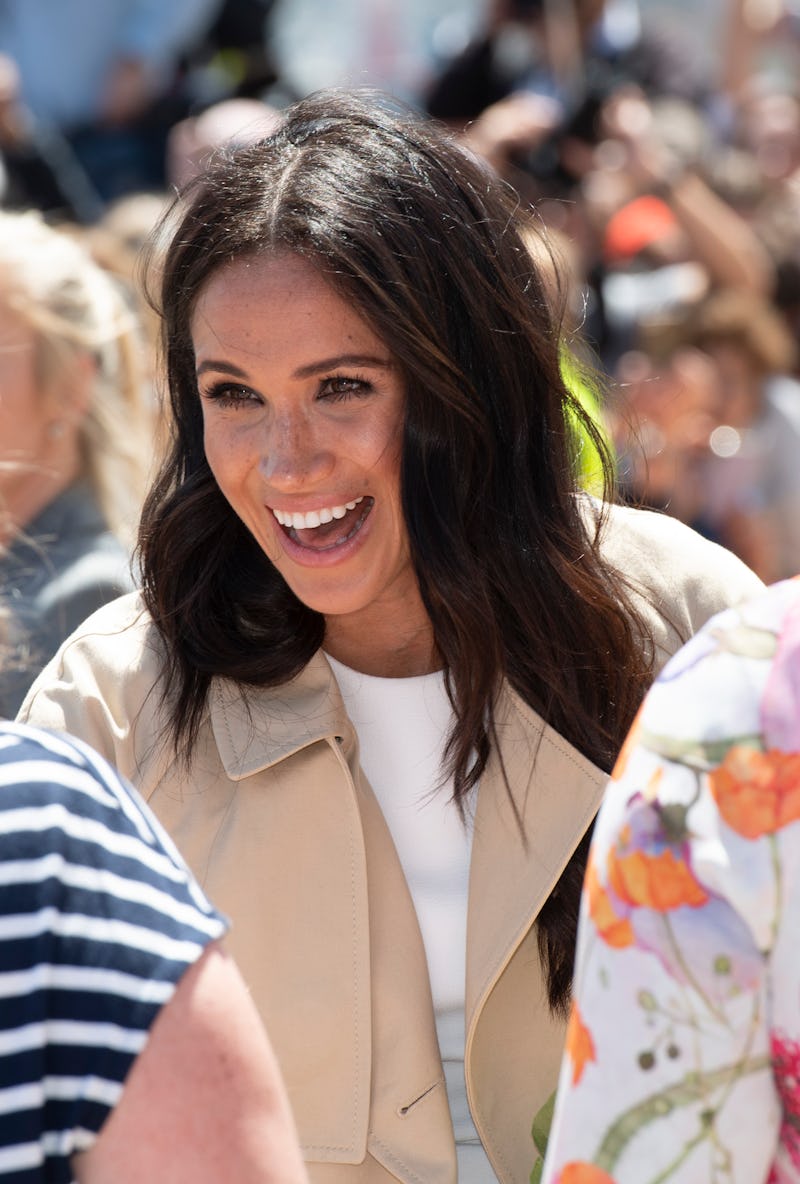 Pool/Getty Images Entertainment/Getty Images
In possibly the least surprising news of all, Samantha Markle shared her two cents about her half-sister Meghan Markle's baby news. Thankfully, Samantha Markle had a mostly positive reaction to Meghan's pregnancy during an Oct. 16 interview with The Sun. Nevertheless, there were some bits of lingering familial drama sprinkled in her comments.
Samantha's comments started out on a high note, as she said,
"It just makes everything that happened over the last year disappear. I want Meghan to be happy and calm and have peace. Everybody needs to be positive."
That would have been the perfect place to stop, but that's not quite what happened. Seemingly stirring the pot a little bit, she added, "I would hope that — for the sake of the baby, the family, the world and my dad — that leaving him out of the statement was not intentional."
Royal fans know that Meghan and her father Thomas Markle do not have a close relationship by any means. From his interviews in the press, to those staged paparazzi photos in an internet cafe, and the fact that Thomas still has not met Prince Harry, it's clear that these two are not "super close" — and that's a nice way of phrasing it.
Samantha seems to be referring to the official statement that Meghan's mother Doria Ragland made to the press via Kensington Palace. An Entertainment Tonight article revealed the statement: "Ms. Ragland is very happy about this lovely news, and she looks forward to welcoming her first grandchild."
The ET article also noted, "When asked whether the Duchess' father, Thomas Markle, had been notified or had a statement of his own, the palace declined to comment." And that's where Samantha comes in. In her interview with The Sun, she commented,
"I hope my dad is included and at a proper time. If he is excluded, I won't be happy. It is in the best interests of the baby for my dad to be included."
It makes sense that a daughter would want her father to meet his grandchild, but was it really necessary to voice this in a very public forum? Most people would probably say no.
It seemed like Meghan's half-sister was making some strides, given Samantha's recent public apology after criticizing her marriage with Prince Harry. Samantha also reportedly showed up to Buckingham Palace with the hope of seeing Meghan, but that did not work out, according to Vanity Fair.
On Oct. 1, Samantha shared her apology with British talk show host Jeremy Vine:
"I would just say that there is so much water under the bridge and so much has spun out of control that was never intended to. And you know, I think everybody was hurt not being included or invited to the wedding, but I felt as though it could have all been nipped in the bud had everyone been included, and we all just agreed to move forward with positive resolve. The hurt feelings wouldn't have snowballed, but believe it or not, it doesn't mean that we love you any less, I just think that families can be this way when there's confusion and people are hurt. So moving forward, I apologize and wish things could be different."
Let's just hope that things really can be different and the Markles resolve their family strife behind closed doors, instead of doing so in front of the entire world. Meghan is a newlywed, a new royal, and a mom-to-be. This should be such a happy time for her. Hopefully it stays as stress-free as possible.