Meghan Markle Used To Take Herself On Solo Dates & Here's How You Can Copy Her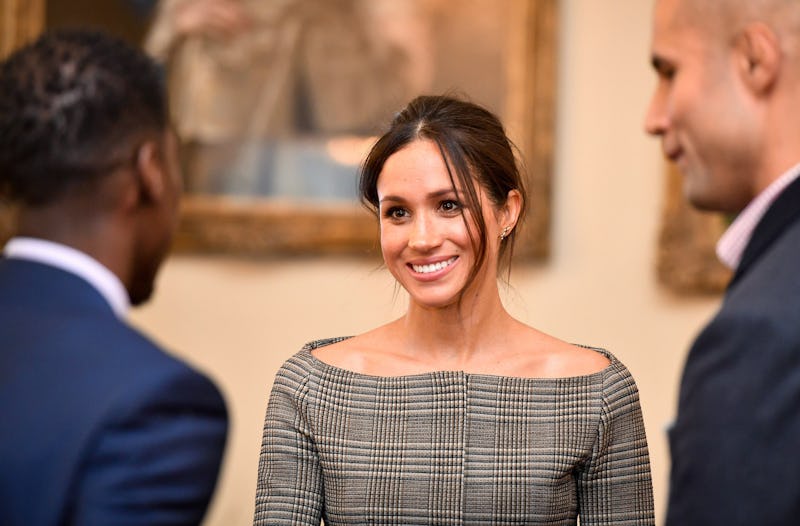 WPA Pool/Getty Images Entertainment/Getty Images
Meghan Markle, future British royal and current American icon, has been blessedly blowing up all the usual fancy protocol adhered to by other members of the U.K. ruling class ever since she and Prince Harry went public with their relationship. And though she'll have to give up some of her favorite things when she and Harry tie the knot (like her role on Suits), there's a good chance she'll still be cool with flying solo from time to time, at least per an article she wrote for her lifestyle blog, The Tig, in 2016 professing to love taking herself out to dinner or to the movies sans arm candy. Meghan Markle is a treasure, and don't you forget it.
Markle published the post, titled "The Art of Independence," in September 2016, a couple months after meeting Prince Harry (and just two months before they went public with their relationship). Though by then Markle had a hot British prince by her side, she made it clear in the piece that solo dates are necessary for self-care, even if you're happily dating someone. "[T]here are so many important things you should do for yourself—to flex your independence and allow yourself the opportunity for greater growth," she wrote. "After all, they say happiness begins with self-love. And enjoying your own company is the very best start for that adventure."
Markle noted that she discovered the beauty of doing things alone as a pre-Harry 20-year-old, having decided to take herself to see the Sandra Bullock/Ben Affleck film Forces of Nature at the Fairfax Theater in Los Angeles. "[F]rom an optics perspective it seems so silly—because you're simply watching a movie by yourself (as we often do at home) — but to experience this in public unnerved me, which is why I had to do it," she wrote. "To laugh loudly and unapologetically alone while in public. To simply be."
In addition to lone movie trips, Markle suggests taking yourself out to dinner (she notes that it's best to ease into this by dining at the bar); buying yourself flowers, and taking yourself on vacation. "It's not easy. But it's important. To be present and to power through the feelings that waffle through your head and heart of loneliness and boredom," she wrote, re: the latter.
Chances are, Markle won't be able to swing by a movie theater or take a solo spirit journey overseas once she and Harry get married, or even now, for that matter, considering the security it takes to keep her safe. That is, of course, one of the downsides to royal life, though certainly a woman who rocks a messy bun on a castle visit and breaks the rules so an adorable young fan can get an autograph will find a way to make time for herself amid the monarchical mania. But her advice holds, even if she can't quite follow it anymore.
I just came back from a 10 day trip through California, and though I did visit friends along the way, I spent a solid chunk of my vacation alone. It was unnerving eating dinner by myself, or taking myself to a bar, or wandering the streets of a city I didn't know by myself, and having to handle multiple flights and train rides without a companion to share in the trip-planning was difficult. At the same time, though, it was exhilarating to be able to make plans without having to compromise with a travel buddy — who was to stop me if I wanted to spend three hours at SF MOMA, or go on a two-hour run in San Diego? It felt great to reconnect with things that I loved to do without any outside influence, and though it was lonely, sitting with the discomfort was actually easier than trying to bat it away.
All this is to say, though Meghan Markle will probably never be Queen of England, she will always be Queen to me.