'Sabrina The Teenage Witch' Fans Will Want To See This Spellman Family Reunion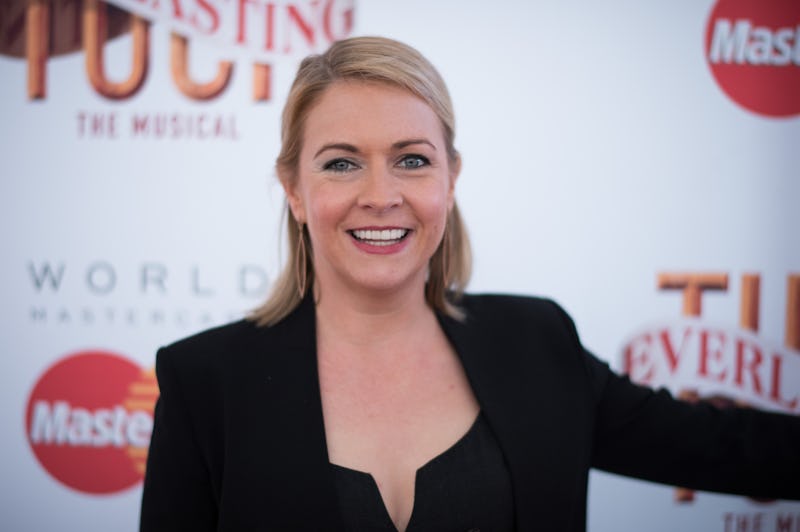 Dave Kotinsky/Getty Images Entertainment/Getty Images
While news about a new Sabrina The Teenage Witch series is bubbling, there's no replacing the original Sabrina: Melissa Joan Hart. It's been almost 15 years since the show ended its run, but the magic of the show is still alive, as evidenced by this peek at the mini Sabrina The Teenage Witch Reunion between Melissa Joan Hart and Caroline Rhea, who played her aunt Hilda Spellman. The two are reuniting on the return of Talk Show The Game Show with Guy Branum on truTV, but they may be leaving familial manners at the door in this competition show. The spirit of light-hearted competition may be in the air for their reunion, but with Sabrina and Hilda back together, it's the audience that wins this game.
The Spellman v. Spellman face-off takes place on Thursday, February 1 at 10:30 p.m. ET/PT. Fans of Talk Show The Game Show will want to stick around after to see SNL alum Colin Quinn and NBA legend Charles Barkley face off at the show's usual time at 11 p.m, but Sabrina fans are going want to tune in right on time to see these two former TV witches try to charm their way to victory. It's nice to have these two back on television, but it begs the question — where have they been?
Melissa Joan Hart cut her teeth on sitcoms, having starred on Nickelodeon's Clarissa Explains It All before learning the art of witchcraft on Sabrina, and returned to the world of laugh tracks on Melissa & Joey after the end of Sabrina. Along with starring on Melissa & Joey for five years, she's had appearances in television films like My Fake Fiancé and the Lifetime Christmas Original Movie Christmas Hours. Outside of acting, Hart has been building her profile as a small business owner. In 2009, she opened a candy shop called SweetHarts, and in 2015 she started a fashion line called King of Harts.
While Hart continued to find success in the world of sitcoms, Rhea's most prominent post-Sabrina role didn't involve being in front of a camera. For over 200 episodes, Rhea served as the voice of Linda-Flynn Fletcher, the matriarch of the Fletcher family on the Disney animated series Phineas & Ferb. Along with her prominent cartoon role, Rhea's television appearances found her participating in the Match Game reboot, playing a fictional version of herself on Maron, and briefly hosting her own talk show, The Caroline Rhea Show, on which Melissa Joan Hart appeared as a guest.
While their separate careers have provided some memorable laughs, these two don't miss a beat when reuniting on Talk Show The Game Show. Even after 15 years of not performing together, the warmth and charm that helped Sabrina come to life is alive and well when Hart and Rhea share the same room. While Talk Show The Game Show is the pair's first time on television together in a long while, they recently reunited, along with various Sabrina cast members, at L.A. Comic Con. The two shared fond memories of their experience on the show, with Rhea sharing that she gets "called 'Aunt Hilda' every day" and that she "will answer to it happily." Hart, similarly, enjoys seeing how the show has affected fans years down the line. Hart told the L.A. audience that "I feel like people, when they say that they grew up with us, that's, like, the best compliment we can get."
While these two may not be returning to their Sabrina roles any time soon, and certainly not on the new Sabrina show, which Rhea fears will be "a bummer" and could possibly "make Aunt Hilda mean, and, like, psycho," the memory of the light-hearted Sabrina is as strong as ever. Fans of the original Sabrina show won't want to miss the latest chance to see this mini-cast reunion on Talk Show The Game Show and be reminded of why they fell in love with the Spellman family in the first place: