Michael B. Jordan Met A Fan Who Slid Into His DMs & The Photos Will Make Your Heart Flutter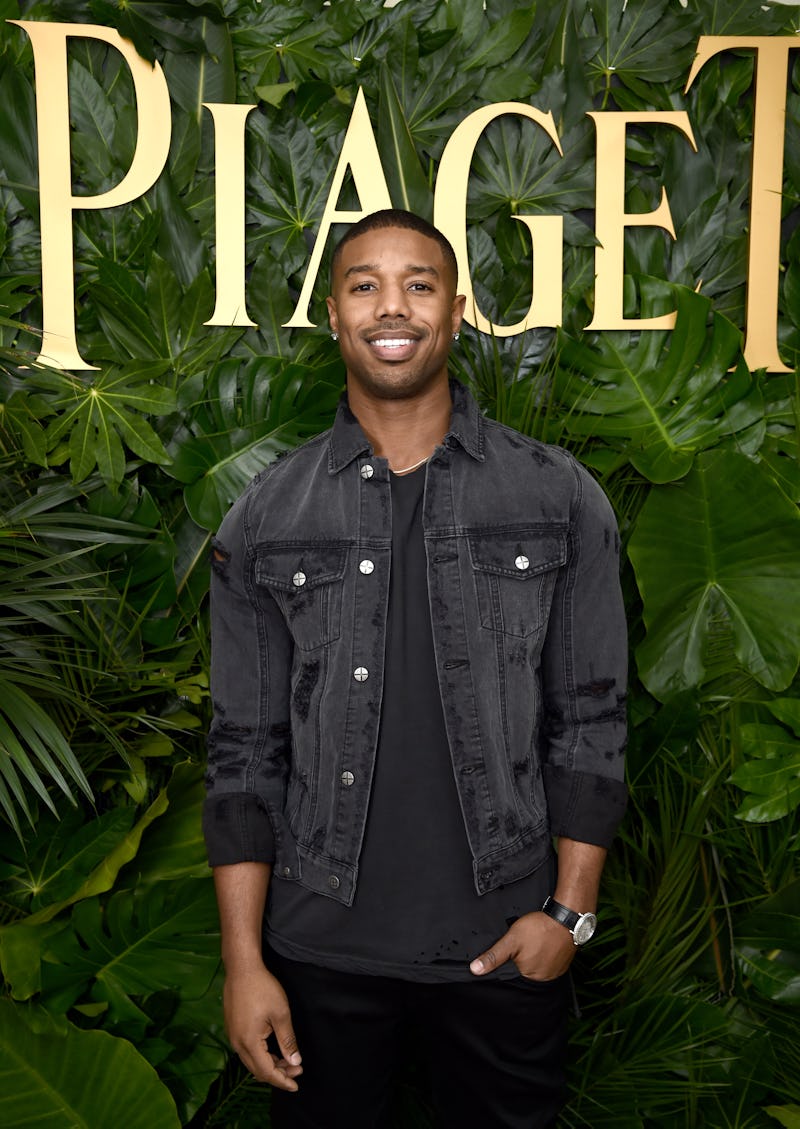 Dimitrios Kambouris/Getty Images Entertainment/Getty Images
Further proving the theory that all superheroes don't wear capes, a fan slid in to Michael B. Jordan's DMs and got a chance to meet the actor. The courageous woman, whose name is Sylvia, is a 21-year-old junior at Temple University and heard that the Black Panther star was in Philadelphia filming on her school's campus. Deciding to shoot her shot on Instagram, Sylvia sent Jordan a private message, offering to buy the actor a smoothie. Sharing tidbits about the moment with BuzzFeed, Sylvia explained: "It was hot, and I didn't think it'd be appropriate to ask to buy him a drink, so I opted for a smoothie."
Screenshots from the social media exchange, shared by BuzzFeed, reveal that Jordan responded to the message, informing Sylvia that she didn't need to buy him anything. However, he did tell her that she could come by and get a pic with him.
After a brief back and forth and some minor issues with security, Sylvia and Jordan finally got to see one another face to face. Of the meeting, Sylvia explained to BuzzFeed, "He was so sweet and nice. He was more than happy to take pictures with me and my friends that came with me!"
After posting the pics on Twitter, Sylvia became a hero to legions of followers who had so many questions about her encounter with the Creed star. After noting that she received a lot of queries regarding Jordan's scent, Sylvia shared :"He smelled like Mahogany Teakwood from Bath & Body Works but better."
BuzzFeed noted that the college student's post has amassed over 20 thousand retweets and 100 thousand likes since it went up on Tuesday, May 1, and revealed that the moment has led many to begin referring to the act of sliding into a celeb's DMs as "pulling a Sylvia."
With his star now on a major rise following the release of the box office smash Black Panther this past February, Jordan has been receiving a lot of new attention from fans who couldn't help but to fall in love with his villainous character, Erik Killmonger. Although the fandom has hit an all-time high, Jordan has seemingly remained humble through it all, responding to many fan reactions.
An orthodontist recently posted a story about a teen who broke her retainer while watching Black Panther that went viral, prompting Jordan to step in, offering to buy another one.
The teen, who was later identified as Sophie Robb, realized that her orthodontist's Tumblr post about her was garnering a lot of attention on Twitter and stepped up to share her story. A screenshot of the orthodontist's post explained that Robb was "thirsting so goddamn hard she busted steel" while watching Jordan take his shirt off in the movie.
When speaking to BuzzFeed about the incident, the 18-year-old student explained exactly how she broke the straightening device in detail. She said,
"So it was the scene where Killmonger took his shirt off for the battle to become king of Wakanda. I pressed my tongue against my permanent retainer and clenched my jaw so hard that the wire disconnected from my teeth."
The situation eventually led to a Twitter follow from Jordan that came with an apology for the whole world to see. He wrote,
"Since I feel partly responsible for breaking your retainers. let me know if I can replace them."
In April, another teen took her Jordan fandom to another level by creating a cutout version of the actor to accompany her to the prom. After viewing the moment on The Shade Room, Jordan took a moment to comment on the situation, writing, "This is called commitment," according to People.
While reaching out via social media may not feel like the most ideal way to get a celebs' attention, Michael B. Jordan's recent fan interaction offers a lot of hope for others who may want to consider "pulling a Sylvia."