Michael B. Jordan Addressed Black Representation In These Powerful Comments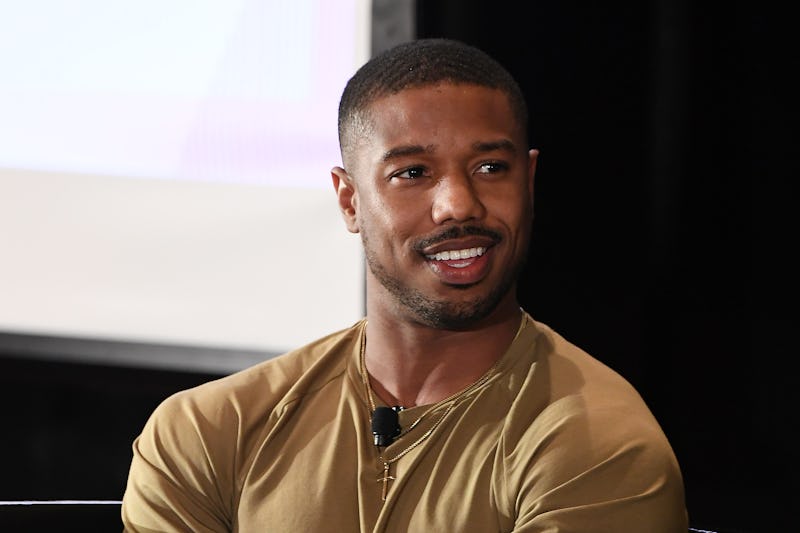 Paras Griffin/Getty Images Entertainment/Getty Images
Amongst cementing his name in Hollywood in a way that's yet to be seen by any celebrity, let alone one of color, actor and all-around heartthrob Michael B. Jordan's comments on black representation declared his desire to be black, while not being black at the same time in a recent interview with Vanity Fair. Bold and ambitious, the goal shows just how progressive Jordan is in his quest for total domination, and in the same breath, presents itself as one hell of a conundrum. Is this even possible?
From an actor to even an engineer, being classified as a 'black' anything these days sends a strong and passionate message to onlookers. Both a badge of honor, and, for some, a bit crippling, the descriptor represents the longtime fight for the same equity given to white counterparts effortlessly — which makes talks of colorblindness hard to stomach for a lot of people of color. While speaking with Vanity Fair, however, Jordan's end game doesn't sound the least bit like erasure, but rather, a way to empower blackness, so much so, that it no longer needs the loaded descriptor to claim its rightful place in the industry.
In the interview, Jordan said,
"I'm first and foremost a black man, for sure, but what I'm trying to do, and what I'm trying to represent and build, is universal."
Transitioning from the man in front of the camera to the one calling all of the shots, Jordan is talking about his production company, and budding empire, Outlier Society — in which the celebrity is using his star power to not only bring more faces of color to the forefront, but behind the camera, in the writer's room, thus bringing more inclusive stories to the small and big screens.
It's all seemingly a ploy to normalize blackness in media, so that black people can see themselves represented without fitting into the tight constraints that many imagine as to what "black" should look like.
"We live in the times where everything is based around race. And for me, it's like, I get it, I understand. It just makes everything so loaded. When the way to do it is to Trojan-horse it, so then people look up, and say, 'Oh wow, what happened? I didn't even realize that.'"
So yes — while totally being mostly known for his epic performances as Oscar Grant in the award-winning Ryan Coogler directorial-debut Fruitvale Station, and as Erik Killmonger in the more recent blockbuster smash Black Panther, the actor doesn't want his race to put him the same 'black' box that has housed other black superstars in the past. It's something that Jordan has been working towards for a while now, according to, not only, the recent Vanity Fair interview, but straight from the actor's mouth as well. Jordan has made it clear to his agent that he only wants to go out for roles designated for white actors — and it's an ask that's sort of revolutionary, if you think about it.
Though an avid supporter for his people, however, Jordan's stance on racial ambiguity hasn't set well with a lot of people following his career. The actor has been criticized for seemingly preferring white women over black women (of which he vehemently denied — declaring his love for all shades, of course), which could totally, and rightfully so, give some pause when seeing Jordan's goal of colorblind-casting as a positive. Is Jordan really down for the cause — breaking barriers for a slew of black talent coming behind him — or, is he just another black entertainer who gets a little bit of money and fame and develops the "OJ Simpson complex"? You know... the one Jay-Z so eloquently illustrated in his 2017 hit "The Story of OJ"?
Amongst other black trailblazers in Hollywood, Jordan's mere existence in the industry is a political statement. As the interview notes, he's had to fight to, both, be included, as well as, to not be typecast into the stereotypical black roles designated for him. Being marketed as the "black Tom Cruise," and leaning into colorblind-casting is his way of ensuring that those coming after him can imagine new heights for their own talent — making his desire to be black while not being black an understandable, and needed, statement to make.