The Dress Michelle Obama Wore In Her Official Portrait Has A Secret Feminist Message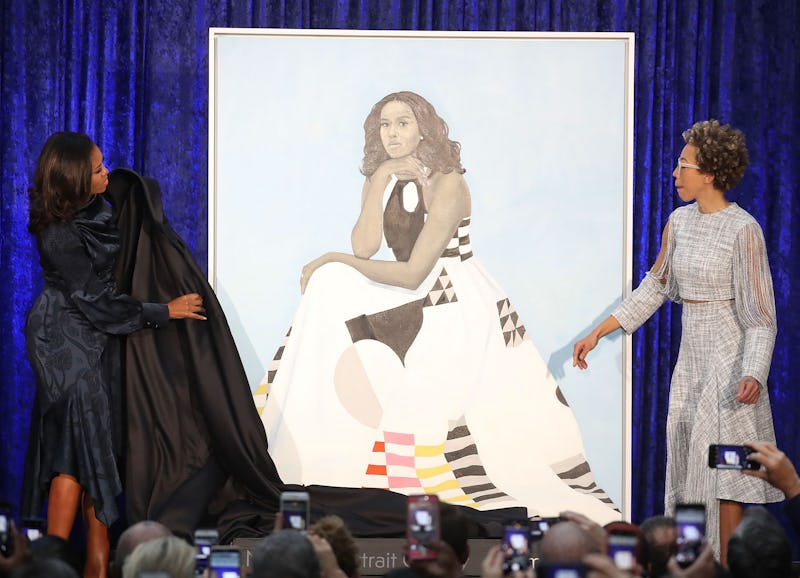 Mark Wilson/Getty Images News/Getty Images
If you haven't heard (and if not, where have you been?), Michelle Obama's official portrait as First Lady was unveiled, and while this is not a portrait that will hang at the White House, it is a gorgeous work of art for the Smithsonian's National Portrait Gallery. What's more, it may just have a secret political message.
Both President Obama and First Lady Michelle Obama had their official portraits released on Monday at the Smithsonian's National Portrait Gallery. President Obama's rendering was created by artist Kehinde Wiley while the former FLOTUS's portrait was painted by Amy Sherald. Both images are notable for multiple reasons, but not the least of which is that President Obama's portrait is the first painted by an African American artist.
Of course, Michelle Obama's portrait also has a multitude of notable elements. Of particular interest to fans of both Obama and fashion (a topic for which she's quite well known), is the dress she is wearing in the portrait. According to Yahoo Style, the design is from Michelle Smith of Milly and was part of her Spring 2017 Collection.
In a conversation with the Washington Post, Smith explained that the collection was embedded with political messages about equality in all communities such as those of color and the LGBTQ community.
The messaging behind the Milly collection from which the dress comes is coupled with the construction of the frock. Smith explains that the gown is not made of high-end material, and while it may look like a grand couture piece, it's actually constructed from cotton poplin, a material she called a "worker's fabric," according to the Washington Post.
As the Post article explains, Milly is notable for its affordability. While the pieces (commonly priced in the high hundreds) aren't exactly the same price as a Zara dress, they're not outside the realm of possibility for purchase. While Obama could have worn basically anything, she chose a cotton Milly dress.
Similar calls for equality are certainly among the First Lady's own views. In fact, according to CNN, during the reveal, Obama explained that she was thinking of the impact the artist, Amy Sherald's, work would have on girls and girls of color. She said, "They will see an image of someone who looks like them hanging on the walls of this great American institution ... And I know the kind of impact that will have on their lives because I was one of those girls."
As it turns out, Sherald was also involved in the decision for Obama to wear the Milly gown. The artist explained the choice, and its seeming political meaning for Obama. In an interview with NPR, she said, "It has a connection to, you know, the art canon. But then it also speaks to black culture. And it reminded me of the Gee's Bend quilts that women made over the course of their lifetimes and were discovered later on in life. But quilting is a huge part of black culture."
While Obama has made no comment about the political messaging that both Smith and Sherald have identified, it should be noted that this is not her first time wearing designs from Milly. In fact, she wore designs from Smith's line in her last White House portraits, a fact astutely pointed out by Politico as a potential foil to Melania Trump's tendency to wear pieces from luxury brands.
No matter your thoughts or opinions on the portrait (or Michelle Obama, for that matter), you cannot deny the significance of the image's subtle political messaging mirroring her own. It truly shows how much of a personal piece of art the portrait seems to be for the First Lady.