Michelle Williams May Join Jonah Hill's New Movie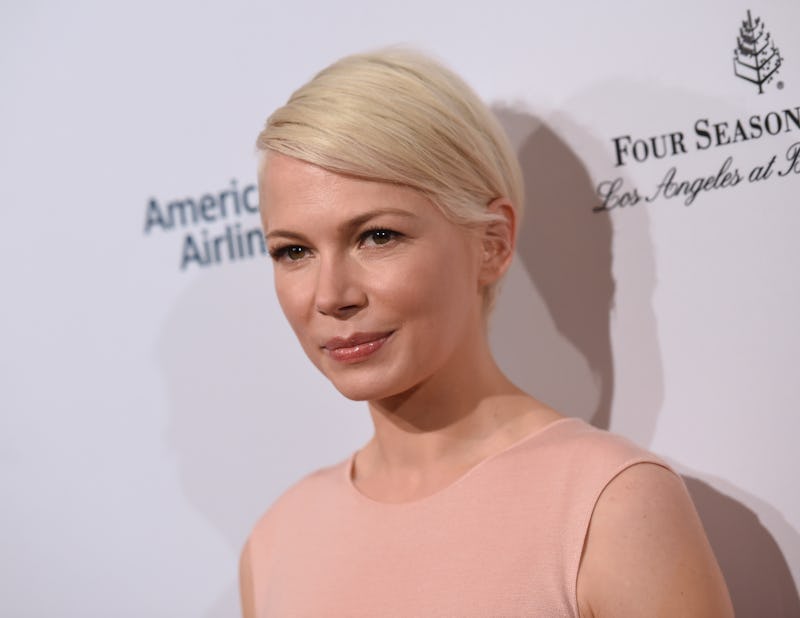 CHRIS DELMAS/AFP/Getty Images
Fresh off an Oscars nomination for her extraordinary turn in Manchester By the Sea, Michelle Williams is already eyeing another major project: Williams may star in Jonah Hill's Mid-90s. Deadline reported that the actor is in talks to lead what would be Hill's directorial debut, a coming-of-age tale about a young boy navigating drinking, drugs, sex, and peer pressure while growing up in mid-90s Los Angeles. The film is set to be produced by Scott Rudin (Fences), Eli Bush (Ex Machina, The Grand Budapest Hotel), and Ken Kao (Knight of Cups, Sea of Trees).
Williams would play a single mom struggling to raise her 12-year-old son Stevie as he enters his turbulent teenage years, according to Deadline, and she's actually a perfect fit for the part. Her critically acclaimed performance in Manchester By the Sea was as Randi, the ex-wife of Casey Affleck's Lee and mother to their three children. She also played a mom in Kelly Reichardt's 2016 drama Certain Women, that time as Gina Lewis, a married woman juggling her husband and teenage daughter as they try to build their new home in Montana. In 2010, she starred in Derek Cianfrance's Blue Valentine as eventual-mother Cindy Heller, for which she also received an Oscar nomination.‌ ‌
But Williams' real maternal know-how comes from her real-life daughter, Matilda, who she had with the late Heath Ledger in 2005. She and Ledger amicably split in September 2007, just four months before he suddenly died of an accidental overdose in January 2008.
"I feel like I'm a believer in not fighting circumstances, accepting where you are and where you've been," Williams told Porter magazine in November. "In pretty much all senses but one, I would be able to go totally down that line of thinking, were it not for Matilda not having her dad. You know ... it just won't ever be right." Still, she's not without her support group. She continued,
"I know a handful of women in similar positions [to me], it's kind of like a club. It's a sh*tty club and we don't want any new members … and all the current members are exhausted. But man, oh man, it's lifesaving to have [them]."
Kudos to Hill for picking someone who can truly understand what it's like to be a single mother. Here's to hoping he'll make the casting decision official soon.