Miley Cyrus' Most Political 'Younger Now' Lyrics Are All About Looking Ahead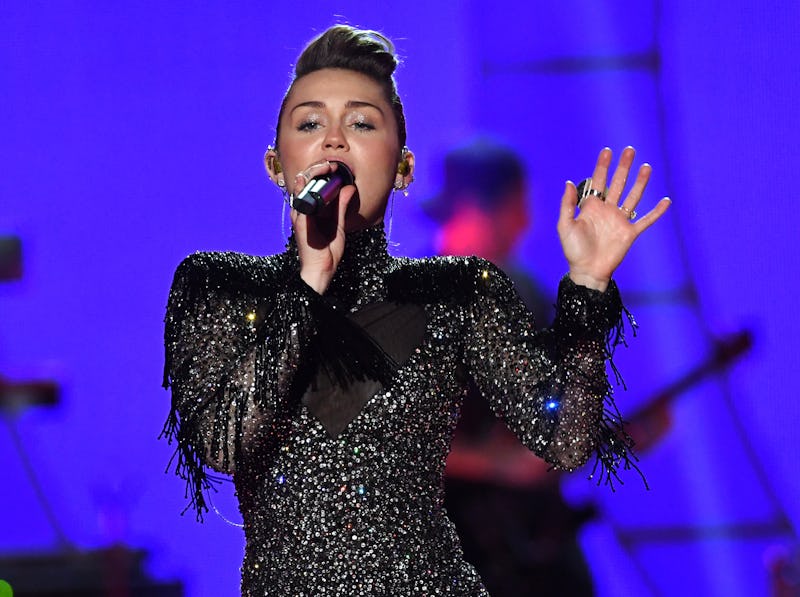 Kevin Winter/Getty Images Entertainment/Getty Images
For Younger Now, released on Friday, Miley Cyrus reined in her brash, rebellion-driven Bangerz-era antics and re-embraced the wholesome pastorals of her fresh-faced, country roots. The ensuing record is, in large part, a testament to love and peace, though Cyrus does use a handful of political lyrics on Younger Now to reinforce that message. She publicly supported Hillary Clinton during the 2016 presidential election, but in an emotional video after Clinton's unprecedented loss, Cyrus accepted Donald Trump as her president. "We adjust and accept everyone [for] who they are, and so Donald Trump I accept you," she said in the clip. "This hurts to say, but I even accept you as the president of the United States."
Younger Now isn't as overtly political as some may have expected — much of the record deals with Cryus' romantic entanglements — but there are certainly places where her views shine through, just in a different tone. She's a notably outspoken figure, but here she's more focused on bridging the divide, not riling people up. And it matches her newly mellowed persona, opting for peace over provocation. Now, it seems, Cyrus isn't interested in pot-stirring; Her focus is on unity.
1. "There Won't Be No Trees Or Air For Us To Breathe"
Album closer "Inspired" is a twangy but impassioned plea to come together and build a better future. In the first verse, Cyrus addresses climate change, something she's long been a proponent for: back in 2008, she released "Wake Up America," a spunky, auto-tuned cry to "wake up" and "take care of" our home because "it's not a fire drill." Now, on "Inspired," she sings:
I'm writing down my dreams, all I'd like to see
Starting with the bees or else they're gonna die
There won't be no trees or air for us to breathe
I'll start feeling mad, but then I feel inspired
2. "How Can We Escape All The Fear And All The Hate?"
The track then turns attention to the hateful vitriol that surrounded the election, asking listeners to step beyond their immediate world and start making a difference. "I wrote ["Inspired"] for Hillary Clinton [but] I'm not fighting fire with fire, hate with hate," Cyrus told NME. "It's not a 'party in the USA' if it's filled with hate, discrimination, walls, violence, all these things." She continues on the song:
I know that sounds so strange
To think we are meant for more
Pull the handle on the door that opens up to change
I know that sounds so strange
'Cause you've always felt so small, but know you aren't at all
And I hope you feel inspired
Oh, I hope you feel inspired
3. "Let's All Dig Down Deep Inside / Brush The Judgment And Fear Aside"
"Rainbowland," a jangly foot-stomper featuring country icon Dolly Parton, echoes that sentiment, calling for fans to put aside judgment and celebrate difference.
"It's about all these different races and genders and religions, if we all did come together to create and said, 'Hey, we're different; that's awesome! Let's not change to be the same. Let's stay different but let's come together anyway," Cyrus said in the same interview with NME.
Oh, wouldn't it be nice to live in paradise
Where we're free to be exactly who we are
Let's all dig down deep inside
Brush the judgment and fear aside
Make wrong things right (all things right), and end the fight
'Cause I promise ain't nobody gonna win
4. "Together We Can Start Livin' In A Rainbowland"
True to its name, "Rainbowland" goes as far as saying that we should live in a "rainbowland," where differences are both acknowledged and accepted. "A rainbow's not a rainbow without all the different colors," Cyrus continued in her NME interview.
Livin' in a rainbowland
Where you and I go hand in hand
Oh, I'd be lyin' (I'd be lyin'), if I said this was fine
All the hurt and the hate going on here (hate going on here)
We are rainbows, me and you
Every color, every hue
Let's shine through
Together we can start livin' in a rainbowland
5. "Feels Like I Just Woke Up"
At the surface, starry-eyed opener "Younger Now" is a reflection of Cyrus' past. She's reinvented herself several times since finding pre-teen stardom on Hannah Montana, but she's been vocal that now, at 24, she's finally coming to terms with who she really is. But the lyric also seems to mirror the way much of America — and primarily, white America — felt after the election, as deep-seated racial and religious prejudices that had presumably begun to soften resurfaced in the public eye. "Feels like I just woke up / Like all this time I've been asleep," Cyrus sings.
As the singer attempts to wipe her slate clean sonically, it seems she's doing the same personally, relegating her former self to the past and looking only to the future. And she's inviting her fan base to do so, too.