Milo Ventimiglia Will Continue Making Fans Cry With His Latest Movie Role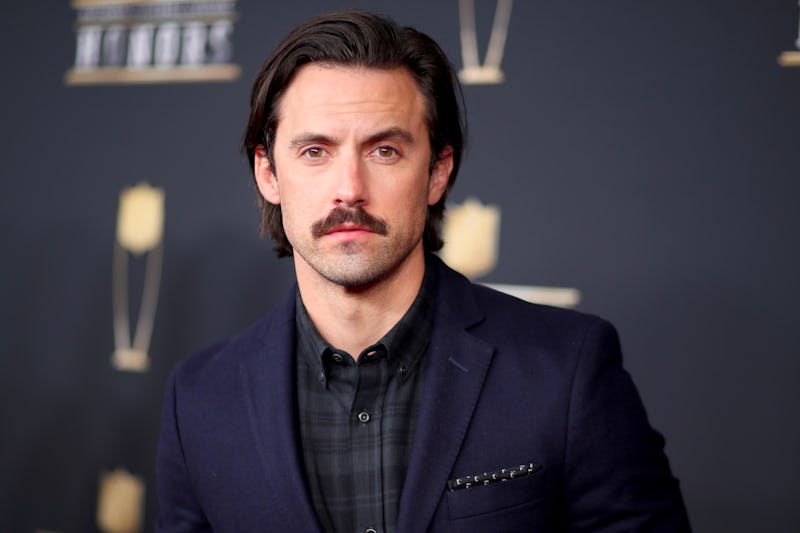 Christopher Polk/Getty Images Entertainment/Getty Images
Jack Pearson may be gone, but casting agents certainly haven't forgotten about the actor who plays him. According to The Hollywood Reporter, This Is Us' Milo Ventimiglia will star in The Art Of Racing In The Rain. The movie — based on Garth Stein's 2008 novel of the same name — is told from the family dog Enzo's point of view and focuses on the lessons he learns alongside his owner, a race car drive named Denny Swift. From reading that, you probably already guessed you're going to need the tissues. Yes, Ventimiglia's new movie may have you crying your eyes out This Is Us style.
This tearjerker of a novel is all about the friendship between a man and his dog, whose own understanding of the world comes from the man's ups and downs. In the book, Swift is dealing with his own career troubles, along with his wife's brain cancer and a custody battle over his daughter, which means Ventimiglia will once again be playing a dad. Clearly, he's trying to earn that zaddy title.
The film will be directed by Goodbye Christopher Robin's Simon Curtis, and produced by former Grey's Anatomy star and racing enthusiast, Patrick Dempsey, who was at one point slated to star in this adaptation. No word yet when it will be released, but This Is Us fans will mark it on their calendars accordingly. If anything, just to make sure they remember the buy more Kleenex before heading to the theater.
Let's not pretend, though, that fans aren't crying happy tears to know that after years of killing it on the small screen in Gilmore Girls, Heroes, American Dreams, and now This Is Us, Ventimiglia is getting a chance to show off his acting skills on the big screen. And, of course, along with that face of his, which let's be honest, would be nice to see in IMAX.
It's not that Ventimiglia hasn't appeared in movies; he's made 30 films, starting with the 1997 short film series, Boys Life 2, about being gay in America. But, he's never had a role that allowed him to really break out like he has on TV. Case in point: Ventimiglia's second role was "Soccer Player" in She's All That, and it took seven more years until he landed his biggest role as Sylvester Stallone's son in 2006's Rocky Balboa. While the resemblance is uncanny, the film wasn't a huge hit. (Rocky Balboa's Rotten Tomatoes score was a so-so 76 percent.)
But with news of his latest casting in The Art Of Racing In The Rain, things are certainly looking up for Ventimiglia, the movie star. After all, his next film has him playing Jennifer Lopez's boyfriend in the rom-com Second Act, where she's going from a grocery store clerk to an advertising exec. When describing the film, J.Lo told Variety, "People try to put women to sleep at a certain age," but her new movie is "a story that empowers the every woman to do more, to be more, and not limit their dreams." Clearly, one of those dreams is that Ventimiglia will be a supportive boyfriend through all this.
Despite the news of his next starring role, Ventimiglia plans to keep playing everyone's favorite dad on This Is Us. After the Super Bowl, when the world finally found out how Jack dies, Ventimiglia told The Hollywood Reporter he was never going to leave the show. "That was just the story of the week that we were telling," Ventimiglia said of his character's death. "There's still a lot more to go, and that means yes, I'm still around."
So, don't worry, when you need a good cry, Ventimiglia will still be there for you. Not only on the small screen, but the big one, too.