The Number Of LGBTQ Teens Who Say They Don't Feel Safe In Their Classroom Is Devastating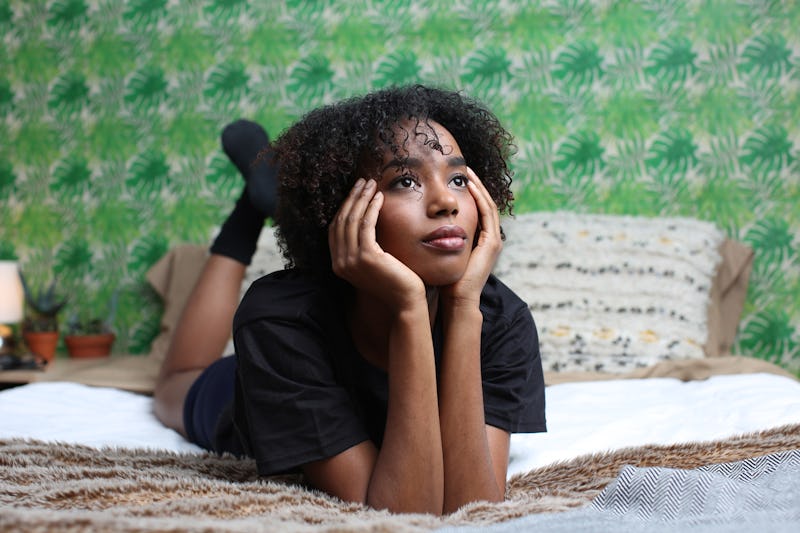 Ashley Batz/Bustle
While being a teenager can be a stressful time for everyone, new data shows that LGBTQ teens are facing a particularly difficult struggle — and that it's having a detrimental effect on their well-being. The 2017 LGBTQ Teen Survey came from the Human Rights Campaign (HRC) Foundation and the University of Connecticut and looked at over 12,000 teen respondents from all over the country. It was the largest of this kind of survey to take place and revealed some difficult truths about life as an LGBTQ teen in this country. Seventy-seven percent of LGBTQ teenagers had felt depressed over the past week alone — and 70 percent had felt feelings of worthlessness and hopelessness within the last week.
"I was most surprised that despite all of the social change around LGBTQ rights and social acceptance, we are still seeing large numbers of youth struggle across all domains — school, family, and community," Ryan Watson, assistant professor of human development and family studies at the University of Connecticut and the lead investigator of the study, tells Bustle. "This shows we still have a long way to go to fully embrace and support our LGBTQ teens."
Although the numbers were worrying, Watson still emphasizes that some people out there are making great strides for good. But there are many ways the current situation could be improved. "There are countless advocates, groups, and organizations that have dedicated their entire missions to helping LGBTQ teens, but unfortunately many of those in leadership positions have set unaccepting tones toward LGBTQ people," Watson says. "I think there are different things that can be done by various stakeholders. For example, policy makers can enact LGBTQ non-discrimination laws at the national, state and local level. Mental health counselors can be open to discussing sexual orientation and gender identity. And, parents should certainly advocate for LGBTQ-inclusive curriculums, programming and clubs."
There are so many opportunities to support LGBTQ youth. But as it stands now, the results show just how many LGBTQ teenagers are struggling. Here's what else the survey found: