Fans Really Want My Chemical Romance To Send Warped Tour Off The Right Way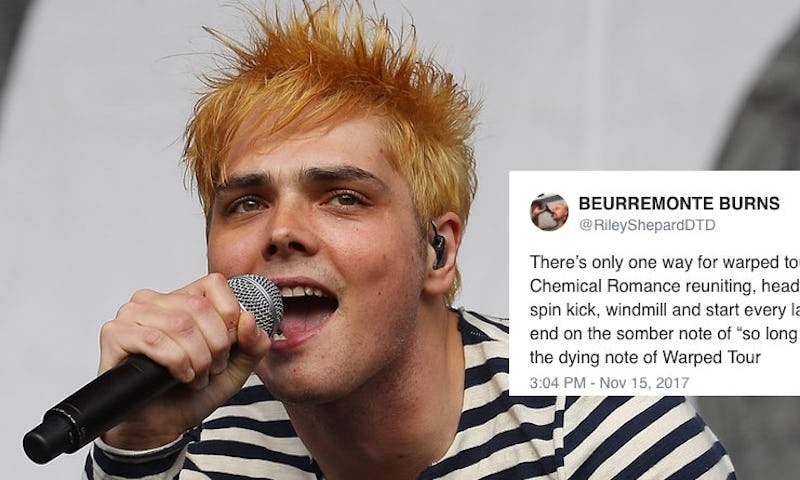 Chris Hyde/Getty Images Entertainment/Getty Images; RileyShepardDTD/Twitter
In a statement released on Nov. 15, festival founder Kevin Lyman announced that the Warped Tour will end after its summer 2018 cross-country run. The news left fans extremely saddened, but mourning its end didn't keep suggestions for Warp's final line-up from pouring in across social media — one popular idea being for My Chemical Romance reuniting to give Warped Tour the sendoff it deserves.
In his personal letter posted to Vans' official site, Lyman reflected on all of the good times the Warped Tour helped to curate over the years. Fans echoed Lyman's sentiments, going to Twitter to also share gratitude for how the event positively impacted their lives. Besides being a safe space for emo teens to express themselves, the festival also helped to birth a lot of the very punk, ska, and rock bands beloved by so many today — My Chemical Romance being among the laundry list of talents to leave its mark on musical history.
The Newark natives took a break in 2013 after nearly a 12-year run, and fans haven't stopped asking for a comeback since. In 2016, My Chemical Romance celebrated the tenth anniversary of their 2006 album The Black Parade, leading many to believe they were heading toward a resurgence.
The band debunked the rumors, but the outpouring of love, support, and asks from fans just may have been enough to bring them back into the limelight. And what better place to flex their muscle than on the Warped Tour stage?
The Vans Warped Tour got its start in 1995, creating a "punk-rock, summer camp feel" for rock enthusiasts across the country. After over 24 years of being on the road every summer, Lyman decided to make summer 2018 the tour's final cross-country run — citing exhaustion to be one of the biggest factors, to which is totally understandable. In an exclusive interview with Billboard, detailing his thought process, Lyman also hinted at that the cross-country tour ending doesn't necessarily mean that the Warped brand will be disappearing anytime soon. After all, there must be something huge in store for its 25th anniversary in 2019, right?
Well, before Lyman starts to fine-tune any plans for the upcoming anniversary, mapping out fan surprises for Warp's final summer run in 2018 should totally take first priority. And lucky for him, fans have already started to share their ideal tour line-ups on Twitter — My Chemical Romance making the list, more times than not. Bottom line: Warped has to go out with a bang in 2018, and MCR supporters are insistent that the band helps to close out the era, the right way.
In 280 characters on Twitter, fans have been able to explain exactly why they think MCR must be a part of the legendary tour's final hurrah. Everything from the band bringing back the perfect middle school nostalgia to the band helping to define the emo culture were mentioned. And while all extremely important factors, MCR's music, alone, should be the determining factor for making them a shoo-in within the 2018 headliners. Also expressed by fans on Twitter, MCR's music literally helped to save lives, and that's something to be proud of.
With all of that said, it's safe to assume that the staff over at the Warped headquarters know of MCR's heavy impact on emo culture, so adding them to their wishlist of performers should be a must. The decision of whether or not MCR actually becomes a headliner, however, would ultimately fall on the bandmates at the end of the day.
Here's to hoping that the "Welcome To The Black Parade" performers listen to all of the fan cries, because them headlining the final cross-country Warped Tour would mean the world to many.