Reese Witherspoon Used Her Golden Globes Speech To Make A Powerful Promise To Abuse Victims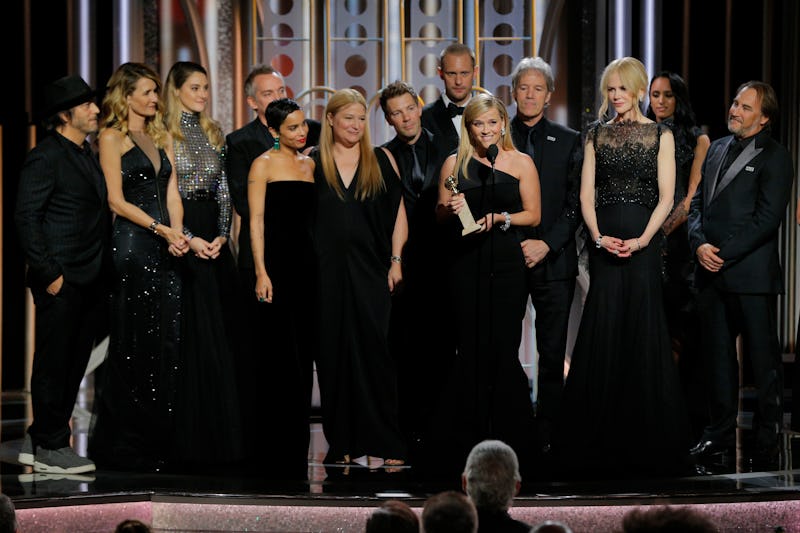 Handout/Getty Images Entertainment/Getty Images
The moms of Monterey are starting the year off strong. After sweeping the Emmys last year, Big Little Lies won Best Limited Series at the 2018 Golden Globes, besting fellow nominees Fargo, Feud: Bette and Joan, The Sinner, and Top of the Lake: China Girl. The victory marked their fourth win of the night, but even more important was Reese Witherspoon's Golden Globes speech, in which she promised to tell the stories of survivors. She said:
"I just want to say thank you so much. This show is so much about the life we present to the world that can be very different than the life behind closed doors, so I want to thank everyone who broke their silence this year and spoke up about abuse and harassment. You are so brave and hopefully, shows like this, more will be made, so people out there who are feeling silenced by harassment, discrimination, abuse… time is up. We see you. We hear you. And we will tell your stories."
It's a promise that pays homage to the stories Big Little Lies (Producer: Barbara A. Hall) tells on screen. Adapted from Liane Moriarty's best-selling 2014 novel, the show toes the line between splashy melodrama and gripping murder-mystery, peering inside the lives of five women navigating their high-class West Coast community. It certainly has its fill of petty, Real Housewives-evoking rivalries (an entire plot line involved a power struggle over a child's birthday party and Frozen On Ice), but it also sheds light on many real, complex truths of parenting, motherhood, and female empowerment. In Season 1, Madeline (Reese Witherspoon) tried to rebuild her fraying marriage, Celeste (Nicole Kidman) confronted the realities of a toxic, abusive relationship, and Jane (Shailene Woodley) struggled through the trauma of a sexual assault. Separately, they found the strength to persevere, and together, they lifted one another up — just like the women of Hollywood are doing now.
And, much in the way that women are upending deep-rooted gender imbalance off-screen, Big Little Lies goes against what's become common practice within the industry. In an essay for Glamour last year, Witherspoon wrote that while "Some people are realizing that projects with female leads are big-time moneymaking commodities," she continues to have studio heads say, "'We don't want to make biopics about women,' or more simply, 'We're not interested in female-driven material.'" Even after a year marked by triumphs like The Handmaid's Tale, which won a staggering eight Emmys, or Wonder Woman, which brought in a record-setting $100.5 million at the U.S. box office in its opening weekend alone, people are still reluctant to acknowledge that there is not only a space for female stories on screen, but a demand for them — a hunger, even.
That's why Witherspoon founded her production company, Pacific Standard, it's why that company has been so successful, and it's why viewers can faith in her pledge. She saw a gap in the entertainment industry, put in the work to close it, and has come out with several acclaimed, lucrative projects: first Gone Girl, then Wild, and now Big Little Lies, which — despite being billed as a mini-series — was officially greenlit for a second season due to the enthusiastic response that followed its first outing.
Of course, there is still a long way to go, and Witherspoon will be the first to say so. She wrote in her essay for Glamour that 38 percent of major characters on TV are women, while women made up just 29 percent of protagonists in 2016's highest-grossing films. Those are improvements to be sure, but there's room yet left to grow, which is why as we head into 2018, Big Little Lies' Golden Globe wins feel so encouraging. It suggests that all the strides made last year weren't merely a temporary fix, but the beginning of a monumental and overdue shift. It suggests that we're still building toward something. That perhaps, this time, we won't turn back. And Witherspoon will be leading the charge.
If you or someone you know has been sexually assaulted, call the National Sexual Assault Telephone Hotline at 800-656-HOPE (4673) or visit online.rainn.org.