These Are The Celebs Who Spoke Out About #TimesUp On The Globes Red Carpet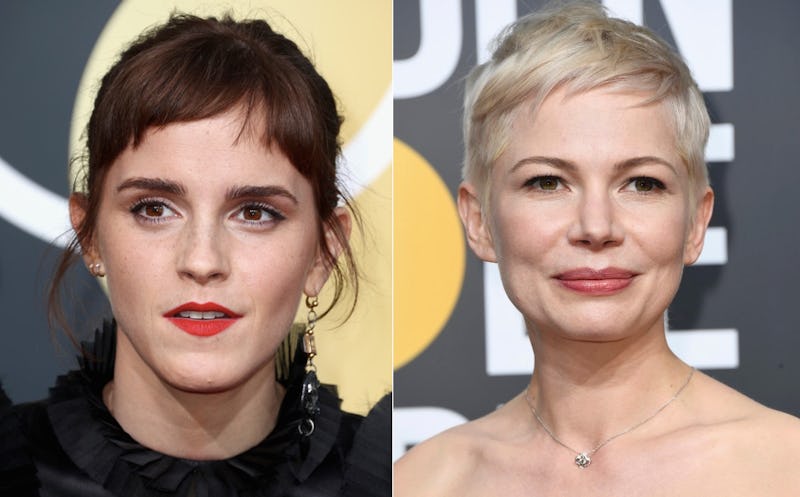 Getty Images/Bustle
Since 2015, hosts have promised to #AskHerMore on the red carpet, and this year, everyone is talking about #MeToo and #TimesUp. After 2017, a year in which Hollywood was permeated by sexual misconduct allegations that gained steam with The New York Times' exposé on accusations made against Harvey Weinstein (Weinstein's rep previously denied all allegations of nonconsensual sex in a statement to the Times), it was no surprise that the #TimesUp movement took over the 2018 Golden Globes red carpet.
It started with the fashion at the award show: women (and men) wearing all-black in solidarity with anyone who came forward with sexual harassment and assault allegations in Hollywood and elsewhere. But, it more importantly, continued with the pre-show interviews, in which actors didn't just talk about who they were wearing, but also got a chance to speak thoughtfully about the real changes Hollywood needs to make after last year's sexual misconduct revelations. Meryl Streep, walking the red carpet with activist Ai-jen Poo, who organizes immigrant worker women and is the director of the National Domestic Workers Alliance, sounded optimistic about how awareness of the problem will lead to real change.
While the red carpet has usually been the place for pithy conversation, this year was different. The New York Times even pivoted in the way they were going to cover this year's red carpet, telling readers in a memo days before the awards that they would be changing focus in this post-Weinstein world by sending Pulitzer Prize-winning photographer Damon Winter to cover the pre-show. Investigative reporter Jodi Kantor, who co-wrote the Weinstein report, will also contribute to the red carpet coverage.
As Choire Sicha, the New York Times Styles section's new editor, explained:
"The red carpet is where huge, powerful industries — celebrity, fashion, Hollywood, media, beauty, publicity — meet. Now that the curtain is finally being lifted on some of the grimy underbelly of Hollywood, we feel it's more important than ever to not treat awards shows as silly things for silly people."
In 2018, the red carpet got serious, and it was a seriously good thing to see. Here's what attendees had to say about the changes: