The Latest Instagram Hair Trend Is Inspired By The Beauty Of Nature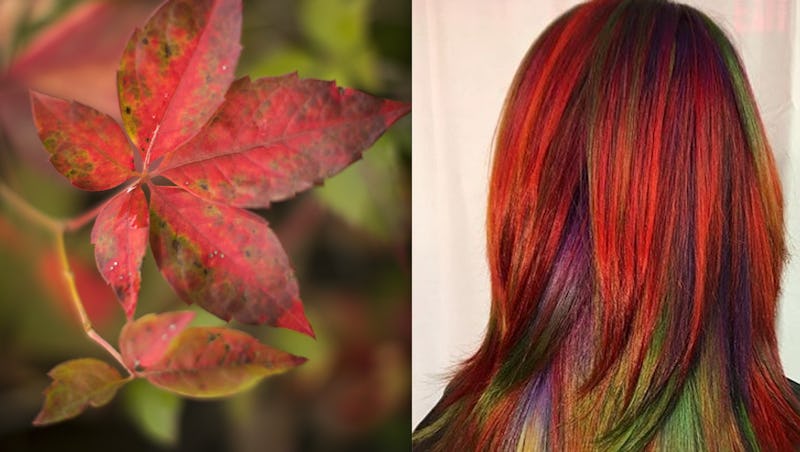 Christopher Furlong/Getty; uggoff on Instagram
From major hair transformations on the red carpet — here's looking at you Selena Gomez — to those rocking wigs to change up their 'dos (a la Kylie Jenner every other day), hair trends are fluid. However, nature-inspired hair is the newest unexpected Instagram trend — and you totally need to see it.
Ursula Goff is a Kansas based colorist whose incredible work first popped up over on Buzzfeed. While many find inspiration for their hair from celebrities or the latest pop culture phenomenon (pumpkin spice, anyone?), Goff uses nature to craft her stunning hair creations. From the night sky to the mountains and sunsets, her styles are unique — and you'll be begging to travel to Kansas to see the stylist.
While Goff's work is distinct from others, she's also in the larger, over-arching trend of colorful hair. Whether you want to credit Pink's OG vibrant hair from the 00s, the mermaid trend from a few years back, or Kylie Jenner's multi-color wigs, there's little doubt that natural color is out and vibrancy is in. However, it's not just a single color. Colorists these days have expanded into rainbow hues, sherbet themed looks, and ombre locks that would even make Rainbow Bright jealous. Now, lovers of hair color can add natural inspiration to their rotation of "give it to me now" looks.
This smokey and neon-hued hair was inspired by volcanoes in Iceland.
For fall, Goff took the pumpkin spice hair trend and turned it into something totally different. She drew inspiration from the image of the foliage, and the likeness is spot on. Not only was the idea to transpose a popular trend into naturally inspired hair creative, but Goff also blended greens, reds, and purples into a look that's seamless and allows each color to stand out.
Seasons aren't the only place Goff draws inspiration from, though. In this image posted to her Instagram, she explains that this look was an experiment with an artist friend, and it clearly turned out beautifully. Goff used the hot springs of Yellowstone National Park as her inspiration, and it deserves a round of applause to be honest.
The natural inspiration, though, has coincided with other trends. Her stunning, pastel rainbow hair is a work of art that also happens to be perfect for the metallic and holographic trends.
If you thought Kim Kardashian West brought crystals into the beauty world with her Crystal Gardenia perfume, nope. Goff was on the crystal hair trend weeks before KKW Fragrance was formed. Clearly, Goff is a trendsetter as well as a crazy talented artist.
Color, however, doesn't appear to be Goff's only talent. She also appers to be equally as talented with shears and a razor. This undercut is proof that she's multi-talented.
There's also this rainbow sunflower look that is attention-grabbing.
If you're thinking Goff's work is only suited to those who are interested in vibrantly hued hair, you'd be wrong. Just check out this gorgeous blonde.
Then, there's this stunning balayage that anyone would be lucky to rock.
Remember oil slick hair? Yes, Goff can do that, too.
While it's clear that Goff can literally anything when it comes to hair, it's her creativity that has garnered her 100,000 followers on Instagram. The colorist has taken the beauty people see each day and translated it into something that can be worn and taken with you in what can, at times, feel like mundane life.
If you've been looking for your next must-have hair color, Goff's nature inspired hair may just be the way to go. If you want to see more from the colorist, check out her Instagram or her website.
While Goff may glean inspiration from the natural things around, it's probably safe to say that the beauty world will be drawing their inspiration from her before too long.