Octavia Spencer Is Giving Back To Families In Need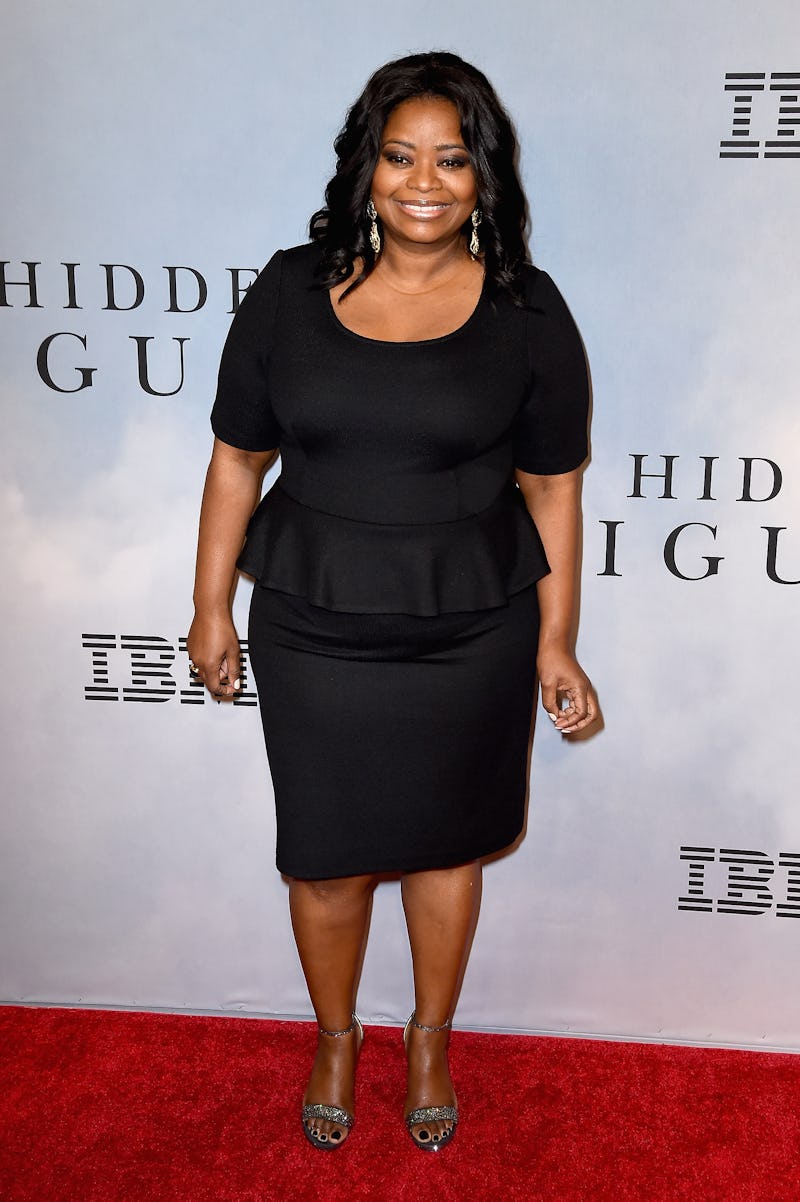 Nicholas Hunt/Getty Images Entertainment/Getty Images
If you were afraid that the unlucky day of Friday the 13th was going to be all bad, this news about Octavia Spencer buying out a showing of Hidden Figures should surely change your mind. Through a post on her Instagram account, the actress announced that she purchased the entire Friday, Jan. 13 8 p.m. showing of her film at a movie theater in the Los Angeles neighborhood of Baldwin Hills. She said this special Hidden Figures screening is for families in need and asked for people to help her spread the word in a truly beautiful, selfless move.
The film, about the real-life black female mathematicians who worked in NASA in the 1960s and were influential in the Space Race, is outrageously inspirational. Everyone should learn about the racism and sexism that Katherine Johnson, Mary Jackson, and Dorothy Vaughan had to overcome, and, through her purchase of a Hidden Figures showing, Spencer is making this movie accessible to families who otherwise couldn't afford it.
Along with sharing a stunning watercolor painting of her character Vaughan from artist Stella Blu, Spencer wrote on her Jan. 12 Instagram post:
Tomorrow I've bought the 8pm showing of #hiddenfigures the rave Baldwin hills. If you know a family in need that would like to see our movie but can't afford it have them come. It's first come first served. My mom would not have been able to afford to take me and my siblings. So, I'm honoring her and all single parents this #mlkweekend Pass the word.
Beyond just wanting to share her movie, Spencer is offering this free showing in honor of her mother. As she wrote in her post, her mother wouldn't have been able to take Spencer and her siblings to the movies when she was growing up.
In a Dec. 2016 interview with Jess Cagle of Entertainment Weekly and People, Spencer spoke about her mother Dellsena, who seems like she was an incredible woman. Dellsena was a single mother, who provided for Spencer and her six siblings by working as a maid and doing several other jobs. Although she passed away when Spencer was only 18, the actress credits Dellsena for making her the woman she is today. That's why she mentions single-parent families specifically in her post.
Spencer also recognized Martin Luther King Jr. Day in her message. As Hidden Figures documents the segregation in the 1960s that Johnson, Jackson, and Vaughan faced, having her generous showing of the film on the Friday before the national holiday commemorating King and his civil rights movement is particularly fitting.
Spencer's complimentary showing of Hidden Figures appears to be at the Baldwin Hills Crenshaw Plaza 15 in southern Los Angeles at 8 p.m. on Friday, Jan. 13. Availability will be on a first-come first-serve basis, so, if you know of any families who live in the area who could benefit from this screening, do as Spencer said and "pass the word." Because this type of kindness is exactly what we need to see more of in 2017.