Oprah Says She Is Not Running For President For This One, Very Important Reason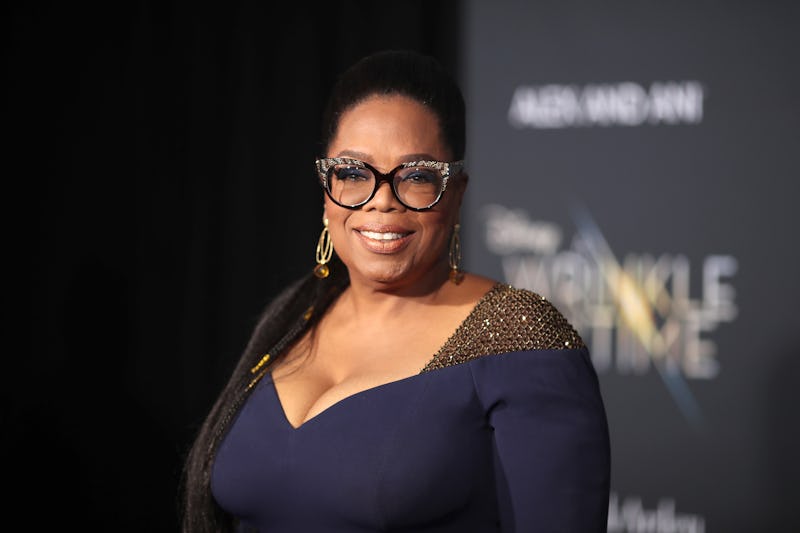 Christopher Polk/Getty Images Entertainment/Getty Images
Those "Oprah 2020" T-shirts might have been a little premature. Especially after the comments Oprah made in the August cover story for British Vogue. In her interview, Oprah said she isn't running for president because it would "kill her." Yes, Oprah's once again shooting down the rumors she's running for president in 2020 in the most serious way yet. Maybe now fans will finally believe her.
In the interview, Oprah talks about why running for president isn't for her. "In that political structure — all the non-truths, the bullsh*t, the crap, the nastiness, the backhanded backroom stuff that goes on — I feel like I could not exist," Oprah said. "I would not be able to do it. It's not a clean business. It would kill me."
It's an honest statement from the former talk show queen, who has been fielding questions about her political future since this year's Golden Globes when she gave a powerful speech in acceptance of the Cecil B. DeMille Award. In her awe-inspiring speech — seriously, just look at the faces in the audience — Oprah said "a new day is on the horizon," a line that had some wondering if she was hinting that she was getting into politics. Namely, that she was seriously considering challenging President Donald Trump in the next election.
Safe to say, Twitter was on board with the idea of President Oprah. For many, Oprah was the TV president that actually made sense thanks to her history of public service. Even Oprah's longtime partner Stedman Graham seemed convinced it was also a possibility following her Globes appearance. "It's up to the people," Graham told the Los Angeles Times hours after her speech. "She would absolutely do it."
But from the beginning Oprah didn't seem so convinced and that wasn't all that surprising. Oprah has said time and time again that she would never run for public office — telling the Hollywood Reporter in June 2017, as reported by GQ, "I will never run for public office. That's a pretty definitive thing." But following her Golden Globes speech, which focused on a need for real change in this age of #MeToo, she was asked over and over about her political future.
Throughout, she was adamant that it was a no for her, but there were glimmers of hope. In a People interview back in February, Oprah said she would need a sign from God to actually run. "I went into prayer [after the Golden Globes]. God, if you think I'm supposed to run, you gotta tell me," she said, "and it has to be so clear that not even I can miss it.' And I haven't gotten that."
The reason some may like the idea of Oprah running is that it seems like she might actually be able to beat Trump in an election. In a poll conducted last year, Public Policy found that the voters they spoke to were more likely to vote for Oprah than Trump if they were both on the 2020 presidential ballot. But, Oprah isn't interested; in fact, she thinks it would be bad for her health — body and soul.
That doesn't mean, though, that she isn't ready to support a candidate. Back in March, while appearing on The Van Jones Show, Oprah Winfrey offered advice to 2020 presidential candidates, telling them that they need to be more than than just the anti-Donald Trump. They need to have a platform that represents them. "Do not give your energy to that which you really don't believe in," she said. "Do not spend all your time talking about your opponents. Do not give your energy to that which you really don't believe in. Do not spend an ounce of your time on that."
As sad as it might be for fans of Oprah to hear she won't be running for president, what she's made clear is that she's not the right choice. But there is someone out there who is, and after Oprah's latest comments, it's time the rest of us start trying to find that person.