Literally Just A Bunch Of Photos Of Celebs Who Were Mesmerized By Oprah's Golden Globes Speech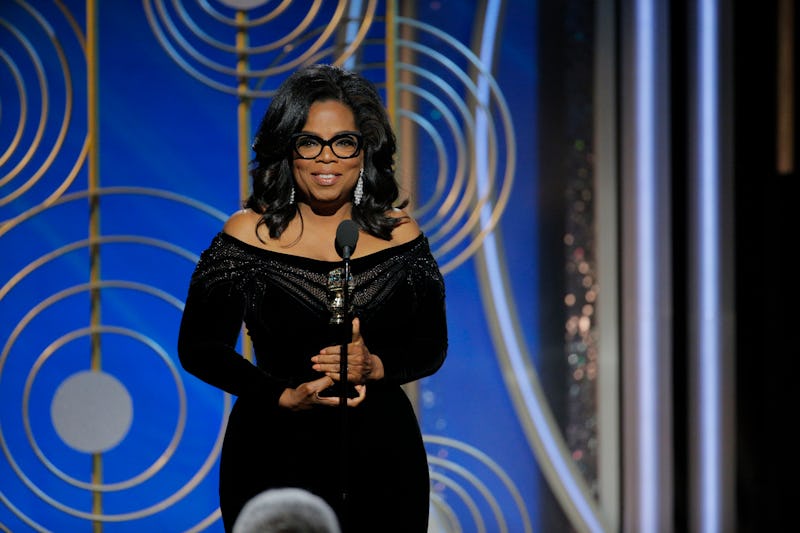 Handout/Getty Images Entertainment/Getty Images
No one needed Reese Witherspoon to explain why everybody loves Oprah Winfrey at the 2018 Golden Globes, but she was able to articulate the joy that the icon brings. And that joy was clear at the Globes as all the women in the room looked adoringly at Oprah during her Cecil B. DeMille award acceptance speech. Oprah is the first black woman to be given this recognition at the Golden Globes, which she discussed the importance of during her speech. She also talked about the day when "nobody ever has to say, 'Me too' again." So was it any wonder that she had every person — particularly the women — in the audience enthralled by her passionate speech?
The Cecil B. DeMille award is given to someone who has made "outstanding contributions to the world of entertainment" and Oprah has certainly done that through her work as a talk show host and in the film industry. And she started out her speech by remembering when she saw Sidney Poitier become the first black man to win Best Actor at the Academy Awards. He also became the first person of color to earn the Cecil B. DeMille award at the Golden Globes in 1982 and 36 years later, Oprah became the first woman of color to get the award.
Beyond this landmark moment, she also moved the audience when she spoke out about injustice and sexual assault. "I want all the girls watching here and now to know that a new day is on the horizon," Oprah said. "And when that new day finally dawns, it will be because of a lot of magnificent women, many of whom are right here in this room tonight, and some pretty phenomenal men fighting hard to make sure that they become the leaders who take us to the time when nobody ever has to say, 'Me too' again."
And just like if Oprah was back to hosting The Oprah Winfrey Show and offering everyone in the audience a new car, you could feel — and see — the love for Oprah during her speech. Here are some of the female celebrities who were the most enamored with the great and powerful O.
Halle Berry
As of 2018, Halle Berry is the only black woman to have won an Academy Award for Best Actress, so she was understandably on her feet for Oprah.
Emma Stone & Billie Jean King
Nominee Emma Stone brought tennis player and gender right's activist Billie Jean King as her date since Stone portrayed her in Battle Of The Sexes.
Kerry Washington & Eva Longoria
These two are soon to be co-stars in a workplace comedy.
Claire Foy
The Crown nominee looked on approvingly while Fargo winner Ewan McGregor shared the same sentiment behind her.
Susan Sarandon
Susan Sarandon joined seven other female actors in bringing women's rights activists as their dates to the Globes.
Saoirse Ronan
Saoirse Ronan won Best Actress for a musical or comedy film.
Sally Hawkins & Octavia Spencer
The Shape Of Water co-stars were loving it.
Connie Britton
Connie Britton, who was wearing a "poverty is sexist" shirt, clearly approved of Oprah.
Issa Rae
Issa Rae didn't win for Insecure, but Oprah gave her a reason to smile.
Tonya Harding & Mary J. Blige
This unlikely duo were moved by Oprah's words.
Rita Wilson
Rita Wilson, with husband Tom Hanks, was thrilled.
Viola Davis
But perhaps no one was as thrilled as Viola Davis.
Susan Kelechi Watson
Susan Kelechi Watson of This Is Us was on her feet. Beth Pearson would approve.
Kate Capshaw
Kate Capshaw and husband Steven Spielberg were mesmerized.
Chrissy Metz
This Is Us star Chrissy Metz applauded Oprah during her speech.
Sharon Stone
Sharon Stone was contemplative.
Meryl Streep
Last year's Cecil B. DeMille award winner looked on in appreciation.
America Ferrera
America Ferrera, who spoke at the Women's March in 2017, seemed to understand the significance of this moment.
Hong Chau
The Downsizing actor looked on thoughtfully.
Ashley Judd
Ashley Judd, who has spoken out about sexual assault allegations herself, looked pleased at the part of Oprah's speech that tackled that subject matter.
Geena Davis
Geena Davis was another woman in the audience who was enthralled by Oprah.
Lena Waithe
The Master of None star and writer made history at the Emmys in Septemeber, and on Sunday night, watched Oprah make history, too.
Frankie Shaw
The SMILF star got emotional.
Gwendoline Christie
The camera cut to Christie multiple times during the speech and she looked either pensive or overjoyed.
Ava DuVernay
Ava DuVernay was hanging on Oprah's every word.
Kate Hudson
Kate Hudson, who presented an award during the night, was totally focused.
Gal Gadot
As was Wonder Woman star Gal Gadot.
Angelina Jolie
Angelina Jolie looked serious when the camera cut to her.
Tracee Ellis Ross
Like many people, Ross gave Oprah a standing ovation.
Nicole Kidman
Nicole Kidman, who won a Globe for Big Little Lies earlier in the night, was pleased with Oprah's words.
Alicia Vikander
Alicia Vikander got an emotional close-up shot during the speech.
Zoë Kravitz
Zoë Kravitz looked like she was trying not to cry at several points during Oprah's speech, her lips trembling.
Lily James
Lily James was paying rapt attention to the speech — as were all of us, to be honest.
Mónica Ramírez & Laura Dern
Dern and Ramirez were all smiles, because Oprah's words were the perfect combination of inspirational, powerful, and galvanizing. If you weren't crying, you were laughing.
Leslie Bibb
Bibb was one of the numerous people who got to their feet to clap before Oprah had even left the stage. Her words were just that deserving.
Shirley MacLaine
MacLaine just needed a moment to really absorb the words, but not even taking that moment could stop her from clapping.
Frances McDormand
And, of course, Frances McDormand not only applauded Oprah's speech, but really seemed to be inspired by the message.
It's a night that will life in infamy, and a speech that will become legend. Because when Oprah takes a stage, she absolutely crushes it, and there's no one who can match that level of awesomeness. Just look at these faces as proof.
If you or someone you know has been sexually assaulted, call the National Sexual Assault Telephone Hotline at 800-656-HOPE (4673) or visit online.rainn.org.