Paul Rudd Will Have Not Just One, But TWO Roles In His New Netflix Series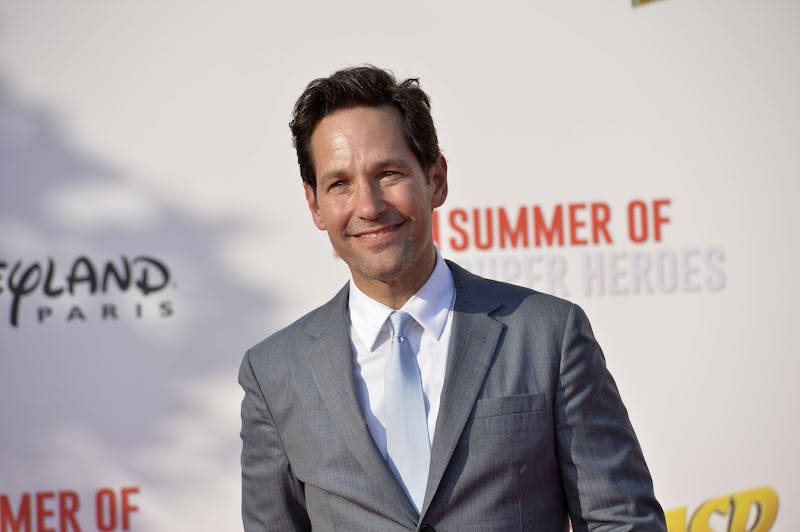 Kristy Sparow/Getty Images Entertainment/Getty Images
Some television viewers love their Paul Rudd projects with as much Paul Rudd in them as possible, and Netflix has a gift for them. Paul Rudd's Netflix series Living With Yourself will star the actor in not one, but two lead roles, so fans will need to make some extra room on their shrines pretty soon. Netflix announced the series in a Aug. 10 press release.
Deadline reported that the Netflix series was "greenlit" by IFC last year, which is owned by AMC, but the network reportedly "did not move forward" with it for unspecified reasons. Now that it's back on track, though, it seems the series synopsis has remained the same:
Living With Yourself is a philosophical comedy that asks: do we really want to be better? It stars Rudd in a dual role as a man struggling with his life who undergoes a novel treatment to become a better person, and finds he's been replaced by a new and improved version — revealing that his own worst enemy is himself.
Of course, the ageless wonder known as Rudd is no one's enemy. Except, perhaps, Conan O'Brien, as he's still pulling that late-night prank all these years later. But that's beside the point. The point is that Paul Rudd's new Netflix show will star two Paul Rudds. Or is the plural Pauls Rudd?
Series creator Timothy Greenberg may not be a household name on his own, but his previous work speaks for itself. Per Deadline, he was executive producer for The Daily Show With Jon Stewart for a cool decade (2006-2016), and has worked as a consulting producer for TBS comedy The Detour and HBO half-hour Wyatt Cenac's Problem Areas. Both of these programs starred previous Daily Show correspondents, and while Rudd never had an official role on Jon Stewart's program, he was a regular and celebrated guest.
It hasn't been that long since Paul Rudd has taken on a television project, but he does seem selective with the ones he chooses. He memorably played Pawnee government idiot-slash-rich-kid Bobby Newport on Parks & Recreation, the lovable Mike on Friends, and has done two seasons of Wet Hot American Summer spinoffs for Netflix. Rudd is known for his comedic ability and stunningly eternal looks, but his forays into action (like Ant-Man) and drama are often his most affecting. Watching him flex his nuanced chops for an unusual role like this will likely prove enjoyable. After all, what's not to love about Paul Rudd?
So, again, viewers that enjoy exploring one's psyche while staring into the shining visage of immortal thespian Paul Rudd will most certainly enjoy Living With Yourself. It may be as close as one can get to actually living with Paul Rudd, unless one had the good fortune to be born into Rudd's family. (He's happily married with two children.)
For the record, Rudd is also in talks for an untitled Avengers film due out in 2019 and helps run a candy store in upstate New York in his spare time. Perhaps the title Living With Yourself When You Are Not In The Immediate Vicinity Of Paul Rudd would be a more apt title? Even so, the series does not have a release date yet, so fans have plenty of time to prepare for it. Insert that classic Paul Rudd smile here.