Here's When A Couple Is Most Likely To Start Sleeping In Separate Beds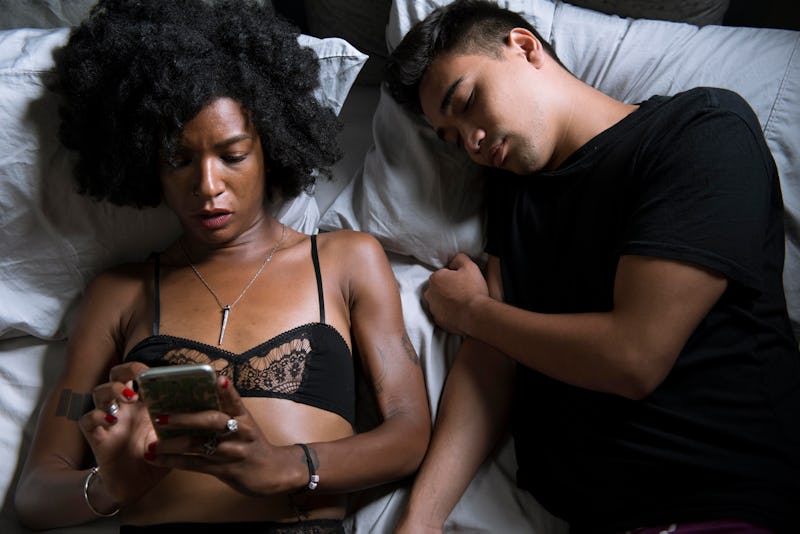 BDG Media, Inc.
We all know that getting a good night of sleep is necessary for health, happiness, and just general functioning — but so many things get in the way. And not getting enough sleep can have a major impact on a relationship.
"Research shows that adults need at least seven hours of sleep," Sarah Watson, licensed professional counselor and sex therapist, tells Bustle. "When we don't get enough sleep we tend to be short tempered, have increased anxiety or mood swings and this can impact your connection with your partner."
But sometimes a partner is the reason people are not getting enough sleep. A new survey of 1,000 people from Mattress Online, a UK-based mattress website, found that many of couples struggle with their partner's bedtime manner — and it's keeping them awake. It's leading to couples going to bed at different times and even getting sleep divorces, where couples have separate sleeping arrangements.
Relationship therapist Aimee Hartstein, LCSW, tells Bustle that, with how important sleep is, there's definitely a strong argument for sleep divorces. "I think that if a couple has access to an extra bed, there's nothing wrong with taking a little 'sleep vacation' now and then," Hartstein says. "Just make sure to continue to make time for cuddling, intimacy, sex, and pillow talk!"
Having incompatible sleep schedules doesn't have to be the end of the world for a relationship. "If it is not possible to go to bed at the same time, you can still both get into bed together for a period of time — to cuddle, talk, and/or engage in sexual activity," Dr. Rachel Needle, licensed psychologist and certified sex therapist in West Palm Beach, FL, and the co-director of Modern Sex Therapy Institutes, tells Bustle. "Then, the partner who is going to stay up can get out of bed after you have had some time to connect." And, if you have to, moving to separate beds might be the right answer — just as long as you're getting quality time elsewhere.
But what's driving couples to sleep divorces? And how are they affecting relationships? Here's what the survey found.