Ariana Has A New Tattoo On THAT Finger & Fans Have Theories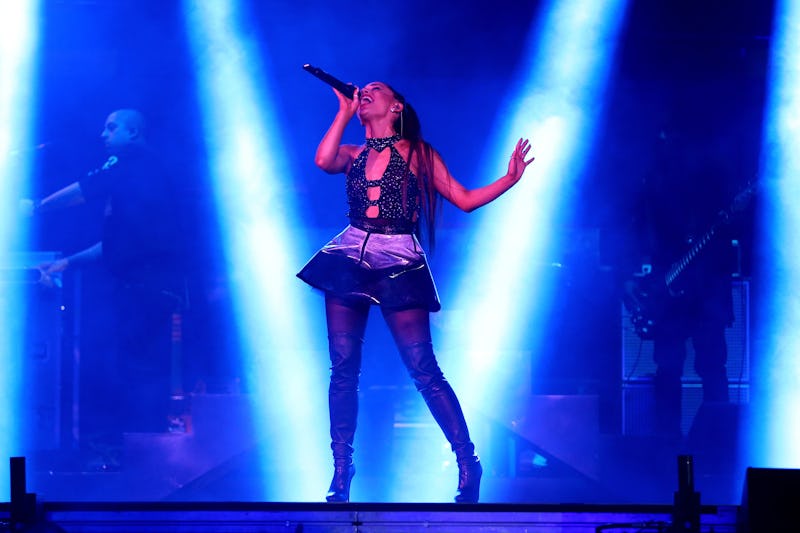 Rich Polk/Getty Images Entertainment/Getty Images
Sweetner hasn't even come out, and the world is obsessed with Ariana Grande's love life. It's obviously not because of the lyrics on the new but unreleased album. It's because she's engaged, and now, Ariana Grande's finger tattoo has people and fans scrambling even more with theories about she and partner Pete Davidson's relationship. Is the new ink dedicated to Davidson or is it just a new tiny tat that Grande got for herself? The theories are running rampant.
In case you haven't been following celebrity news, surprise! Ariana Grande and Pete Davidson are engaged. The pair had a bit of a whirlwind romance before getting engaged. Allegedly, everything started back in May when Grande confirmed the end of her relationship with rapper Mac Miller on May 10. Roughly 10 days later, People reported that she and Davidson were dating, and on May 30, the pair confirmed the news by wearing the robes of their respective Hogwarts Houses on Instagram (basically it was the best relationship confirmation ever).
On June 11, reports began that the pair had gotten engaged, and a few days later on The Tonight Show with Jimmy Fallon, Davidson confirmed it. With a new tattoo on that finger, is Grande's ink an homage to her fiancé, Davidson?
The Grande and Davidson fan account @peteandariana posted a close-up image of the singer's ring finger (complete with her gorgeous pear shaped diamond engagement ring), and on it, there's a bit of new ink right below her first knuckle. Unfortunately, the image is pretty blurry, but the account appears to believe that the tattoo reads Davidson's first name, "Pete."
The internet quickly began reacting to the potential new ink. After all, putting someone's name on your body is kind of a big deal. Overall, though, fans don't seem to be entirely sure what the tattoo actually says.
Fans on Twitter are torn. Some are all aboard the "Pete" train, while others think it may be the Spanish word for art — arte. It's hard to blame people for being confused as the tattoo is so tiny.
Other Grande fans are convinced that the "No Tears Left To Cry" artist's tattoo does, in fact, say Pete.
Some even seem a bit skeptical of tattooing a significant other's name on your body at all, but hey, it's her body.
Other fans just love seeing their relationship play out as they get matching tattoos. Matching tattoos you ask? Surprise! This isn't their first ink. In fact, the pair have basically been in a tattoo parlor every week since they began dating.
At the beginning of the swirling rumors of their relationship, gossip surfaced that the pair actually got matching cloud tattoos on their left middle fingers. Then, there is the report that Grande got a tattoo that honors Davidson's late father, a firefighter who died during the 9/11 terrorist attack. Davidson also got individual tattoos for Grande, including a pair of her iconic bunny ears behind his ear.
Of course, there's the confirmed matching one they each have as well. On June 18, Grande showed off the new ink in an Instagram story. The tattoo reads, "H2GKMO" which stands for "honest to god knock me out," a phrase she commonly tweets out.
If their track record shows anything, it's that Ariana Grande's new tattoo may, in fact, say Pete, and if it doesn't, it could still be a matching one with Davidson. At this point, there's just no way to know. One thing is for sure, though. This is a couple who loves their tattoos, so here's hoping for more artwork to come.