Here's What The 'Charlie And The Chocolate Factory' Eyeshadow Palette Looks Like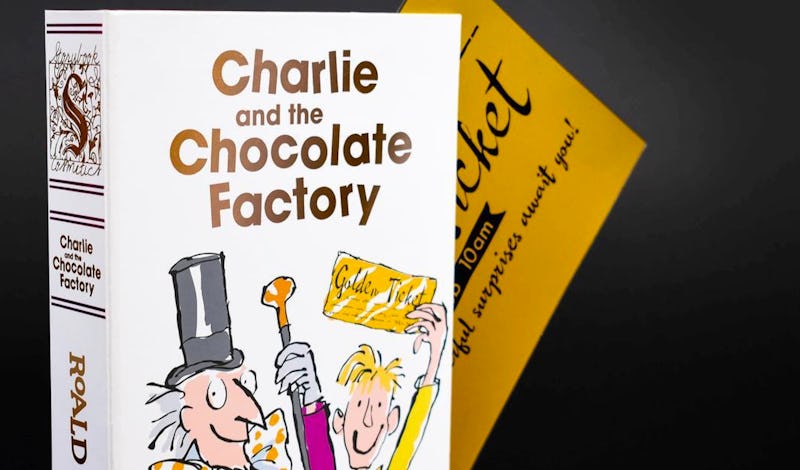 A golden ticket to gorgeous eyeshadow is just around the corner, from the looks of it. Whimsical beauty brand Storybook Cosmetics just gave us a look at their Charlie and the Chocolate Factory eyeshadow palette, and it's the latest literary classic to get the Storybook Cosmetics treatment. The set of 12 colors is expected to be released later this summer, and fans of the brand and the book are stoked.
Storybook Cosmetics announced the collaboration back in January (and may have teased colors last month), but the timing couldn't be more perfect to reveal the actual look of the palette — the movie Willy Wonka and the Chocolate Factory starring Gene Wilder came out on this day, June 30, in 1971.
Judging by Storybook Cosmetics' Instagram announcement, the packaging looks pretty much exactly like the classic book you've still got on your bookshelf. It has the old-school illustration of Willy Wonka and Charlie Bucket holding a golden ticket on the front — and from the looks of it, the palette comes with a golden ticket that reads "many wonderful surprises await you" as well.
The team at Roald Dahl also chimed in with an Instagram that echoes a similar sentiment, reading, "tremendous things are in store for you." And considering the brand's amazing Beauty and the Beast and Harry Potter collections, among others, I believe it.
Here's a "spine" view of the book-like palette.
No word on what the 12 colors will look like, but I have some guesses. Oompa Loompa orange for a perfect sunset smokey eye? Scrumdiddlyumptious bronze that, hopefully, smells like actual chocolate? We'll have to wait and see, but stay tuned.