These Pics Of Denise Richards' First Vacay With The 'RHOBH' Cast Will Make Fans So Excited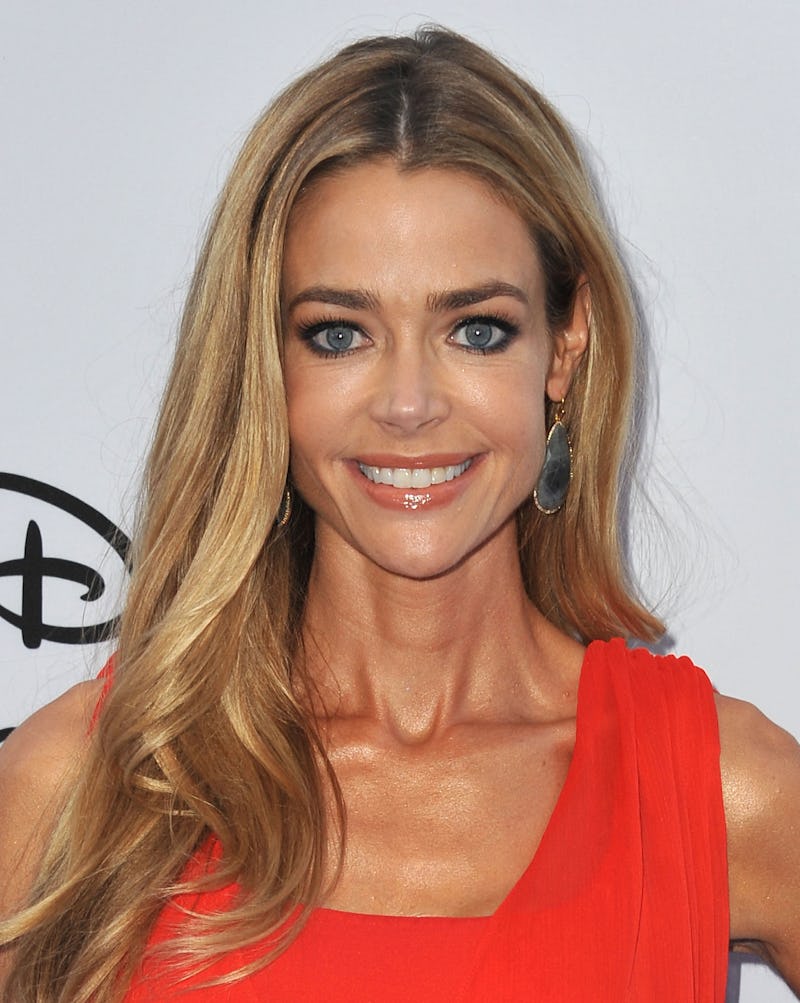 Angela Weiss/Getty Images Entertainment/Getty Images
Real Housewives of Beverly Hills fans, these photos of Denise Richards vacationing with the RHOBH cast are going to make you so excited for next season. This is her first trip with the women since Denise confirmed she was joining RHOBH for Season 9. According to the several Instagrams shared by Dorit Kemsley, the Real Housewives lived it up in Baha Mar, located in the Bahamas.
Based on the photos shared by everyone, it looks like they had an amazing time. In addition to Denise and Dorit, Lisa Rinna, Kyle Richards, Teddi Mellencamp, Camille Grammer, and Erika Jayne were all beaching it together. An official Season 9 cast has yet to be announced, but it's probably safe to say they will all be part of next season.
Fans might notice one familiar face is missing — Lisa Vanderpump. Hmm... where was she? Well, everyone can relax, because based on photos shared of the ladies at the airport on their way to the Bahamas, LVP was with them. Maybe she had to leave early? Or maybe she didn't want to be in the following photos? Or maybe she was off saving more dogs? Who knows the exact reason Vanderpump is nowhere to be seen in the images below, but she was on the vacation.
Thanks to Twitter users who shared videos from Rinna and Kemsley's Instagram Stories, fans can see just how much fun the women had. During one dinner, a band played and most of the Housewives danced with them, minus Denise and Erika. That said, Rinna's dancing in the Bahamas made up for the two sitting at the table. In the video, Camille (of course), Kyle, and Teddi can also see be dancing. At one point, Rinna tried to get Erika to dance, but she wouldn't.
In addition to the RHOBH women, based on a Boomerang posted by The Real Housewives of 90210 Instagram account, Real Housewives of Atlanta star NeNe Leakes was in the Bahamas at the same time. Wouldn't it be great if she made a cameo on Beverly Hills?
According to another video captured by the Real Housewives of 90210 Instagram, there was even some drama during another dinner. Rinna was filmed yelling, "Say it! Say it, you guys! Say it!" What she wants them to say remains unclear, but maybe "say it" will replace "own it" this season and even find its way into Rinna's tagline?
Whatever the case, it looks like this could be another memorable Real Housewives vacation — and here are the photos to prove it.
A "Girl Gang"
These four are on fire.
Posing On The Beach
Make sure you scroll through all of the photos.
Dorit Wearing Her Own Creation
Yes, that's her swimsuit line, Beverly Beach.
This Trio Is Everything
Let's hope Camille is a full-time Housewife this season.
There is no official premiere date for RHOBH Season 9 yet, but let's hope it gets here fast. These women need to be back on TV, stat.