Photos Of Tommy Maitland Vs. The Original 'Gong Show' Host Highlight Their Unique Personalities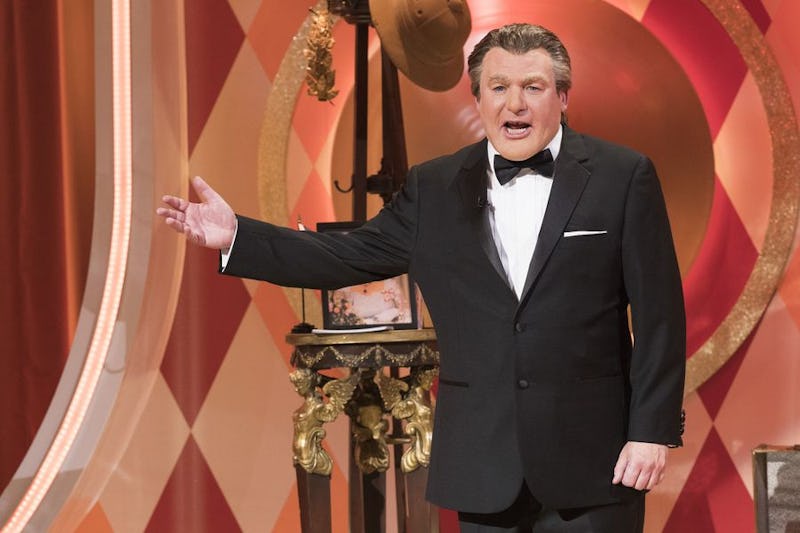 Greg Gayne/ABC
Even though summer is half over, you may still be confounded by the host of one of ABC's summer shows — The Gong Show. Mike Myers portrays Tommy Maitland on the reboot of the ridiculous competition show and his British alter ego usually gives the panel of celebrity judges some chuckles. Yet, if you have been curious if Myers used the original Gong Show host from the '70s as inspiration for his Maitland character, you'll soon discover that's not the case. The host for the first Gong Show was Chuck Barris and he was an American legend. And while Maitland and Barris don't have much in common, photos of the hosts of The Gong Show do show how much fun it must be to lead this wacky show.
Not only was Barris the host of the first Gong Show (there have been other reboots before ABC's revival), but he created the game show. Along with The Gong Show, he also was the creator of The Dating Game and The Newlywed Game. Although Barris was involved in TV for a large part of his life, it wasn't until 1976 when The Gong Show first aired that he became an onscreen persona. Yet, since Barris died on March 22, 2017, he never got the opportunity to see the most recent incarnation.
While Barris and Maitland have different takes to their hosting styles, Maitland wears a tuxedo like Barris usually wore.
Drexel University (Barris' alma mater) noted that the original host started off wearing tuxedos, but then ended up in more casual and sillier outfits as the show went on. For example, he played with the formal look by wearing a tailcoat and jeans — complete with a top hat and cane.
Plus, Barris was prone to swap out his bowtie for some chest hair — something that modern Gong Show viewers have not seen Maitland do yet. (Although Myers did rock some notable chest hair as Austin Powers.)
Variety reported that Barris "introduced the amateur contestants dressed in colorful clothing with odd props," but his most common accessories were a variety of hats.
While Maitland prefers to stay a bit more buttoned-up and British, he also incorporates props during some acts. But he mostly sticks to one type of hat — a montera, like a matador.
Yet, while Maitland might not be as wacky as Barris was, they both know how to get down with the competitors by dancing.
Another (kind of) similarity is that, like Myers having another persona playing Tommy Maitland, Barris had a rumored secret life as a CIA assassin, which he wrote about in his book, Confessions of a Dangerous Mind: An Unauthorized Autobiography. (For the record, TIME reported that a rep for the CIA called Barris' claims "ridiculous" and "absolutely not true.") George Clooney adapted the book into a 2002 film with Sam Rockwell playing Barris — and the actor got to do his take on The Gong Show host.
And you might have a hard time telling the difference between Barris and Rockwell (thanks to the hats covering their faces) if it wasn't for the quality of the images.
Like Barris before him, Maitland adds his own flavor to the utterly bizarre show. And while these men's style don't have much in common besides tuxedos, they'll always be united by their Gong Show host duties of wrangling some seriously cheeky monkeys.