The Grammys Are Usually Disappointing For Black People, But Here's Why I'm Hopeful About 2018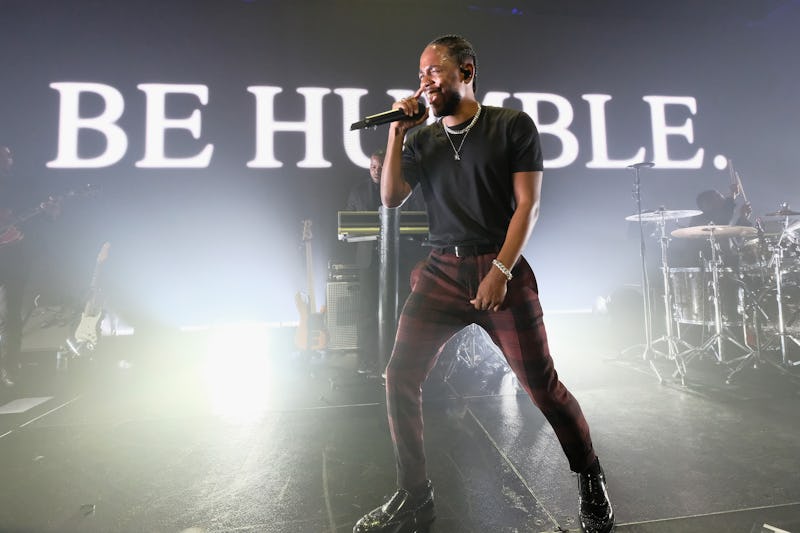 Dimitrios Kambouris/Getty Images Entertainment/Getty Images
Listen, Grammys, I'mma let you finish, but, for black people, you're usually one of the biggest disappointments of the year. Usually, anyway. But the sheer amount of black people nominated for 2018 Grammys could change all of that — at least that's the hope being celebrated on Black Twitter on Tuesday morning. While the nominees for the Grammys can be more inclusive some years than others, the winners can often be wildly upsetting. However, with these nominees alone, black people have already won the 2018 Grammys.
Sure, the celebrations might be premature, because the ceremony doesn't always deliver on the potential promises of the nominations. Remember that time that Adele beat Beyoncé out for Album of the Year in 2017, and even she couldn't believe that was a thing that happened? Or that time Macklemore beat Kendrick Lamar in the Best Rap Album in 2014 and texted the rapper to say he got robbed? Many times, these nods are as far as black artists get to go. Still, this year feels very different. Maybe it's because our odds seems so much better, what with four out of the five artists for Record and Album of the Year being black artists. But at least for these three reasons, no matter how the ceremony turns out, we've already won.
1. The Numbers
Just take a glance down the long, long list of nominees and you'll see what all of Black Twitter sees. There are so many black people nominated for awards across the board, but especially in the major categories. The Album of the Year category is all people of color for the first time since 1999, and three of the albums nominated are rap albums. JAY-Z landed eight nods, followed by Kendrick Lamar with seven nods, followed by Bruno Mars with six nods, followed by Childish Gambino, Khalid, and SZA with five nods. In terms of nominations alone, black excellence is dominating, and the major news outlets have not gone without noticing that.
And, honestly, the only surprise with these numbers is that the Grammys is actually giving them their fair due with these nods, because hip hop and rap has been dominating the Billboard 100 this year. This is evidenced in things like Cardi B's "Bodak Yellow" unseating Taylor Swift at the top of the charts and like when seven rap songs hit the top of that same list in 2017, which is five more than in 2016, six more than in 2015. In July, Nielsen Music's mid-year report declared hip-hop the most popular genre in the music industry for the first time in U.S. history, beating out rock music. Hell, in 2015, Spotify reported that hip hop was the most listened to genre in the entire world. So the true surprise is that it took hip-hop and rap artists this long to rule the Grammy nominations.
2. The Genre
It's not a surprise, as seen in the Billboard charts, that rap and hip-hop are really dominating. But this year Grammy nominations mark an amazing contrast in finally acknowledging that from the 2017 Grammys, which was led by ballads and pop music like Adele's "Hello," Lucas Graham's "7 Years," and Justin Bieber's Purpose. Even Beyoncé's Lemonade, one of the most game changing albums of 2016, lost out in every category it was nominated for except for Best Urban Contemporary Album (though "Formation" also picked up a nod for Best Music Video).
The fact that so many rap and hip-hop albums are being nominated outside of the designated Rap or Urban categories is monumental recognition and visibility for the genre as a whole, a way of recognizing black artists for the tastemakers that they are, especially as hip-hop continues to bleed into the work of other, white artists from Taylor Swift ("...Ready For It?") to half of Ed Sheeran's discography. Recognition for black artists and visibility for black art is especially important right now, not just for the pop culture representation but because of the political climate. In a world where people like Colin Kaepernick are elbowed out of their professions for speaking out about issues that affect black culture, and our own president will name-call protesting athletes without sparing time to actually listen what they're protesting about, giving black people recognition for their hard work and a platform on which to potentially speak about further issues that are facing them feels huge.
3. The Content
Which leads us to the content. Kendrick Lamar and JAY-Z in particular put out albums that really shone a light on black culture and black issues, from what it means to be a black man in America to police brutality to infidelity and relationships. "Story Of O.J." was a mediation on colorism and how it defines and divides the African-American community when the true threat is financial insecurity. DAMN. was laced with Kendrick's usual amount of social commentary, hitting everything from religion to poverty to, of course, racism. Even Childish Gambino's "Redbone" was used on the soundtrack of Get Out, one of the most socially relevant films of 2017.
And that all makes sense. Black art is, at times, inextricable from politics because politics rules so much of our lives in America. Numerous studies have shown that our very skin color means that we don't have the access to certain rights and privileges as easily as white people do, and that, when we succeed, it will be because we put in 10 times the work that white people do. The fact that black people are being honored for creating black music, and especially that some of that music specifically delves into black issues, is worthy of celebration. And it increases the chances that we'll be seeing a lot of political speeches on the Grammys stage this year; of course, that happened last year, too, but, now more than ever, people of color need to have that platform to share their voices. Now more than ever, they need to be recognized and seen. And, now more than ever, there's a good chance we will get to watch that happen.
There's still time for the Grammys ceremony to burst our bubble, and for the actual trophies to go to other performers, who may or may not deserve it as much. But, for right now, this is such a monumental win that you can catch me on Black Twitter celebrating every day until January 28, 2018.