Pink's Amazing VMAs Performance Will Make You Feel Awful For Questioning Her Vanguard Status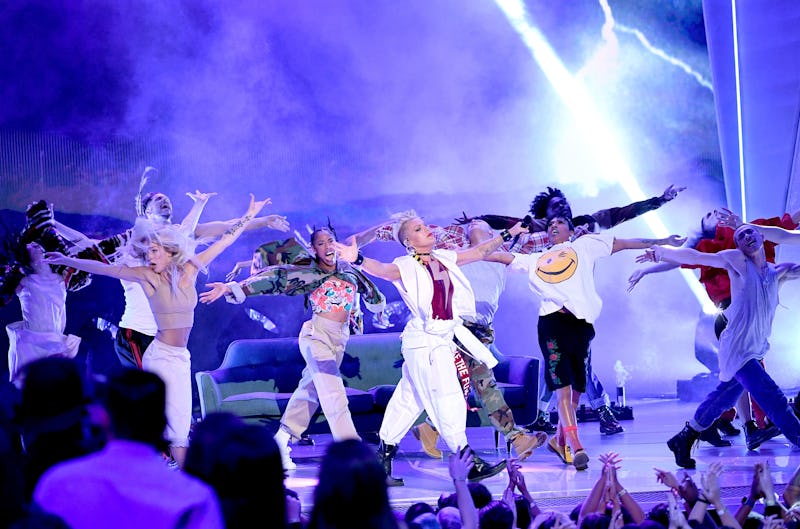 Kevin Winter/Getty Images Entertainment/Getty Images
In case you doubted why MTV decided to honor Pink at the Video Music Awards, then Pink's vanguard performance at the 2017 VMAs should be enough to convince you of just how deserving she is. As this year's Vanguard Award honoree, the singer performed some of her greatest hits, and her performance should be a wake up call to all of you who have been sleeping on her for years.
Pink performed a medley of her biggest tunes, proving once and for all that she is nothing if not deserving of the Vanguard Award. From "Get The Party Started" to "So What" to "F*cking Perfect," Pink gave fans all her greatest hits and more, singing live while flying on a car over the audiences, riding on an ATV, and walking through the crowd. Unfortunately, the singer did not pull out her aerial tricks, but as it turns out, she didn't need to. Her hit tracks were enough to keep the crowd screaming and on their feet.
Watching Pink go through her impressive repertoire is a reminder that she has been killing it for almost two decades. Since her first single, "There You Go," which earned the singer her first VMA nomination in 2000, Pink has been a staple both of the Video Music Awards and of the pop scene.
Recognizing this, Twitter reacted accordingly.
Pink's medley also brought back some of her most powerful anthems of self-acceptance, a theme she's played with her entire career and emphasized with her touching acceptance speech. Instead of talking about her career or thanking her fans, Pink told an anecdote about her daughter and the importance of accepting all kinds of beauty in the world. "We don't change, we take the gravel in the shell and we make a pearl. And we help other people to change so they can see more kinds of beauty," she said.
Pink truly is one in a million, and now is the perfect time to go and listen to her hits, new and old.