Pippa Middleton Checked Into The Hospital, Causing Even More Royal Baby Excitement — REPORT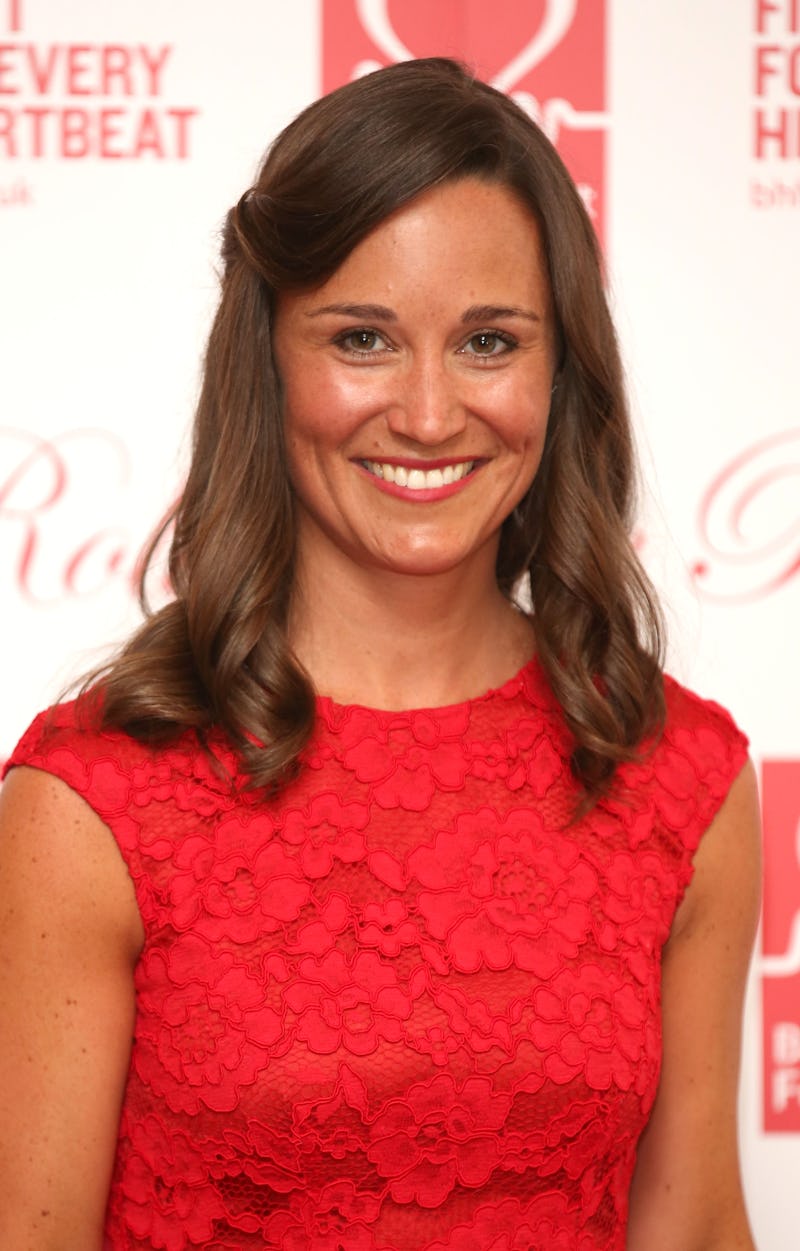 Tim P. Whitby/Getty Images Entertainment/Getty Images
In even more exciting royal baby news, Pippa Middleton checked into the hospital, based on photos shared by the Daily Mail on Monday. In the pictures obtained by the website, James Matthews, Middleton's husband, was seen carrying what have been described as "two overnight bags" that may or may not confirm Middleton is getting ready to have her first child. The couple has not commented on Daily Mail's report, nor have they released any type of statement regarding the matter. According to People, Middleton's rep had no comment when they reached out.
Matthews followed a "smiling" Middleton as she entered the Lindo Wing at St. Mary's Hospital in London, England on Oct. 15, according to the Daily Mail. As British royal family fans know, the Lindo Wing is where Middleton's sister, Kate Middleton, gave birth to all three of her children. There's a good chance Meghan Markle might also welcome her first child at the Lindo Wing next spring.
If you haven't heard, Kensington Palace confirmed on Monday that Markle is pregnant. That's right, Prince Harry and Markle will soon become first-time parents. The palace's statement read:
"Their Royal Highnesses The Duke and Duchess of Sussex are very pleased to announce that The Duchess of Sussex is expecting a baby in the Spring of 2019. Their Royal Highnesses have appreciated all of the support they have received from people around the world since their wedding in May and are delighted to be able to share this happy news with the public."
As for Middleton and Matthews, they first confirmed they were expecting their first child together in June 2018. Actually, Middleton wrote a column for Waitrose, a free magazine published by a British grocery store chain, revealing the news and other details. Seeing as she's a fitness columnist for the publication, it's completely understandable why Middleton would want to make an exciting announcement this way.
According to Hello!, Middleton wrote in her column, "When I learned the happy news that I was pregnant I realized I needed to adjust my 4 to 5-day-a-week routine." She also reportedly shared, unlike her sister, "I was lucky to pass the 12 week scan without suffering from morning sickness. That meant I was able to carry on as normal."
On Oct. 9, People reported Middleton was nine months pregnant and wrote in her most recent column for Waitrose:
"As the final month nears and the bump grows prouder each day, movement is certainly getting more awkward. The transformations to my body that are taking place as it prepares for childbirth have meant that the sound sleeps and the baby bubble effect have gone. Reality is finally kicking in. Perhaps this is the body's way of making sure that you get in tune with what lies ahead."
Middleton also recently attended Princess Eugenie's wedding to Jack Brooksbank on Oct. 12. In no surprise, whatsoever, she looked fabulous in a hunter green dress and fascinator. You can check out her attire above.
If or when Middleton gives birth, she'll surely release a statement. Better yet, she might even write a column. Either way, whenever she becomes a mom, it's definitely going to be cause for celebration.