What Today's Celeb Babies Will Be Doing In The Year 2035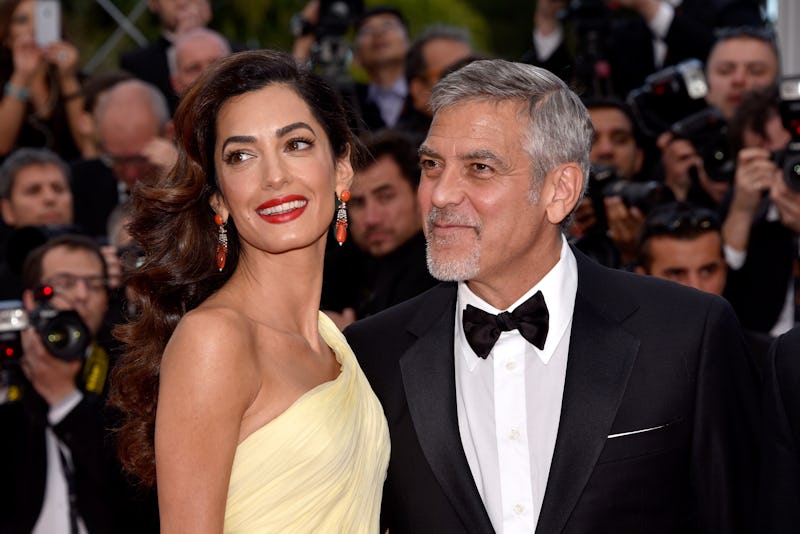 Clemens Bilan/Getty Images Entertainment/Getty Images
A huge congratulations is in order for a certain human rights lawyer and a certain award-winning actor. On Tuesday, George and Amal Clooney welcomed Ella and Alexander. The newest additions to the Clooney family join an unofficial elite squad of celeb offspring that will probably one day rule the world. Have I pictured what Hollywood will look like when this generation of celebrity babies is all grown up? Why, yes. Yes, I have. You better believe I've "predicted" what the progeny of certain famous folk will be up to in… let's say the year 2035.
Before you ask, no, I am not a clairvoyant; unless having a vague idea as to what I will eat for dinner tonight counts, I really cannot see into the future. Sorry if me saying "predicted" was misleading. However, I can let my imagination run amok. And run amok is exactly what I let my imagination do today.
Here's what I imagine will be going on in 2035. You know, present-day celebaby-wise. Don't ask me to try to guess what the global economy will look like 18 years from now, because I haven't the faintest idea. I know my lane, OK?
Alexander & Ella Clooney
The summer of 2035, George Clooney, Amal Clooney, Alexander Clooney, and Ella Clooney will go on a four-week vacation on a secret island. One day, the family will do some light spelunking in the island's caves. After a few hours of wandering the caverns, Alexander and Ella will stumble upon an odd rock jutting out from the ground. Upon further inspection, the twins will realize it is not a rock, but a skull. The twins will send a photo to their parents' archeologist friend (because, of course, George and Amal have an archeologist friend), and the archeologist will get on the first plane out to the secret island.
Long story short: The Clooney twins will discover a previously unknown species of dinosaur.
Blue Ivy Carter & The Twins
In 2035, Blue Ivy will be busy working toward earning her doctorate in international relations (yes, she will skip a few grades), but not too busy to run a successful record label in her spare time. After spending a summer touring the world with their critically acclaimed pop group (and yes, they will be on Blue Ivy's label), Blue Ivy's younger siblings will start their first year of college. Oh, and one of the twins will accidentally let it slip to a reporter that Blue Ivy plans to get into government and eventually run for president. When asked about, Blue Ivy will simply smile.
Aleph & Amalia Millepied
After spending their childhoods and a majority of their teen years studying ballet, Aleph and Amalia Millepied will seek out a second hobby. Sure, Natalie Portman's kids will be happy to follow in their father's footsteps, but they will need the occasional break from the barre, you know? Always good to mix things up. After a year or so of taking swim lessons, Amalia will fall in love with diving. And she will be really good at it. Some will call her a prodigy. She'll train for the 2036 Olympics, and every sports analyst will predict she will take the gold. Meanwhile, Aleph will get an internship at a top film studio that will eventually turn into a producer role. And yes, both will keep dancing.
Silas Timberlake
After starring on a Disney Channel sitcom for four seasons, Silas Timberlake will retire from the acting world and pursue a different avenue: animation. Justin Timberlake and Jessica Biel's son will develop a hit cartoon TV series. Two seasons and a movie later, Silas' animation studio It's Gonna Be Ani-May-Tion will be up and running.
North West, Saint West, Mason Disick, Penelope Disick, Reign Disick, & Dream Kardashian
Fifteen years after their family's reality show took its final bow, North West, Saint West, Mason Disick, Penelope Disick, Reign Disick, and Dream Kardashian will decide to revive the franchise with a program called Kalabasas. This new reality series will follow North, Saint, Mason, Penelope, Reign, and Dream's band, Kalabasas.
Oh, right, I meant to tell you: North, Saint, Mason, Penelope, Reign, and Dream will be in a band called Kalabasas. Kanye West will produce their music, which Rolling Stone will call "undeniably great slushie-like waltz pop." No one will know what "slushie-like waltz pop" means, but percussionist Penelope will get the phrase tattooed onto her forearm anyway. Here's the rest of the lineup: North will play bass, Reign will take guitar duties, Mason will be on woodwinds, Dream will be the keyboardist, and Saint will be lead vocalist. Kalabasas' debut record will rack up several Grammys.
Luna Simone Stephens
Inspired by her grandmother's affinity for making sausage, Luna Stephens will decide to open a restaurant that specializes in gourmet, house-made links. Initially, she will consider setting up shop in Los Angeles or New York City. But then, she will have an epiphany: What if she were to look to her first name? Yes, Luna will put her sausage restaurant on the moon. In 2035, she will be a year into making Vilailuck's Lunar Café happen.
... I don't know about you, but I can't wait to tuck into some frankfurters on the moon in 2040.