Prince Harry & Meghan Markle's First Dance Song Is So Unexpected In The Best Way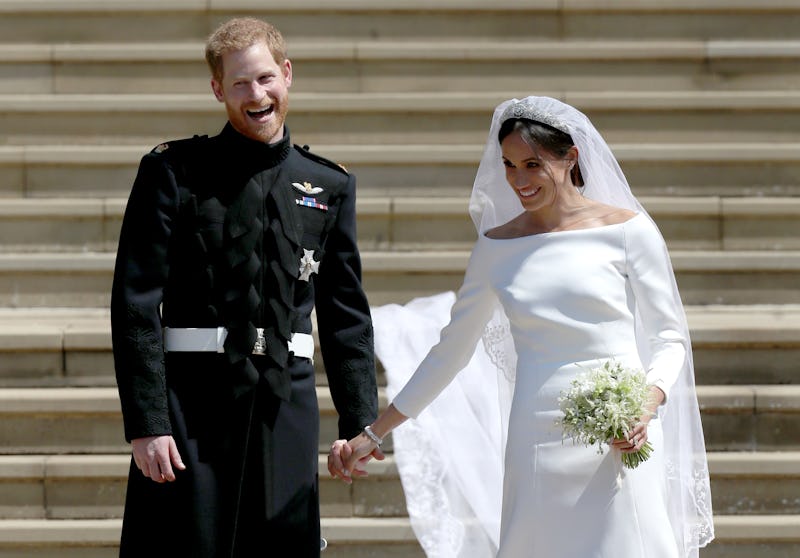 WPA Pool/Getty Images Entertainment/Getty Images
Prince Harry and Meghan Markle proved with their wedding ceremony that a royal wedding doesn't have to be stuffy. And they took that idea one (dance) step further when it came to their reception. According to The Telegraph, Prince Harry and Markle's first dance song was Whitney Houston's "I Wanna Dance With Somebody (Who Loves Me)." The upbeat '80s pop song is a surprising choice for the first dance song for any wedding reception, but it just goes to show how fun-loving and modern this couple really is.
Houston's "I Wanna Dance With Somebody" is a party staple. Yet, it's not usually expected to be a couple's first dance song — especially not a royal couple's — at a wedding reception. According to Brides, first dance songs for recent royal weddings have all been in the more ballad-y, love-song tradition that people expect when it comes to the newlyweds' first dance. For example, Prince Philip of Yugoslavia wed Danica Marinković in 2017 and they danced to Ben E. King's "Stand By Me." (Prince Harry and Markle memorably chose to include that song during their wedding ceremony.) And in 2011, Prince William and Kate Middleton danced to Ellie Goulding's version of "Your Song" by Elton John, which was particularly heartwarming since John was a close friend of Princess Diana's. But Harry and Markle reportedly skipped the seriousness for their first dance and kicked off their reception with a lively song they could really get down to — and Twitter was loving it.
If you're thinking that perhaps it's British wedding tradition for commoners to go with an upbeat first dance song, Harry and Markle's selection is pretty unorthodox when it comes to non-royal weddings too. The British website BrideMagazine wrote about the top 10 first dance songs in the U.K. in 2016, according to Spotify. Most were fairly predictable slow songs, like Ed Sheeran's "Thinking Out Loud," Etta James' "At Last," and Adele's cover of Bob Dylan's "Make You Feel My Love."
In some ways, Harry and Markle's first song choice at the reception matched their wedding ceremony at St. George's Chapel at Windsor Castle earlier in the day. While the May 19 ceremony at the Anglican church was still formal, the couple added aspects that made it more modern. Prince Charles walked Markle down the aisle, but he didn't give her away. And the ceremony was multicultural with the first African-American leader of the Episcopal Church, Bishop Michael Curry, delivering a sermon.
Markle seems responsible for these touches since they reflect her feminist views and her biracial American identity. And it appears that Markle may have also been the one to push for the '80s dance song by American artist Houston as their first dance. In a 2016 interview with Lifestyle Mag, Markle said, "When I'm happy, I listen to Whitney Houston['s] 'I Wanna Dance With Somebody.' It's such a good song!"
If you're hoping for video footage of this epic first dance, you're out of luck. Only 200 people attended the private evening reception at Frogmore House and The Telegraph reported that the guests were not allowed to use their cell phones during the party. And what a party it sounds like since, beyond notable royals, The Telegraph reports guests included George and Amal Clooney, Tom Hardy, James Corden, and Idris Elba. The Late Late Show host is said to have acted as an emcee for the evening with rumors that he even introduced Harry Styles as a surprise musical guest. And Elba reportedly took over DJing duties at some point in the night.
Harry's father Prince Charles hosted the reception, which occurred just a half mile from Windsor Castle and reportedly lasted until 2 a.m. With a song like "I Wanna Dance With Somebody" starting the party, there's no doubt that the guests had a blast. But more importantly, Markle's happy tune about dancing with the one you love started her marriage to Prince Harry on the right foot too.