Prince William Just Hopes Meghan Markle Will Stop Harry From Stealing His Food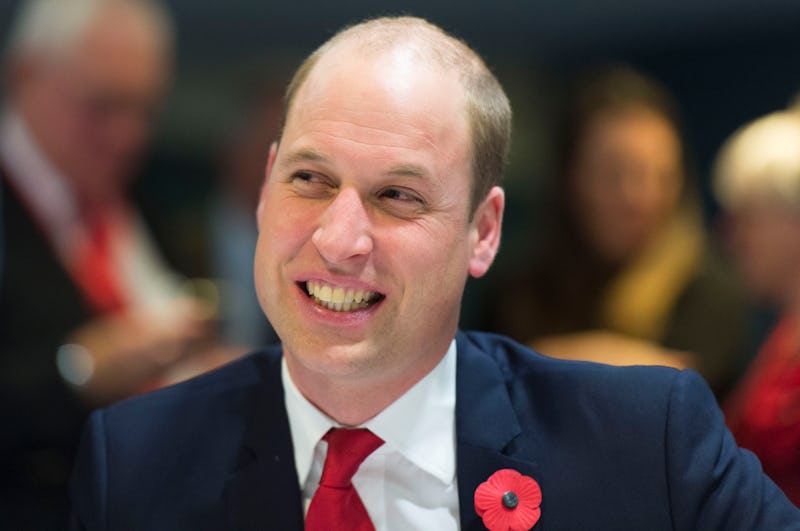 Matthew Horwood/Getty Images Entertainment/Getty Images
The congratulations keep rolling in for Prince Harry and Meghan Markle. On Wednesday in Finland, Prince William reacted to Harry's engagement in a way that further proves they have the most wonderful sibling relationship. "We're very excited, delighted for the both," the 35-year-old royal declared. "We're wishing them all the happiness in this very exciting time." Like any big brother would, William couldn't help but insert a joke about Harry into his response, as well. As he hilariously said, "For me personally, I hope it means he stays out of my fridge and will stop scrounging off all my food, which he's done for the last few years!"
It's pretty much the greatest response ever. Seeing as they all live on Kensington Palace properties (Harry and Markle live at Nottingham Cottage), William seems to be suggesting now that his brother is busy being engaged, planning a wedding, and living with the love of his life, he won't have time to come over and raid his fridge. Plus, seeing as Harry and Markle enjoy cooking together (they were "trying to roast a chicken" when Harry proposed), he just might be too occupied with that to even think about going over to his brother's place to eat all of his food.
It's also extremely clear how happy William is for his baby brother. After throwing down his refrigerator quip, he went onto express how truly overjoyed he is for Harry and Markle's May 2018 wedding at St. George's Chapel at Windsor Castle.
William said,
"It's a fantastic process you go through, the engagement and the build up to the wedding and things like that. So they've got a lot of happy times ahead of them and I think they're very caught up in the moment and I wish them all the happiness and success in planning the wedding, I hope it goes really well."
On Tuesday, the Duchess of Cambridge also commented on Harry and Markle's thrilling news. Outside London's Foundling Museum, Middleton said, "William and I are absolutely thrilled. It's such exciting news. It's a really happy time for any couple and we wish them all the best and hope they enjoy this happy moment."
It's no secret that William and Harry love, respect, and support one another deeply. After William and Middleton got engaged in November 2010, Harry responded: "I am delighted that my brother has popped the question. It means I get a sister, which I have always wanted."
When their mother, Princess Diana, died in 1997, they formed a strong bond — and one that has stood the test of time. In an April video featuring William, Harry, and Middleton discussing their Heads Together campaign battling mental health stigmas, William said about his relationship with Harry, "But we have been brought closer because of the circumstances as well, that's the thing. You know, we are uniquely bonded because of what we've been through."
In April, Harry echoed William's words about helping each other through the death of their mother, which Harry struggled with for a long time. During an interview with The Telegraph's Bryony Gordon for her podcast, Mad World, Harry said, "My brother was a huge support to me, and kept saying, 'This is not right, it's not normal, you need to talk about this stuff, it's OK.'"
Their tight-knit relationship is evident in how they talk about one another, including William's congratulatory remarks for his 33-year-old brother. The fact that he feels comfortable enough to poke fun of Harry in an interview that will make global headlines also speaks to what they have as brothers.
On Harry and Markle's wedding day, here's hoping William shares some sweet moments with his younger brother that the public gets to witness. More than likely, he'll be Harry's best man, just like Harry was at William's wedding. And remember all those laughs Harry and William shared at the altar inside Westminster Abbey while Middleton walked down the aisle? Let's keep fingers crossed that something similar occurs at some point during Harry's big day.
No matter the circumstance, William and Harry always seem to deliver when it comes to putting their amazing brotherly relationship on display.