Eugenie's New Sunglasses Are Giving Major Sci-Fi Vibes & They're SO Easy To Dupe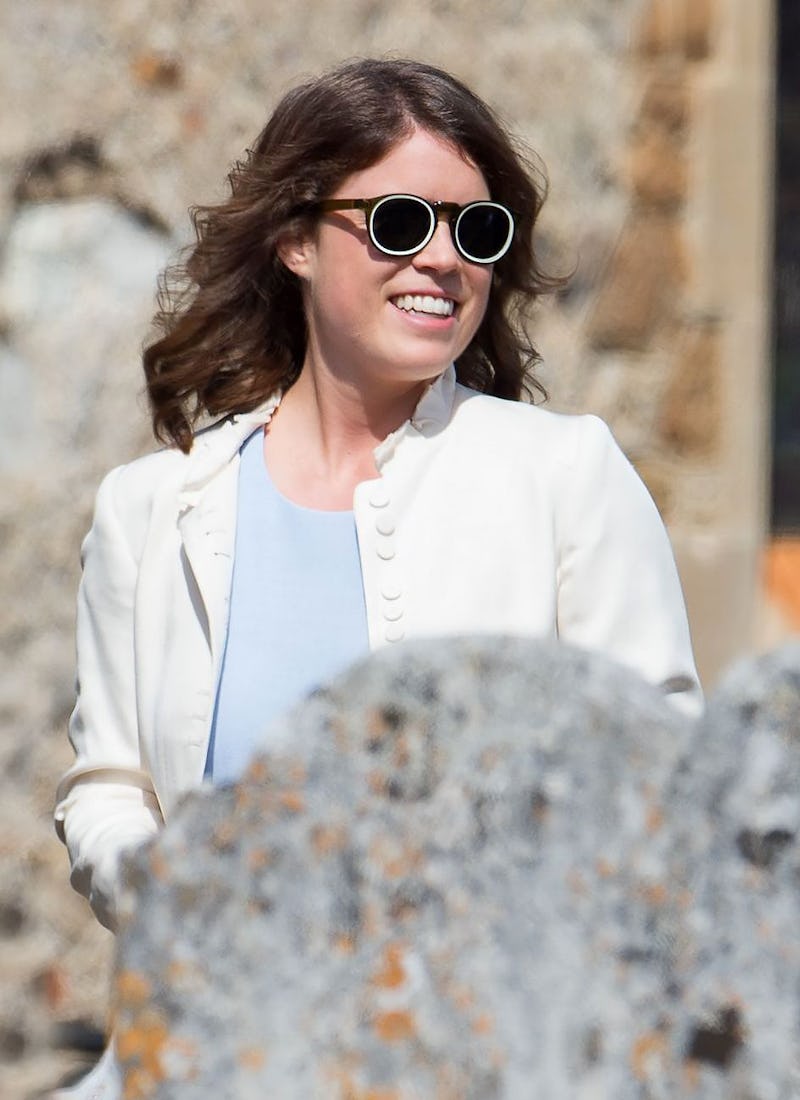 Shutterstock
The royal family definitely has a style it likes to stick to, and there are also certain fashion rules all members have to follow when out in public. So when one of them wears something, even an accessory, that's just a teeny bit jazzier than what we're used to seeing, it really gets people's attention. And that's exactly what Princess Eugenie's sunglasses did on Saturday.
At the weekend, the recently engaged royal attended the wedding of Charlie van Straubenzee and Daisy Jenks. Her cousin Prince Harry, who is best friends with the groom, and Meghan Markle were also in attendance, looking their best. However, it was Eugenie's super cool accessories that stole the show.
Choosing a simple pale blue dress from Whistles and cream Topshop jacket, the 28-year-old spiced up her look with a vibrant floral clutch by Charlotte Olympia and circular sunglasses that were way more modern than what the royals traditionally wear. From far away, her black shades — which came with a stand-out white rim — didn't look anything special. But on closer inspection, they were decidedly sci-fi, in my opinion.
Science fiction has been influencing sunglasses trends a lot in recent months. But with plenty of celebrities wearing impractical teeny tiny shades inspired by The Matrix, it's refreshing to see a royal woman taking a trend to a more wearable (and protective) level.
Twitter agreed that there was something special about Eugenie's sunglasses. From people wondering where the royal's sunglasses were from to praising Eugenie for adopting the '90s trend, it's safe to say that royal fans cannot get enough:
There were also suggestions that Eugenie had taken a style cue from her late aunt Princess Diana. The People's Princess was often spotted wearing white-rimmed shades for both casual and more formal events, donning them to watch the cricket as well as a for a trip to Abu Dhabi.
Unfortunately, I haven't been able to identify where the royal got her sunglasses, but the high street has a couple of similar round styles to snap up.
Eugenie has been hitting a lot of headlines lately, mainly for her upcoming marriage to Jack Brooksbank, which will take place in Windsor Castle on Friday, Oct. 12. The couple have decided to invite more than 1,000 members of the public to watch their wedding, which unfortunately won't be shown on TV.
The Queen's granddaughter also revealed that her sister, Princess Beatrice, will be her maid of honour and that the adorable Prince George and Princess Charlotte will take on the roles of page boy and flower girl.
To amp up the nation's excitement for her big day, Eugenie gave a rare interview to British Vogue alongside her 29-year-old sister, Beatrice, last week. During the chat, the super close siblings opened up about what it's really like to be a modern-day princess and the difficulties that come with trying to balance a career with royal duties. They admitted to "occasionally feeling overwhelmed," however explained that they lean on each other for support.
Eugenie also opened up a little about her upcoming wedding. She said: "It's very nerve-wracking because you want it to be perfect but then you realise that you're going to be with the person that you love forever and nothing else really matters." However, as for exact details, such as what we can expect from her dress, both sisters were tight-lipped.
Personally, now that I've seen those sunglasses, I can only pray that Eugenie will choose something a little different to wear on her big day. A jumpsuit, perhaps? Or maybe a pristine white tuxedo? A more likely option would be the addition of a contemporary piece of jewellery to stand out against a traditional dress. I reckon even the Queen would go for that.