Princess Eugenie's Jewellery Included This Incredibly Special Gift From Her Husband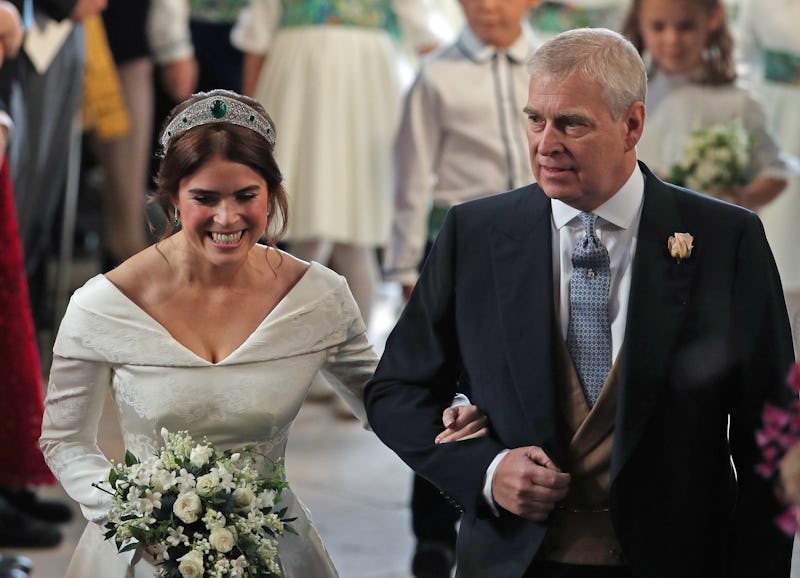 WPA Pool/Getty Images Entertainment/Getty Images
Royal women tend to lay off the heavy jewellery in day-to-day life, let alone on their wedding day. With the tiara stealing most of the attention, most brides opt for subtle earrings, necklaces, and bracelets. Princess Eugenie's wedding jewellery stuck to the age-old tradition.
For her tiara, she chose the Greville Emerald Kokoshnik tiara, which was reportedly made by Boucheron in 1921. The tiara was accompanied by matching diamond and emerald earrings, which the Royal Family website reports were a gift from her now husband, Jack Brooksbank. Together the set looked beautiful, and Eugenie's outfit was otherwise accessorised with her rings.
The 28-year-old's engagement ring proved to be exceedingly rare and hardly what one would call understated. Consisting of a pink padparadscha sapphire surrounded by a halo of diamonds, the jewel mimicked Eugenie's mother's very own Burmese ruby engagement ring.
When it comes to royal wedding rings, however, tradition appears to take precedence. Family tradition dictates that all wedding rings are to be made from Welsh gold, and Eugenie's was no different. As Hello! reports, the Queen Mother started the rend in 1923, sourcing rare gold from Clogau St. David Gold Mine in Wales. The mine closed in 1998, making the gold even more valuable. Clogau's managing director Ben Roberts told Entertainment Tonight: "We've generally been paying anywhere between six to 10 times the value of gold, so you could see that there's an obvious premium there."
It wasn't an impossibility that Eugenie could shock with her wedding ring choice. Wedding expert and bridal designer Caroline Castigliano told Marie Claire: "It's certainly not essential that Eugenie follows suit. However, I would be surprised if she didn't continue this tradition." Eugenie, did indeed, follow suit.
Royal wedding rings are often rarely seen in public. Women tend to step out wearing just their engagement rings while many royal men choose not to wear a wedding ring at all. Ever the rebellious one, Prince Harry, Duke of Sussex flouted the rule earlier this year, deciding to show off his wedding ring unlike his older brother. Jack Brooksbank followed the lead of Prince William, opting not to wear a wedding band, People reports.
Eugenie's choice of the Greville Emerald Kokoshnik tiara was an unexpected one. As the Express had reported, Eugenie had been expected to wear the York tiara; a diamond headpiece given to her mother for her marriage to Prince Andrew, Duke of York in 1986. Conveniently, it comes as part of a demi-parure, meaning it's part of a set of jewellery which also features earrings, a necklace, and bracelet.
The decision to pair her tiara with some customised earrings is a fairly typical one. Queen Mary's bandeau tiara, worn by Meghan Markle, Duchess of Sussex on her wedding day, was paired with similar diamond earrings and a bracelet by Cartier. Catherine, Duchess of Cambridge chose a pair of bespoke earrings by Robinson Pelham to go with her Cartier Halo tiara. The earrings took inspiration from the Middleton coat of arms and featured nature-inspired objects such as acorns and oak leaves. Princess Eugenie's earrings, as a gift from her now husband, have a special meaning all of their own.