Priyanka Chopra's Reaction To Meghan Markle's Pregnancy Is Actually Really Funny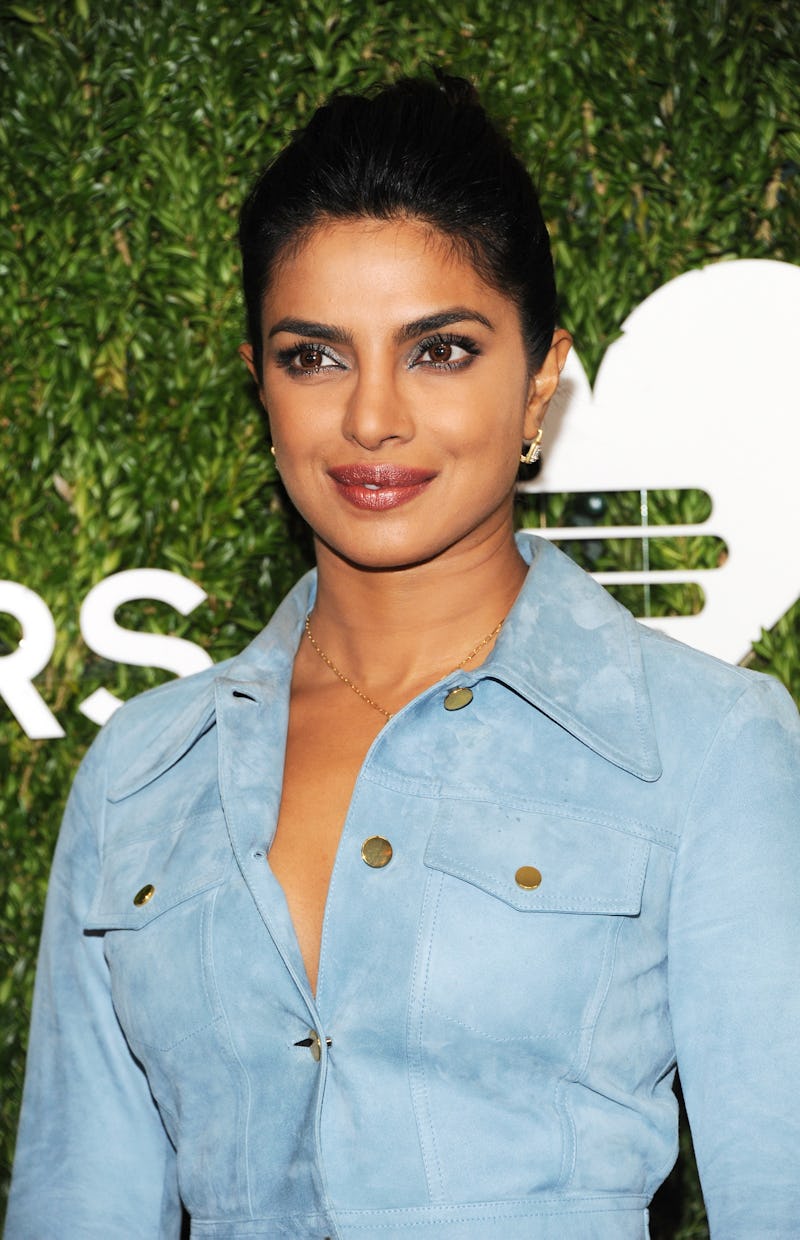 Desiree Navarro/Getty Images Entertainment/Getty Images
Now that Meghan Markle and Prince Harry are going to be parents, you might be wondering what their friends think about this exciting time. Well, here you go. On Tuesday in New York City, Priyanka Chopra reacted to Markle and Harry's baby news, but she didn't give your typical response. Actually, the former Quantico star responded in a way that was not only funny, but shows just how good of a sport she is.
After being asked by E! News how excited she was to hear her good friend, Markle, and Harry are expecting a baby, Chopra replied,
"I just have a few of my friends who are having babies right now and I'm like, 'God I need to catch up!'"
If you're not sure how to take her response, Chopra's definitely joking. All you have to do is watch E! News' video and you'll see right away the Baywatch actor is simply having a good laugh and at the expense of her own love life. She was clearly just teasing, which also doesn't mean she isn't thrilled for Markle. She acknowledged that her friends are expecting babies and also managed to laugh off the question by joking that she, herself, was behind in the baby department.
To be clear, Chopra doesn't really mean she needs to get pregnant simply because her friends are or because she's engaged to Nick Jonas. That's not who the 36-year-old is. She's someone who makes her own decisions on her own terms. If or when she decides to have a baby, she'll do it when it's best for her.
It's also important to note that Chopra is known for being protective of her female friends and ensuring they aren't defined by their significant others or for only being mothers and wives.
Like Chopra told Entertainment Tonight last September about Markle's October 2017 Vanity Fair cover and how her friend was portrayed,
"I mean, she's on the cover of Vanity Fair. It would have been nice to write about her not just her boyfriend. I'm just saying. I mean, she's an actor, she's an activist, she's a philanthropist. I mean, she does so much more. It's just a little sexist. Look, I'm a feminist and I love boys, OK… The only thing I'm saying is that there needs to be a certain sense of equality where a woman is not just a plus-one, you know. It's nice to be your own identity, too."
Furthermore, maybe Chopra just didn't feel like answering that type of question (and one she's probably been asked multiple times already) at that particular moment, especially since she was attending an important event. The interview took place at God's Love We Deliver Golden Heart Awards, which recognizes individuals for community service. This year's event honored Hugh Jackman with the Michael Kors Award for Outstanding Community Service. God's Love We Deliver is also, per Vogue, New York City's "leading provider of life-sustaining meals and nutrition counseling for people living with severe illnesses."
"There's so much support that's come out of this organization for a long time and the fact that it brings so many people together, strong people, influencers, that actually make an impact, I think that's what makes a difference," Chopra told E! News about the charity.
Maybe Chopra didn't feel like it was an appropriate to discuss something like her friend's pregnancy, so instead she just made a joke about herself and moved on.
All that said, is Chopra happy for Markle? There's no doubt she is. Just because Chopra didn't give a mushy response, doesn't mean she isn't overjoyed for her dear friend. Most likely, the actor probably congratulated the former Suits star privately.