Nick Jonas' Pic With Priyanka Chopra Teases What's Ahead For Them As Husband & Wife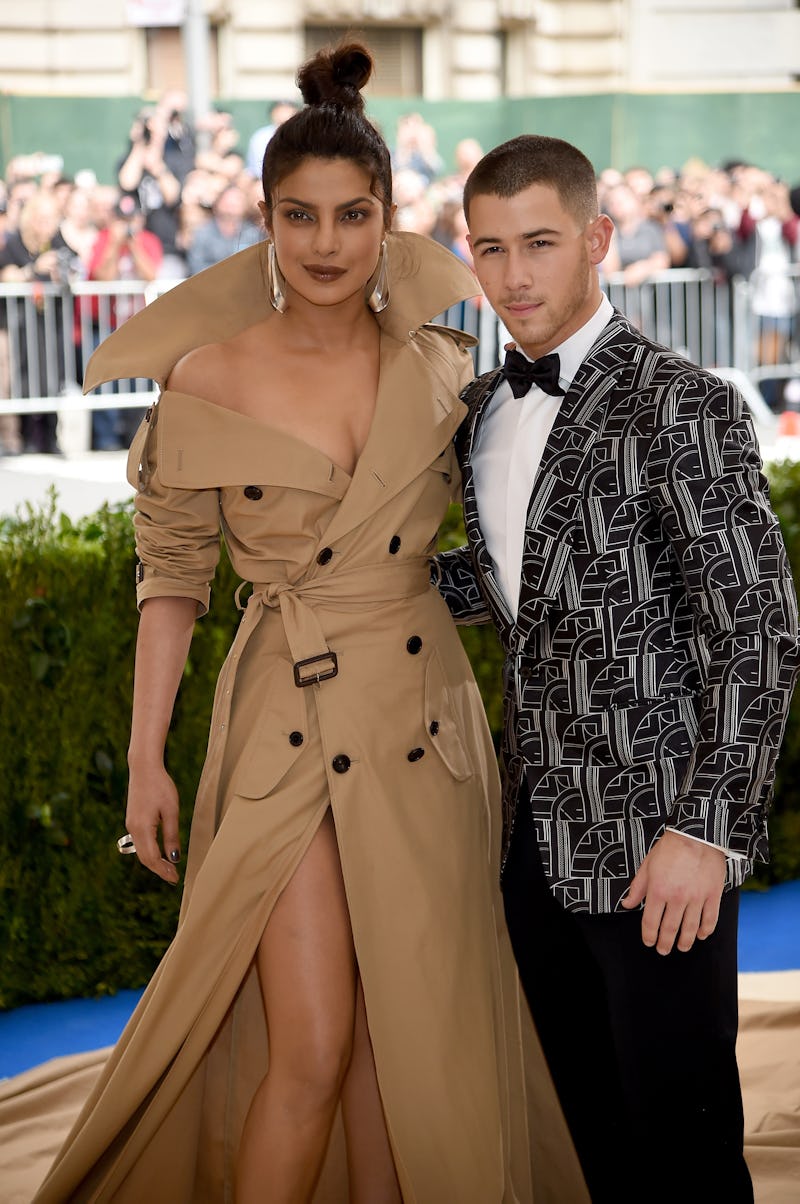 Dimitrios Kambouris/Getty Images Entertainment/Getty Images
This celebrity couple is looking forward to their life together as husband and wife. Nick Jonas' new photo with Priyanka Chopra teases their bright future ahead. On Tuesday, the singer shared a picture on Instagram with the former Quantico star and showed how rock solid their relationship is currently and will most likely be in the years to come.
Jonas tagged Chopra in the image and captioned it, "When the future looks oh so bright..." along with a sunglasses emoji.
As you can see below, the two are posing in the back of a vehicle. Chopra is sitting in front of Jonas, who is standing. He is seen pointing out toward the horizon or possibly even the sunset, and Chopra is staring in the same direction as her fiancée. Basically, they're looking off into the distance, aka their bright future.
It's unclear where the photo was taken, but if you look at the date in the bottom left corner, it reads: Sept. 21, 2018. This was around the time Chopra celebrated Jonas' birthday in Oklahoma. The couple, along with friends and family, including Joe Jonas, went on a group trip together. They traveled to an undisclosed ranch and seemed to have an amazing time. Yes, Chopra and Jonas also wore camouflage, which they totally pulled off.
If you look closely at Jonas' most recent Instagram with Chopra, he's wearing a camo hat, like the one seen in the pictures they shared in September. It also appears Chopra is sporting camo Crocs. The couple that wears camo together, stays together.
It's really no surprise that Chopra and Jonas see their future as a happy one. They had an instant connection, which led to a short dating span and a quick engagement.
In addition to acknowledging how fast their relationship moved, Chopra told E! News in October about connecting with Jonas,
"We've known each other for a couple of years but we dated for just a little while. But I think that's the one thing we really connect on is our love for family and knowing faith is so important to us."
Chopra also opened up to E! News about her engagement. "I'm excited," she said. "It's a very different feeling. I never realized that having a boyfriend and having a fiancé are completely different." She added, "It just feels different. There's gravitas. You feel like family, which is just so different."
In September, Jonas also revealed he knew he'd marry Chopra. After Jason Kennedy asked the singer on the Today show how he knew he wanted to spend the rest of his life with Chopra, Jonas said,
"I can go into all of it and get all mushy, but I think the thing that really connected both of us is our love for family and faith and the importance of being connected to those that are always going to be there for you. We found that in each other as well, which is a beautiful thing and I'm excited to start our lives together."
Well, they definitely have a bright future ahead, which will certainly get even brighter after they officially walk down the aisle.