This Video Of Tan & Antoni From 'Queer Eye' Singing Along To Ariana Grande Is Everything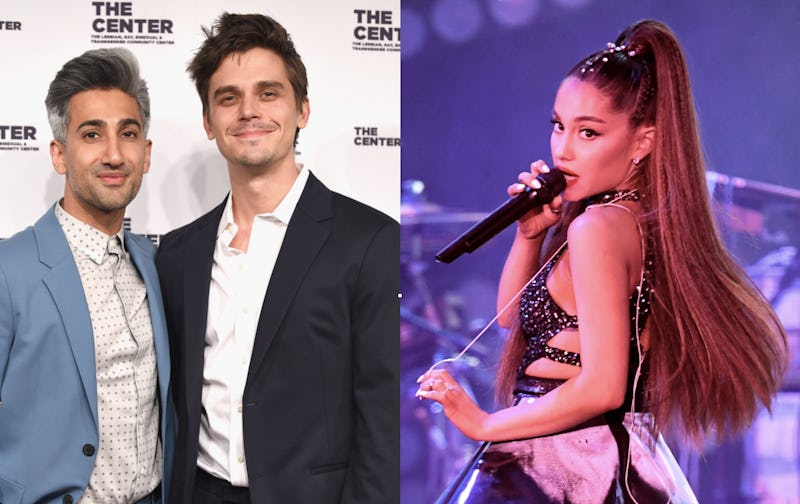 Dimitrios Kambouris/Getty Images Entertainment/Getty Images; Kevin Winter/Getty Images Entertainment/Getty Images
There are two things people can't stop talking about lately: Queer Eye and Ariana Grande. And when you combine the two, the internet practically explodes. On Monday, Tan France posted a video with Antoni Porowski singing along to Grande's new song in the car, and if that wasn't adorable enough for you, Grande responded with her excitement. Talk about worlds colliding right now.
Whether you're a long time Grande fan or you're just tuning in thanks to the intrigue surrounding her engagement to Pete Davidson, you probably know that recently Grande and Nicki Minaj dropped a new single "The Light Is Coming." Considering how talented both women are, it's no surprise that people are already totally into it, including two of the guys from the beloved Queer Eye cast. So obviously, while France and Porowski were in the car together, they just had to listen and dance to "The Light Is Coming," and the video they shared on France's Instagram Story is everything.
In the video, Porowski is alongside France, who lip syncs to the music, dancing as much as one can dance while sitting in the backseat of the car. It's pretty adorable (and may actually be the best thing you see all day), so if you haven't seen it, you need to.
As the caption on that tweet pointed out, yes, France is wearing a shirt that seems to be a gift from Grande and Davidson, being that he tagged them both in the video, thanking them for it. Although Davidson and France have been friends for a little while now, it's unclear when France and Grande became the kind of friends who exchange gifts and sing along to each other's music on Instagram, but what's not to love about all of this?
And as if this couldn't get any better, don't worry — it did. Grande replied to the video by reposting it on her own Instagram Story, adding "omg cutieeeees" as a caption. Because yes, France and Porowski are cuties, and they deserve to be recognized for it by one of the world's biggest pop stars.
This isn't the first time France (and the other guys from the show) voiced his approval of the Davidson/Grande relationship, as fast as it has seemed to happen. Not only has he worked with Davidson in the past with his Saturday Night Live wardrobe, but in June, he told Page Six that Davidson asked France to help dress him for his wedding, to which he agreed. Then during an appearance on Watch What Happens Live with Andy Cohen the same week, France weighed in on their engagement.
"I'm very, very happy for them," he told Cohen. "I couldn't be more happy. I think if anybody finds love that's amazing. I will always support that."
And during his appearance on the show, France also admitted that he's had a little experience in knowing that a relationship would work from the jump himself.
"I told my husband five days into it that I would marry him and he said the same and we're together ten years later, so who knows," he added.
It's sweet that France has been so supportive — of Grande's music, Davidson's wardrobe, and their relationship. And after seeing two seasons of the show, it seems like the groom couldn't have picked a better person to help him figure out what he's going to wear for his wedding.
Let's all just cross our fingers and hope that this isn't the last time we get to see these guys interact with Davidson and Grande. Being that they already have a bit of a history together, it seems inevitable that the guys of Queer Eye could end up on their wedding guest list, and that is a beautiful thing.