Tan From 'Queer Eye' Is Helping Pete Davidson Prep For His Wedding In The Most Perfect Way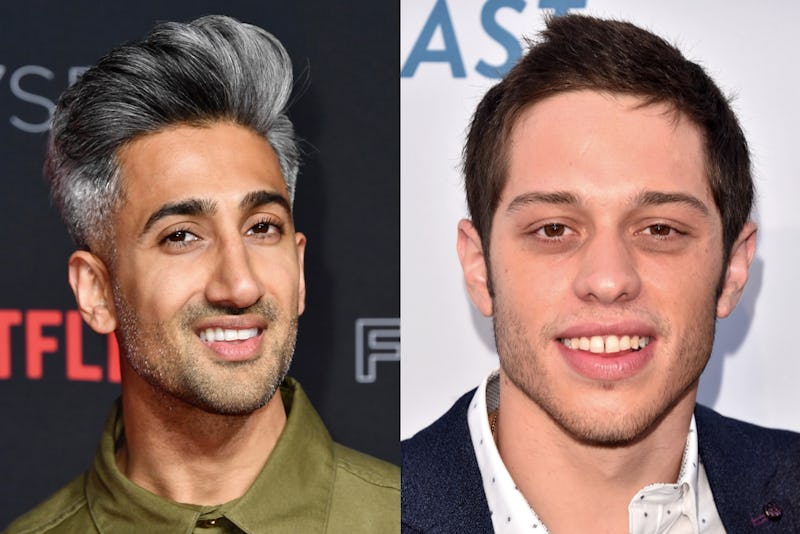 Frazer Harrison/Getty Images Entertainment/Getty Images; Alberto E. Rodriguez/Getty Images Entertainment/Getty Images
Pete Davidson and Ariana Grande haven't been engaged for too long, but it sounds like they're already making some wedding plans. Tan France is helping dress Pete Davidson for his wedding, the Queer Eye star told Page Six on Tuesday. Davidson and France have been spending time together recently, and it sounds like France is really helping the Saturday Night Live actor up his style game.
"He asked if I'd help him, the answer is yes," France told Page Six. The Queer Eye fashion expert also told the outlet that he'll "absolutely" help dress Davidson for the occasion.
It sounds like Davidson and France have been friends since at least March, when they filmed a Saturday Night Live sketch about shopping at Saks together. In the clip, France jokingly mocked Davidson's baggy sweatpants and advised him not to wear so many bright colors.
"It's so funny, I thought I was, like, kind of dressing well, but it's so nice to know that I've been dressing like sh*t the entire time," Davidson told France in the clip. It looks like their companionship has continued offscreen, too, because France recently told Andy Cohen that he and Davidson had gone shopping together again recently.
During his appearance on Watch What Happens Live with Andy Cohen, alongside the other Fab Five members, France told Cohen he "couldn't be more happy" for Davidson and Grande. "I'm very very, happy for them. I couldn't be more happy. I think if anybody finds love, that's amazing. I will always support that," France told Cohen of the couple.
Grande and Davidson haven't been together for very long, but their engagement seems to be going super well so far. Reports that the two are engaged started on June 11, and Davidson confirmed the engagement news by sharing an Instagram photo of his and Grande's hands, with what appears to be her diamond engagement ring prominently displayed in the photo. Davidson also called the engagement "lit" during an appearance on The Tonight Show Starring Jimmy Fallon last week. As for Grande's engagement ring, Davidson's jeweler, Greg Yuna, told E! News that Davidson paid $93,000 for the three-carat diamond sparkler.
Davidson and Grande have only been dating since May, at least publicly, but they've already passed plenty of relationship milestones. Davidson has two tattoos inspired by Grande, including one of her initials, "AG," and one of the bunny-ears mask from Grande's Dangerous Woman album photo. Apparently, Davidson's tattoo artist advised him not to get the Grande-inspired ink so soon in their relationship, though it looks like he didn't take the advice. The SNL star isn't the only one who's gotten inked to commemorate the relationship, either: Grande and Davidson reportedly have matching cloud tattoos.
Aside from their recent ink, the newly engaged couple also took another major step in their relationship. Grande and Davidson reportedly moved in together, and their rumored New York City apartment sounds like serious goals. The apartment apparently has four bathrooms, and the building has its own IMAX theater and pool. The two of them were also seen furniture shopping in New York after the news broke, so it looks like everything is coming together for them.
Davidson and Grande's relationship seems to be progressing super quickly, but they look happier than ever. And based on France's recent comments, it sounds like they have a great support network of friends who are excited about their relationship, too. Whatever Davidson ends up wearing to the wedding will surely look awesome, if France has anything to do with it. The latest development in the Davidson/Grande saga is exciting for Queer Eye fans, as well as fans of the couple, and it's safe to say that anticipation for the wedding will only build as time goes on.