Rachel Says She Didn't Hook Up With Everyone During 'Bachelorette' Fantasy Suites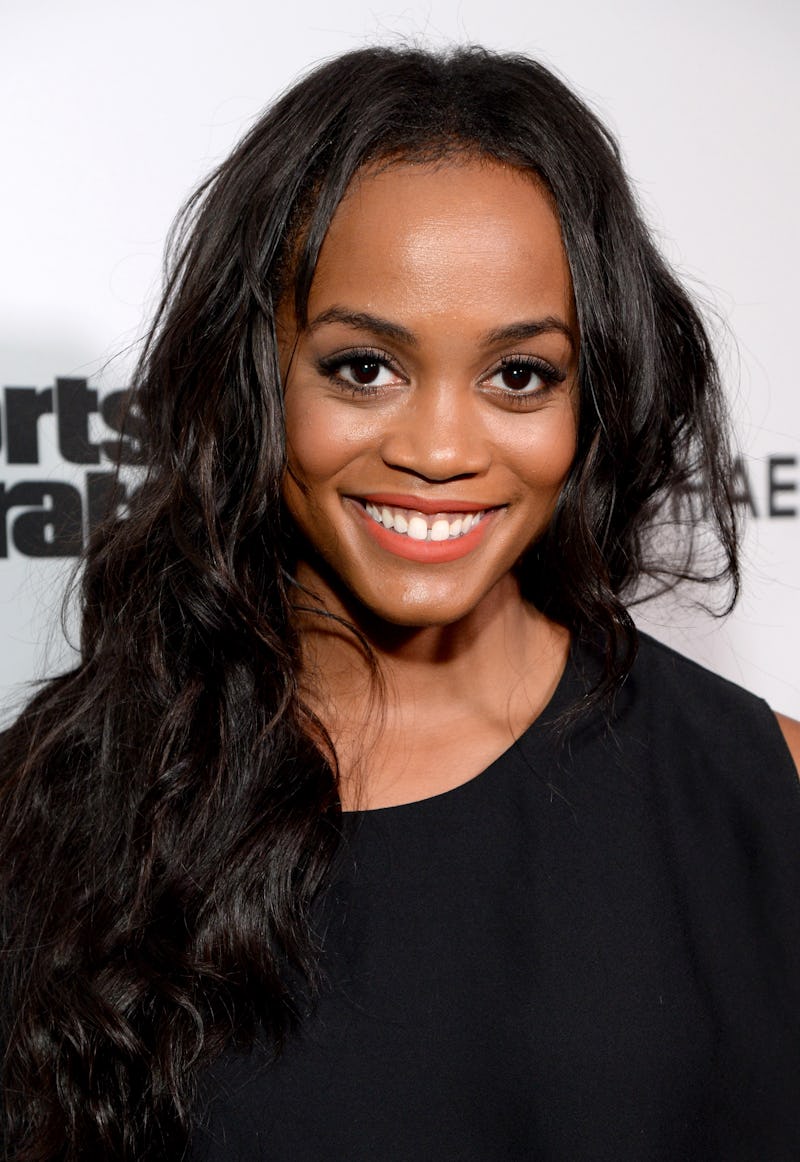 Michael Kovac/Getty Images Entertainment/Getty Images
Unlike some Bachelor franchise leads of the past, Rachel Lindsay does not sugarcoat anything. She continues to be open about her "journey," and in a new interview, Rachel shared that she didn't hook up with everyone during the fantasy suite dates that will air during Monday night's episode of The Bachelorette. Rachel didn't confirm whether or not she actually had sex with anyone, but she made it clear that she didn't go all the way with every person in the final three.
When discussing fantasy suites with Entertainment Tonight, Rachel was asked "Do you get intimate with anyone?" And she responded, "I don't know. I didn't give you all that. I just said that I didn't do it with everyone."
It's great how Rachel didn't just gloss over the fantasy suites and didn't chock it up to merely being a time to "talk off-camera" like some past Bachelors and Bachelorettes have. She at least acknowledged the possibility of sex in an open way, which is oddly rare for this franchise. Usually it's just an unspoken thing that is vaguely alluded to thanks to the music in the background and a close of the hotel room door. She is normalizing something that everyone knows is (most likely) happening anyway.
Sure, Rachel is breaking the mold when it comes to Bachelor and Bachelorette leads overall, but the franchise has been progressing in the most recent seasons when it comes to discussing sex in relationships. During Kaitlyn Bristowe's Bachelorette season, she admitted to having sex with Nick Viall during a solo date before fantasy suite week even occurred. This probably wasn't the first time that this happened in Bachelor world, but it was the first time when the lead was so upfront and genuine about the experience and how it impacted her relationships on the show.
Once Nick took on a lead role himself during the last Bachelor season, his season was just as open when it came to discussing sex on TV. During Nick's fantasy suite date with Raven, she revealed that she had never had an orgasm and they talked about it before taking that key to share the fantasy suite room together. Even after the fantasy date, Raven was frolicking in Finland, making snow angels, and declaring "Nick is really good at what he does, so I'm pretty satisfied today" in reference to the fantasy suite private time.
Even though the pivotal fantasy suite episode hasn't aired yet, Rachel is already discussing it, which is a good sign that she will still be pretty transparent during the episode and after it airs.
Still, she did also mention the private talks that go down while the cameras aren't rolling that are also important. She shared, "Fantasy suites were huge for me. I walked in with a list of questions I had. You can't cover everything with the limited amount of time you have." It totally makes sense to ask some burning questions and discuss some private topics away from the cameras, just as it's natural for many people to hook up with someone they are contemplating getting engaged to only a week later.
There's no word yet on what goes down or with who, but as Rachel said, "Fantasy suites were a game changer for me." It's great that she's been so upfront about the many reasons why that is the case.