Rachel's Dog Makes 'The Bachelorette' Even More Normal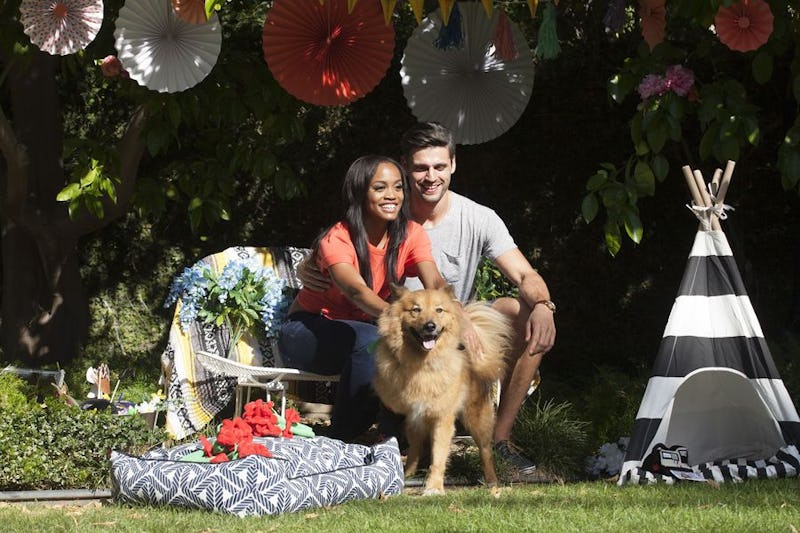 Scott Baxter/ABC
Although the scenario that the Bachelorette and her suitors face is far from conventional, Rachel Lindsay's down-to-earth personality is helping to make this season of The Bachelorette feel much more natural than usual. And there's another element that goes a long way in making this season relatable for viewers at home — that Rachel brought her dog to The Bachelorette. Her adorable rescue pup Copper was a hit after Rachel's season of The Bachelorette premiered on May 22 and his incorporation on the series is a first for the franchise. As any pet owner knows, being separated from your pet for an extended period of time is no fun and Rachel having Copper on The Bachelorette makes her even more lovable — and more normal.
In the premiere of Rachel's season of The Bachelorette, Copper was shown flying with Rachel from Dallas, Texas, to Los Angeles, California, and getting settled into their home away from home (with his little injured leg! — insert "awww" here) while she's busy finding love. And in the second episode on May 29, Copper will participate in the first one-on-one date — making the traditionally two-person date a party of three. As she explained on Jimmy Kimmel Live! after The Bachelorette premiere, Copper "demanded" to be a part of the show with her. "That's my dog child and he said whoever's gonna be his newest daddy — if I pick one — he needed to be a part of it," Rachel said. (For the record, she did pick one since Rachel already announced that she is engaged.)
One of the biggest struggles for Bachelor Nation couples once they leave the elaborate world that the ABC reality series creates for them during their whirlwind courtship is integrating into one another's real lives. So making sure whoever she picks gets along with her dog is totally legitimate. (But honestly, who wouldn't get along with such a precious pup as Copper?) Another reason it's cool that Rachel brought her dog is it confirms how she has her own life outside of the TV show. As a 31-year-old woman, Rachel is not only the oldest Bachelorette, but she has had time to establish her own life. She has a career, her own place, and a dog — and whoever she picks needs to be comfortable with those elements of her world.
Plus, there's the whole fact that Rachel bringing Copper makes her relatable to all animal lovers out there. Who would want to leave behind his or her pet?! Sure, Copper probably isn't going to be traveling the globe with Rachel and her suitors since she told Kimmel, "Copper wasn't there for every single episode" (which is apparently why he never met Lucas — the "Whaboom" guy), but while they hang in Los Angeles, Copper will be making the rounds and getting his screen time. After all, "He's a diva!" Rachel told Kimmel.
For those of you curious about Copper, in the comments of the above Instagram photo she shared of him after he got a haircut (yes, more "awwws" should be occurring here), she wrote that since he is a rescue dog she doesn't know his exact breed, but thinks he is Finnish Spitz and German Shepherd. No matter what this mutt's mix is, no one can deny he is absolutely a sweetheart that the men should be honored to meet.
Rachel's warm and affable nature has helped this season of The Bachelorette to feel more real already. She may be overly accepting of the men in these initial episodes, but you can tell by the way she discusses them to the camera that she's being particularly sweet right now and that her sour side will emerge when it needs to. She's also down to be goofy and seems to be into showing behind-the-scenes moments that make her more approachable. After all, Rachel's introduction on Nick's season of The Bachelor was her vacuuming — and it doesn't get much more real than that. Bringing Copper with her is just another way that Rachel has continued to capture Bachelor Nation's hearts and shows that the Bachelorette can be "just like us."