Raven & Adam From 'BiP' Addressed Having Kids & Getting Married In A New Instagram Post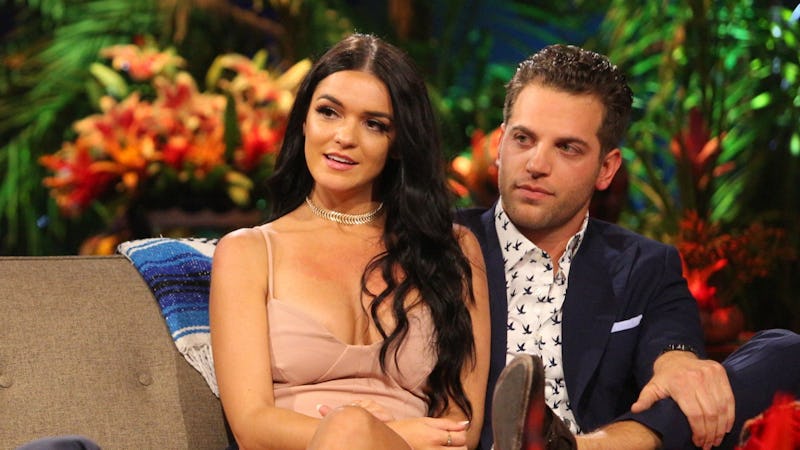 ABC
Bachelor in Paradise is known for having an amazing track record for relationships within the Bachelor Nation universe. One of the strongest couples to come out of the show, Raven Gates and Adam Gottschalk, are still going strong today. Now, Paradise's Raven and Adam provided fans with a relationship update that shows they're in the very best place that they could be. And yes, they addressed whether marriage and kids are in their future.
On Aug. 30, Raven posted the sweetest tribute to her relationship on Instagram, and answered an oft-asked question about it in the process. Alongside some never-before-seen photos from their various vacations, she wrote in the caption, "When people ask us when we're getting engaged.. we're just enjoying being Dinks! (Dual income, no kids)" OK, "Dinks" is straight-up the most fun phrase that she could have possibly used to describe their relationship.
She then finished up her post with another update, one that fans will definitely be happy to read. "PS marriage & kids are in the plan- you just gotta enjoy the stage your in," the former Bachelor star wrote. So there you have it, folks. Raven and Adam simply enjoying where their relationship is at right now. While they might not be getting married anytime soon, there's no need to worry. It's still in their cards for them sometime in the future.
This update does tie back to a recent report that an engagement could come in the near future for the couple. According to a source at Us Weekly, things are going so well for Raven and Adam that an engagement is inevitable at this point. "Things couldn't be going better for them," the source claimed, "They were at a wedding in Arkansas together last weekend and they kept telling friends than an engagement is coming soon. It just seems like the next step because things are going so smoothly."
Along with the latest information, straight from Raven and Adam themselves, it really does seem like an engagement is on the horizon. However, they're still just enjoying this stage of their relationship in the meantime — as they should.
Aside from this most recent update, there was yet another report from February that detailed a major step that the two took in their relationship. At the end of January, during a Bachelor viewing party, Raven and Adam revealed that they were set to move in together. During the Q&A at the W. Fort Lauderdale, the couple made the big reveal to the audience and detailed that Raven's planning to make the move from Memphis to Dallas, which is where Adam was residing. So it's pretty clear that things are right on track for the for Paradise lovebirds.
Raven, who previously appeared on Nick Viall's season of The Bachelor, and Adam, who was on Rachel Lindsay's Bachelorette season, got together on Season 4 of Bachelor in Paradise. Sparks flew between them, with the couple leaving the sunny beaches of Mexico to continue their relationship off-camera. And based on this latest update from Raven, it appears that their relationship is still something straight out of paradise.