Adam & Raven Are Unlike Other 'Bachelor In Paradise' Couples For A Major Reason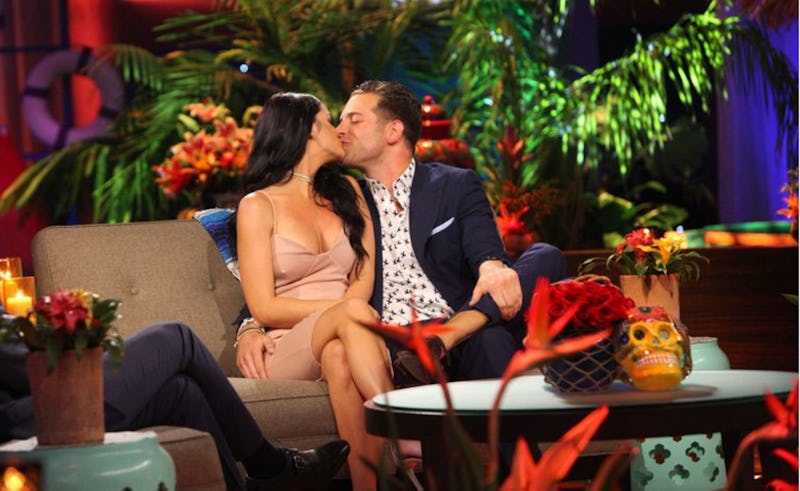 Paul Hebert/ABC
Bachelor In Paradise's whirlwind shooting schedule has given way to a lot of short-lived couples, but, every now and again, some of them actually manage to make it out of Mexico and into the real world. Bachelor in Paradise's Adam and Raven are one of those few.
For those that need a refresher, Raven was on Nick Viall's Bachelor season, while Adam was one of Rachel Lindsay's Bachelorette hopefuls (You might remember him as the dude with a doll). They both went home without love, but found it with each other on Paradise Season 4. In fact Rachel, who became close friends with Raven on Nick's season, practically set them up. As Raven told Entertainment Tonight:
"I asked Rachel before Paradise, she's like, 'Don't mess with my top three. I said, 'OK, I can do that. I'm your girl, that's fine. I said, 'Who from your season would I click with?' and she said Adam! I swear to you that she said Adam, and she was so right."
The pair didn't get engaged on the show, as is generally expected for any Bachelor franchise — but that makes sense. Due to a headline-stirring controversy in June, production was temporarily shut down while ABC investigated claims of misconduct. After no wrongdoing was found, the season resumed, but with a truncated timeline, meaning that contestants had less than two weeks to get to know each other. Even by BiP's standards, that's not much.
Still, Raven and Adam did decide to continue their relationship after the show, and they've been going strong ever since. They're long distance for now, but because they both have flexible careers (Raven owns a clothing boutique in Arkansas; Adam is a real estate agent in Dallas), they're able to see each other quite frequently. While on fellow BiP alum Dean Unglert's podcast in November, Raven said that she and Adam never go more than two weeks without seeing each other, and a quick scan through their respective social media accounts shows they certainly spend a lot of time together.
And from the sounds of it, they're in it for the long haul. Raven wrote in a recent Instagram post that she "knew [she] was gonna keep Adam around the first weekend [they] spent together outside of Paradise" because of how "sweet, kind hearted, and loving" he was. "That was the first time in a long time, I felt safe enough to fall in love," she concluded.
As far as what's next, they've talked about Raven moving to Dallas, but she said she needs to figure out the logistics of expanding her business first. She also inadvertently sparked rumors about an engagement thanks to a supposed tweet about a "wedding planner," but any such tweet seems to have since been deleted. The couple has been open about discussing marriage, but they've made clear that they're not rushing it. As Adam told ET in the same interview:
"We're taking it day by day. I think we live in today, but we plan and prepare for tomorrow. As far as an engagement, [it's] something that we've talked about. It's serious, but obviously being engaged and married are two different things and I think that when the time is right, we'll be ready to take that step and everyone is going to be excited to see that."
Of course, they aren't the only successful couple to make it out of Paradise. Jade Roper and Tanner Tolbert are married with one child, as are Evan Bass and Carly Waddell (they're expecting, anyway), and Season 4's Taylor Nolan and Derek Peth are engaged. But Adam and Raven are cutting against The Bachelor grain and taking their time, which makes them an even rarer find.