Why Kandi Says 'RHOA' Is Less Catty This Season — But Still Pretty Dramatic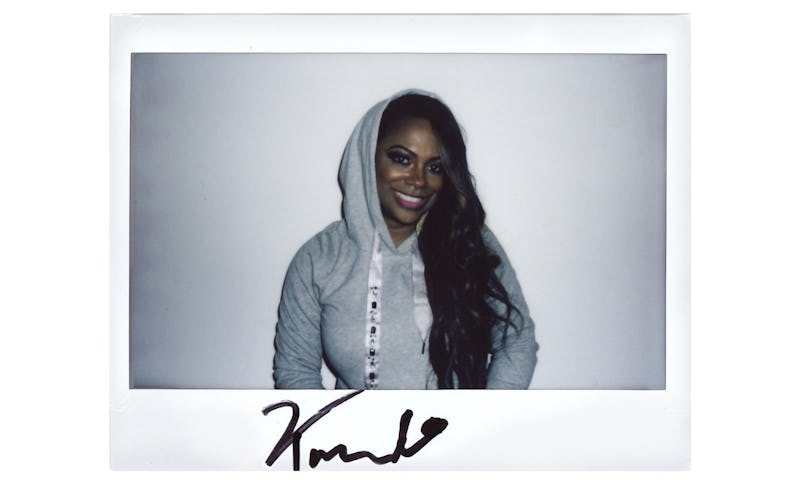 When celebrities hang out with Bustle writers, we want to give them the chance to leave their mark. Literally. So we hand them a pen, a piece of paper, a few questions, and ask them to get creative. The rest is up to them. This time, Real Housewives of Atlanta star Kandi Burruss is leaving her mark in the Bustle Booth.
Recent seasons of Real Housewives of Atlanta have made headlines for their weave pulling, shade throwing, and wild accusations. But the drama on Season 11 has a different tone, according to longtime cast member Kandi Burruss.
"It's a lot more personal stories happening and it's not as much of the catty drama," she tells Bustle. "In the past we had a lot of mean girl drama." This year, she says, is more about the "real" issues the women face individually, not just dinner party arguments.
Everyone in the cast has something major going on outside of their place in the group. Kandi and her husband Todd Tucker want to have another child, something that Kandi's daughter Riley Burruss is not on board with. "She still doesn't feel like we need any more kids," Kandi admits. "Her thing is, 'You work too much. We don't need any more kids in this family.'"
Fellow Housewife NeNe Leakes is also dealing with some big life changes, as her husband Gregg Leakes was diagnosed with Stage 3 cancer. The rest of the cast has been offering her and her husband support. "I hate what NeNe is going through right now," Kandi says. "Gregg is like the rock for everyone. He always keeps everybody uplifted. I think that was just a very emotional space to be in and everybody just wants to be there for her."
Another Housewife going through a major life change is Eva Marcille, who plans her wedding this season, yet she still finds time to stir things up. "I like Eva," Kandi begins. "Unfortunately, Eva is in the hot seat a lot this year. I don't want to give away too much. I love her. That's my girl." Even with all of her love for Eva, Kandi predicts, "She's going to be called out damn near every other episode really. They are making her earn the peach this year."
Kandi's on-again-off-again foe Porsha Williams' life changes dramatically this season, too. She starts dating Dennis McKinley, gets engaged, and finds out she's pregnant. It seems like there will always be some sort of tension between Kandi and Porsha, and Kandi doesn't deny that fact. But she does note that they're trying to work on their relationship, "because clearly things had been jacked up." Describing their drama as "jacked up" is a nice way of phrasing it: Porsha spread some pretty nasty rumors about Kandi in Season 9.
Kandi says she knew of Porsha's new man Dennis McKinley through the Atlanta social scene, and was torn about whether or not she should spill some tea in an effort to look out for Porsha. "When you're trying to get back to cool with somebody, you don't necessarily want to be the one bringing bad news," she explains, adding that her initial instinct was not to tell anybody she knew of him.
"Then I started thinking, we are on Real Housewives of Atlanta. It just wouldn't be right if I didn't say anything," she adds, pointing out that if she had tea and didn't spill it, the other Housewives might call her shady. It's a tough spot to be in, even with good intentions.
Ultimately Kandi concludes, "We all have to be supportive of the two of them. We all want it to work out for their kid." She declares, "It's a restart, essentially." It's a heartfelt comment, especially coming from the star of a show known for its cattiness. But the Atlanta ladies are proving that making amends, or at least being civil, is actually possible. They're not grabbing a spoon for the sake of stirring the pot.
Check out Kandi's answers to our Bustle Booth questionnaire below.