The 'RHOC' Reunion Seating Chart Is Here With Major Drama For Vicki & Kelly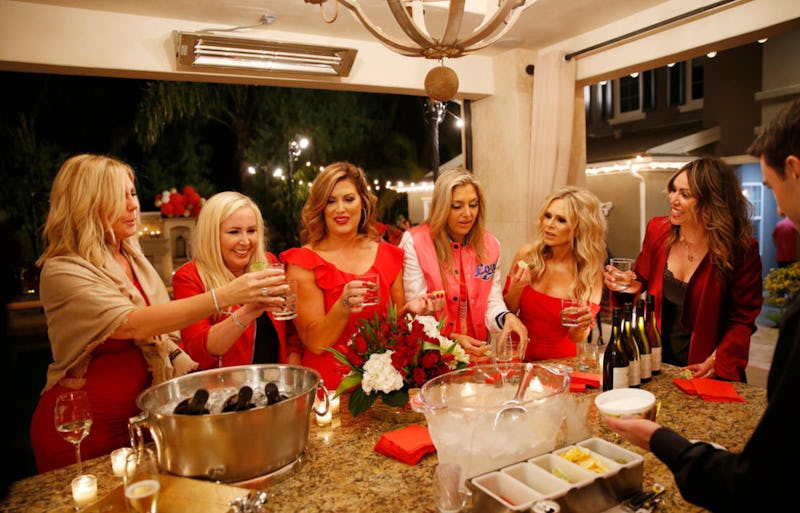 Phillip Faraone/Bravo
On Thursday, Oct. 25, the stars of The Real Housewives of Orange County trekked out to a soundstage, put on gowns and jewels, sat down with Andy Cohen, and left behind a trail of spray tan. This can mean only one thing: There is a RHOC Season 13 reunion seating chart. Oh, and: The RHOC Season 13 reunion has been filmed. Just three days after the most intense episode of the season aired, Shannon Beador, Tamra Judge, Vicki Gunvalson, Kelly Dodd, Emily Simpson, and Gina Kirschenheiter got together and hashed out the highs and lows of the 13th chapter of the Bravo reality series. The Bravo gods sure do have a knack for timing, don't they?
First things first, let's get into what the reunion setup looks like. Tamra sat at the head of the couch to Andy's right, and next to her was Kelly, and next to Kelly was Gina. And to Andy's left was Shannon, then Vicki, and then Emily. That all feels right. Shannon and Tamra have been leading the drama charge this year, so of course they're in the seats closest to Andy. Vicki and Kelly are apparently not talking at the moment, so of course they're on opposite couches. And as great additions as Gina and Emily have been, they didn't go all Kelly Dodd their first season (i.e., come in hotter than one of Shannon's salmon meals right out of the microwave), so they're in the newbie seats.
We may have to wait until the reunion airs to find out how everything played out at Thursday's taping, but in the meantime, here are a few sneak peeks at the RHOC Season 13 post-season gathering.
Gina Brought The Sparkle To The Reunion
Every Real Housewives reunion needs at least some sparkle. Thank you for the sequins, Gina.
Shannon, Vicki, & Tamra Are Still Pals
If you follow these three on Instagram, you know this friendship trio was not thwarted by that brutal fight in Jamaica. And you know what else couldn't break 'em apart? Revisiting all of their Season 13 drama at the reunion. Tamra, Vicki, and Shannon's bond really does seem to be stronger than ever. If someone bottled and sold the healing power of that Season 12 reunion group hug (whoa, that feels like an eternity ago), I wouldn't not spend a ridiculous amount of money on it.
But more importantly: The cuffs on Shannon's dress are a fantastic surprise. Thank you for the statement sleeves, Shannon.
Kelly's Relieved It's Over
These reunions never get easy, do they? Especially when you're not on speaking terms with one of your co-stars.
Gina & Emily Stuck Together
They started their first season of RHOC as friends, and they finished their first season of RHOC as friends. How nice.
There Was Sunless Tanner On The Couches
No, seriously. Andy Cohen documented the cleanup in an Instagram Story. Legendary stuff.
Anyway, can't wait to see the Season 13 reunion (and Shannon's statement sleeves) on the ol' TV set.