You Have To See This Mind-Boggling Video Of Reese Witherspoon & Her Body Double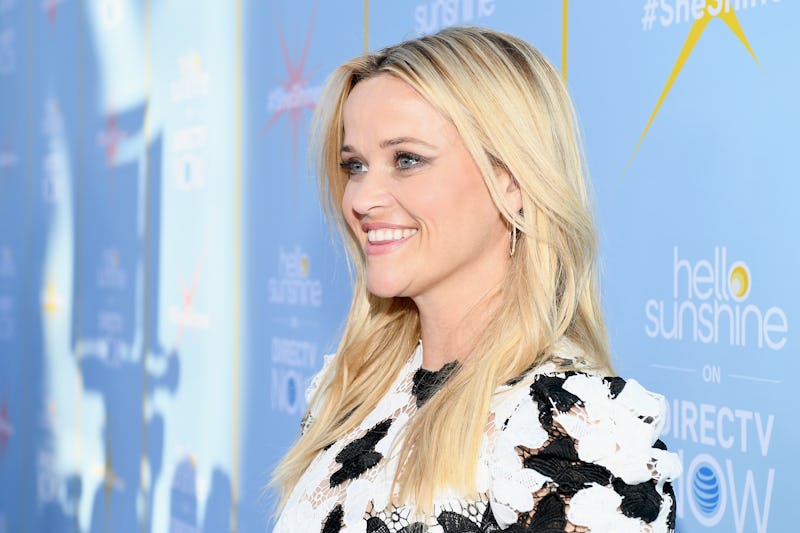 Emma McIntyre/Getty Images Entertainment/Getty Images
There are celebrity lookalikes, and then there is Reese Witherspoon's body double. As People pointed out, Witherspoon posted a video she took on the Big Little Lies set with her longtime double, and whoa, does Marilee Lessley ever fit the bill. "Hey you guys, I want to introduce you to someone who's been working with me for years," Witherspoon begins. As she pans over to a woman who could totally be her sister, the Big Little Lies star says, "This is Marilee and she's my double. Don't we look alike?"
Do they ever look alike. Sure, bearing a resemblance to the actor who they've been hired to stand in for is a key element to being a body double, but, uh, this is on another level. Witherspoon and Lessley legitimately look related. OK, they may not look like identical twins, but they definitely could get away with telling people Lessley is Witherspoon's other doppelgänger's aunt.
In an Instagram Story, Witherspoon explained she met Lessley while filming Legally Blonde 2: Red, White & Blonde. "She looks so much like me," Witherspoon explains, "and everyone was like, 'You look so much alike,' so she became my double."
Are you ready to see double?
Ah, what a classic Hollywood story. A Tinsel Town tale as old as time. You're working on a sequel to a hit comedy starring one of the greatest actors of our generation. Maybe you signed up to be an extra. Perhaps you are working as a grip. Or a makeup artist. Or a production assistant. Or a boom operator. Whatever your job is, nowhere in the description does it say anything about possibly becoming the official doppelgänger of one of the greatest actors of our generation.
And then it happens. You are minding your own business on set one day when basically everyone in the cast and crew decides you look exactly like the star. Even the star can't get over how much you look alike. So, you are presented with an ultimatum: Be the movie star's body double from here on out, or spend the rest of your life wondering what things could've been like had you decided to become the movie star's go-to double.
And boom, about 15 years after you first met, you are still working with one of the greatest actors of our generation.
Lessley, who also works as a motivational speaker and entrepreneur, kicked off her career as Witherspoon's body double with 2005 rom-com Just Like Heaven. As People noted, Lessley shared a throwback selfie in 2015 to commemorate her first time working as the Oscar winner's double. "This is @reesewitherspoon and I on the first film I ever worked on with her, Just Like Heaven!" Lessley wrote on IG. "So many great memories on that film and met some great people who will always be lifelong friends!"
And now for the most important question: Did Lessley throw an ice cream cone at Meryl Streep, too? Or was that all Witherspoon? Inquiring minds need to know.