Could 'Legally Blonde 3' Finally Be Happening?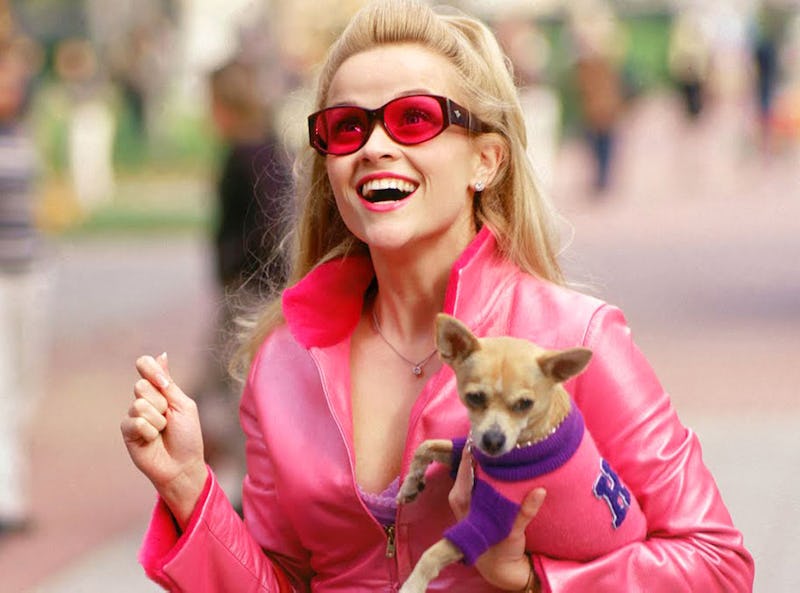 MGM
Elle Woods may live to bend and snap another day. Reese Witherspoon told E! Online that Legally Blonde 3 could really be happening. "We've thought about it," Witherspoon, who last played Elle in 2003's Legally Blonde 2: Red, White & Blonde, said of embarking on a threequel. In her opinion, now seems like as good a time as any to bring back the spunky lawyer who many consider a feminist icon. She said, "I think women need that kind of positivity right now." While Witherspoon didn't mention Donald Trump by name, it's hard to believe this doesn't have a little something to do with the future president's history of making offensive comments about women. Before she would commit to another movie though, Witherspoon admitted she needed "somebody really clever to come up with a great idea."
Fans may already be grabbing their pens to jot down their ideas for the third installment. What, like it's hard to write a movie? I mean, it can't be any harder than getting into Harvard Law, right? But it should be noted that this isn't the first time Witherspoon's teased fans about a new Legally Blonde. In fact, for years, Witherspoon has always seemed willing to talk about a possible third movie, but there hasn't been much action taken to actually get it made. Need proof?
In October 2015 when Witherspoon appeared on Fashionably Late with Rachel Zoe, she said, "I think we're ready to see Elle and see what she's up to lately." Witherspoon said that writers had come up with different ideas for the movie, but it felt like a good time. "I actually think it's kind of great right now because we're talking about women in politics and how important that is to get more women," she explained.
Witherspoon did say she thought "it'd be kind of a cool thing to have her be a Supreme Court justice or someone who runs for office." Elle runs for president? It's not so farfetched being that the Legally Blonde sequel ended with Elle's fiancé Emmett asking her where she wanted to live, only to have her say, "Oh, I think I know just the place," as they pass the White House.
That wasn't even the first time Witherspoon had spoken about the possible premise of a third movie. In April 2015 while promoting Hot Pursuit, Witherspoon told E! that at one point "they had an idea" for Legally Blonde 3.
Later that same year when she stopped by Watch What Happens Live!, she mentioned a specific story someone once pitched her. "Somebody thought it would be funny if Elle went to jail," Witherspoon said. Safe to say, she didn't seem in on that one.
Then, Witherspoon again spoke of the possibility of a new Legally Blonde in a Facebook Live video last August. "A lot of people have asked me if we're going to make another Legally Blonde," she said. "And we're thinking about it." Sound familiar?
Over the past two years, Witherspoon has made it clear she's open to a new movie, but no one's taken that next step to give her a script. Until someone actually does, it seems she is going to continue to keep teasing fans. I'm definitely starting to understand how Warner felt.