Here's What 'RHOC' Stars Shannon & Tamra's Friendship Looks Like Now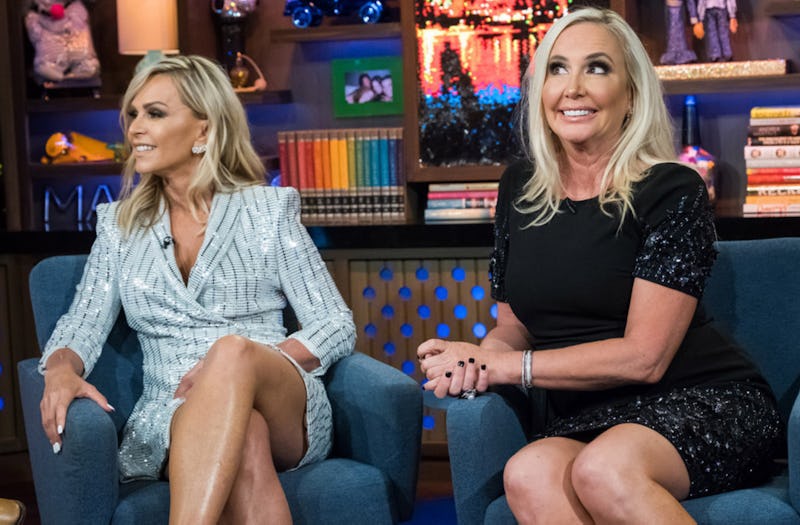 Charles Sykes/Bravo
Another Real Housewives of Orange County reunion has come and gone, and Shannon Beador and Tamra Judge's friendship continues to endure. Yes, it looks like the real besties of the OC reconciled after they filmed the emotional post-season special. So don't worry, Shamra stans. The duo sure went through a lot this season, but it was not enough to turn them into sworn enemies; Shannon and Tamra haven't become the new Kelly Dodd and Heather Dubrow of RHOC. They are, as Tamra said on Instagram over the weekend, "good as gold."
But for a moment there, it seemed like Shamra's friendship was headed in a direction that was anything but golden. When the Season 13 reunion taped on Oct. 25, Shannon and Tamra were not on speaking terms. And we know this because they told us as much. As she got glammed up for the reunion, Tamra said,
"Well, Shannon's upset with all of us. I think Vicki's the only one she's talking to, which is so weird because I think Vicki called her extra large, said she couldn't take her kids to school, slept all day, drank too much, and needed medication, and I basically said, 'I want you to be more positive.' And I'm the a**hole, so."
After she saw the episodes where she argued with the rest of the cast in Jamaica, Shannon stopped talking to most of her co-stars. In a blog post that went up the night Bravo aired the episode in which the other OC Housewives questioned Shannon's mental health, Shannon wrote,
"This is a very difficult episode for me to watch. First, to re-live the pain I was going through at the time in a fairly new separation, but also to hear what my friends were saying behind my back.
I have so many things to say, but at this time I don't want to dive into it. We are filming our reunion this week, and I intend to address it there."
And address it there is what she did. Thankfully, Shannon talked to her co-stars again once the reunion cameras started rolling. (Could you imagine what the reunion would've looked like if Shannon opted to sit there in silence? Yeah, that would've been an iconic power move, but it also would've made for a fairly boring reunion.)
Near the end of the reunion, Shannon explained why she distanced herself from the other Housewives after she revisited the big fight. She said,
"[Watching the Jamaica episodes] was really difficult for me, and I was afraid to talk to [Tamra] before this. I just was because I didn't know how it was going to turn out. I didn't know if we were going to get in a worse fight, if we were going to make it OK. I didn't know, and so I was afraid to do it prior to coming here."
They did not wait too long to iron that drama out like a wrinkle in a marabou-trimmed long-sleeved sheath dress. One week after they taped the reunion, Shannon had a "Girls Night Out" with Tamra, Kelly, and Gina Kirschenheiter. (Gina and Shannon apparently becoming buddy-buddy is a shocking topic for another time.)
And it looks like Shamra is still going strong. Before the final episode of the reunion aired Sunday evening, Tamra made it pretty clear that things with Shannon are chill now. She uploaded a bunch of photos she's taken with Shannon and wrote,
"RIDE OR DIE! @shannonbeador we had some growing pains this season but we are good as gold. I love you to the moon and back and I'm blessed to have you in my life. #youhadmeatImDone #unbreakable"
Shannon had Tamra at "I'm done," but their friendship is anything but done.