This Story About Rihanna Replacing All Of A Fan's Stolen Beauty Products Is So Pure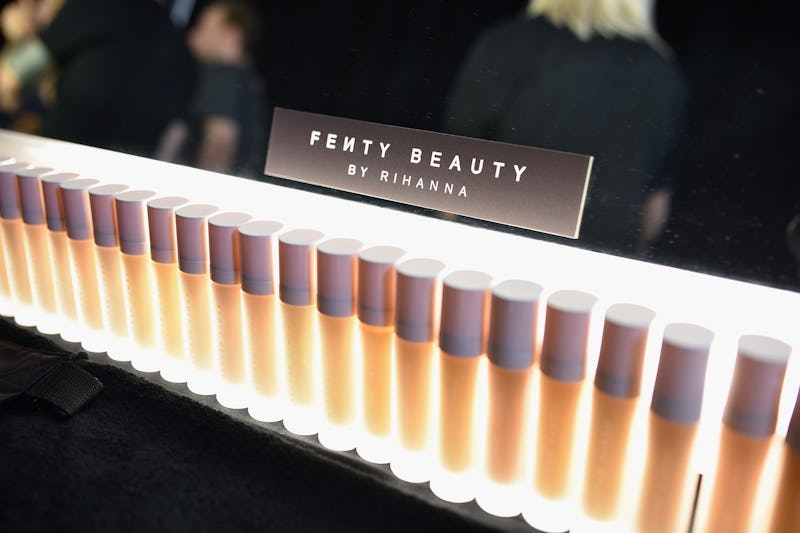 Bryan Bedder/Getty Images Entertainment/Getty Images
It's been a big week for Rihanna's Fenty Beauty. After a bit of a product hiatus, the brand is back at it again and launching their Beach Please collection. Body Lava, anyone? But some may have missed another bit of news. Fenty Beauty is replacing a woman's stolen products, and it's just proof that Fenty is more than a brand. It's a straight up family.
In a look at Fenty Beauty's mentions on Twitter, you'll find that they responded to a Twitter user named Chiara. In the tweet, Fenty expresses their sorrow for something and offers to replace the user's products. This isn't your everyday customer service complaint, though. As it turns out, the woman's entire makeup collection was stolen from her room, and that included her Fenty Beauty goods.
Rihanna's brand was not here for someone losing their makeup to a thief. Despite Chiara not even tagging the brand, they saw her story and reached out on their own. Offering to replace stolen merchandise that they truly do not have to give is some next level customer service, and fans are totally here for it.
Clearly, Fenty Beauty knows how to take care of their customers, and they're all about making sure that everyone gets their Fenty fix.
Chiara was quick to lavishly praise Fenty and thank them profusely on Twitter. She followed up the original tweet with a thank you message for the brand. In it, she says, "I'm literally lost for words!! Thank you so much @fentybeauty your generousity and kindness! That's what I call outstanding customer service! thank you so much, I appreciate it a lot. @rihanna has got the best employees ever."
That's not all, though. Her tweet also features two screenshots of a conversation between Chiara and the brand. Not only did they replace the products she had, but they sent her extra goodies!
Clearly, Fenty Beauty isn't just a brand, and Twitter users took notice of their kindness. In fact, the exchange created talk of the Fenty family, a new term for fans of the brand. This family came out in full force to celebrate that not only does Fenty create gorgeous products, but they support their customers like no other.
It's truly a blessing to everyone.
Lilo and Stitch would for sure shop Fenty Beauty.
Actual tears may have fallen for some fans.
For a brand to not only replace products but also send extra without Chiara ever reaching out is mindblowingly generous.
It's truly a reminder that Fenty Beauty has always been about their customers. From inclusive shade ranges to universal products like the Stunna Lip Paint and Gloss Bomb, they're here for everyone.
It's a blessing directly from Rihanna.
To say that a customer service move like this inspires loyalty is an understatement.
In fact, one user explained that the move inspired her to buy as exclusively from Fenty as possible. It's all Fenty, all the way.
This actually isn't even the brand's first time being generous to a fan. During a restock of the Pro'Filtr Foundation, one fan seemed frustrated by the time it took to get her shade. While Rihanna did have a sassy response saying, "Sis. we overstocked for 4 months plus. But what can I do when errbody luh da kid?!" she also asked the commenter what their shade was insinuating that they may be receiving the foundation from Rihanna herself. Praise be, Rihanna. Praise be.
If you thought Fenty Beauty couldn't get any better (and it did seem like it hit peak levels of amazing with the Body Lava announcement), you'd be wrong. The company doesn't just produce inclusive, universal products, but they also care deeply about the Fenty family — and that's enough to keep everyone coming back for more.