Rob & Chyna's Latest Social Media Posts Aren't About Their Controversy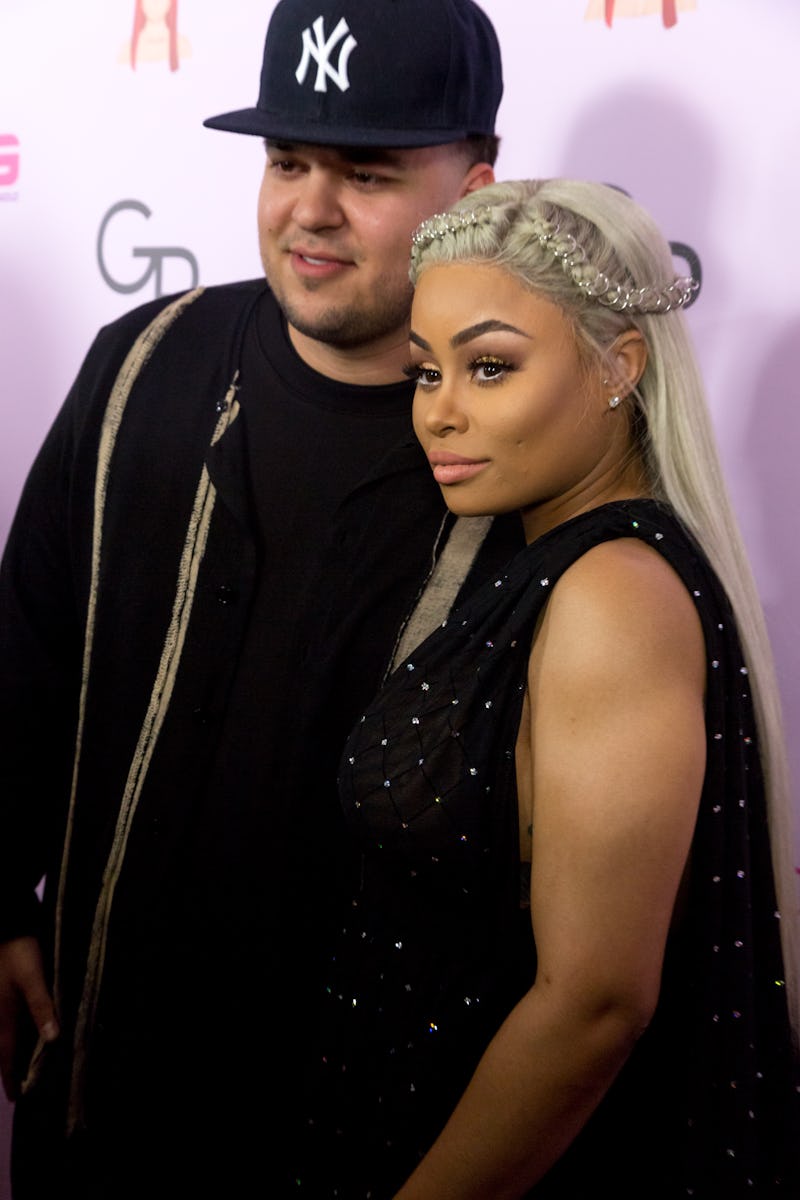 Greg Doherty/Getty Images Entertainment/Getty Images
As of right now, the public drama between the former stars of Rob & Chyna seems to have died down some — and the proof is in their Snapchats. Rob Kardashian and Blac Chyna's social media posts following Kardashian's long list of allegations on July 5 don't feature any reference to the scandal. Rather, it appears they are getting back to their normal daily lives with Chyna doing photo shoots and Kardashian spending time with their daughter, Dream Kardashian.
Their current attitudes are vastly different compared to on Wednesday, when Kardashian made some huge allegations against Chyna, including that she cheated on him with multiple men, that she does drugs, and that she had Dream out of spite for her ex, Tyga, who was dating Kardashian's sister Kylie Jenner at the time. To make matters worse, Kardashian posted nude photos on Instagram that he claimed were of Chyna. He alleged one photo was sent to him by Chyna the day before.
As for Chyna, she took to Snapchat Wednesday and shared text-only snaps alleging Kardashian abused her. The snaps were soon deleted. Kardashian's Instagram account and all of the nude photos he shared were deleted, as well. Bustle reached out to reps for Kardashian and Chyna about the claims they made against each other, but has not yet received a response.
Chyna's lawyer, Walter Mosley, released a statement to ABC News Thursday saying that "legal options" are being considered against Kardashian due to his actions. "We are considering all legal options and recourses at this time," Mosley said. Bustle has reached out to Kardashian for comment regarding her lawyer's statement, but did not receive a response at the time of publication.
UPDATE: Kardashian's lawyer told TMZ in a statement that Kardashian's actions were a "spontaneous reaction that he regrets" and that they will not be contesting the restraining order. "Rob's only concern is for the well-being of baby Dream," the statement finished.
EARLIER: Despite all of that, it sure looks like both Chyna and Kardashian are trying to live their lives as normally as possible. On Thursday, Chyna shared photos and videos of herself sporting rainbow hair and partaking in a "bombshell" photo shoot. She also shared snaps of herself in a car with a guy, who People reports is her stylist, Kellon Deryck. Deryck also shared a photo and video on Instagram of Chyna's "unicorn" hair and explained that it matches her Chanel bag.
Deryck even posted an Instagram of himself in what appears to be Chyna's bed wearing a white Versace robe, which seems to be his way of referencing the photo of the man in a black Versace robe Kardashian posted Wednesday and whom he also claimed Chyna was cheating on him with. Deryck captioned the video, "In the place to be #blacchyna #versace."
While Chyna was busy getting her hair done and doing photo shoots, Kardashian was on dad duty. He posted two videos of Dream, including one of her playing the piano. "That's right, Dream, that's right. My little piano player," he is heard saying in the snap. The second video showed Kardashian using a stuffed giraffe to make Dream laugh.
And with that, here are a few screenshots from their Snapchats showing just how drama-free (or so it appeared to be) Thursday was for them.
Here's Her Rainbow Hair
Here It Is Again
Now Onto The Latex
A "Rose Gold Type Of Day"
Here Is Sweet Dream
She really is adorable.
Who knows what else will happen between these two in the long run, but with "legal options" being explored on Chyna's side and Kardashian being part of a reality TV show, it's likely we haven't heard the end of their story.