Rory & Jess Are At The Emmys & Fans Are Begging For A 'Gilmore' Reunion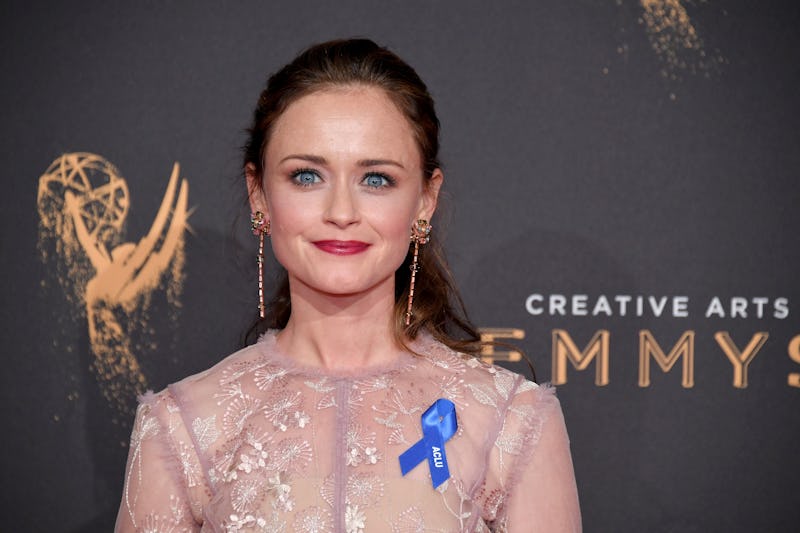 Neilson Barnard/Getty Images Entertainment/Getty Images
Awards shows are always good for bringing old co-stars together. Fans of Kate Winslet and Leo DiCaprio, for instance, have been rewarded for years thanks to red carpet events. This year, Gilmore Girls' Rory & Jess had an Emmy reunion — technically — since nominee Milo Ventimiglia and winner Alexis Bledel both attended Sunday's main event. And fans couldn't be more here for it.
Earlier in September, Bledel took home an early trophy at the Creative Arts Emmys, where she was nominated for Outstanding Guest Actress in a Drama Series. In her speech, she talked about how The Handmaid's Tale was working with Change.org "to encourage us all to take action, sign up, speak up, and stay awake" — something that her character and the storytelling encourages audiences to do as well. While her 2017 win is over and done with, Bledel is presenting at Sunday's ceremony and still gets to take place in all of the festivities.
Meanwhile, Ventimiglia is nominated this year for Outstanding Lead Actor in a Drama Series. He is up against Kevin Spacey, Matthew Rhys, Anthony Hopkins, Bob Odinkirk, and his costar/TV son Sterling K. Brown. His role on The Is Us may only occasionally remind you of Jess Mariano, and Ofglen is not much like Rory Gilmore either — but it's cool to see the two actors back together again. It's also cool to see how far they've come in their respective careers. For both of them to be nominated in the same year is amazing in itself.
As fans picked up on, Bledel and Ventimiglia both on the red carpet, but weren't really seen together. They weren't one another's dates in real life, obviously. Bledel arrived with her husband, Vincent Kartheiser from Mad Men, and Ventimiglia talked a lot about hugging and turning 40 in his E! interview.
Don't get your hopes up for another Gilmore Girls revival, either. As much as Jess' longing look in the Year In The Life final episode had fans wanting more, it doesn't seem like it's ever going to happen with all of the new projects that the cast has. You'll just have to live with the memories.
Still, Twitter went wild to see the two all dressed up, and were hopeful that they'd stage some kind of reunion. Here are some of the best reactions from Gilmore Girls fans online.
Keeping The Hope Alive
Dark photo choice, but I'm into it.
Pics Or It Didn't Happen
SERIOUSLY. What are we doing??
Hearts Exploded
Fans are forever shipping them.
Selfie, Please?
That does sound more like them — you have to admit it.
A Dream Team
They really had a great year.
Again, Photographic Evidence Is Needed
Just give the fans what they want.
Missed Opportunity
At least his two This Is Us "sons" got a shoutout during the convo.
What A Coincidence
What a time to be alive.
A Major Reunion
Fair point — Melissa McCarthy is also an early winner.
Freaking Out Ensued
Understandable.
One Final Plea For Photos
People need this to happen.
Could these two be the TV version of Kate and Leo? With shows as acclaimed as The Handmaid's Tale and This Is Us, it's highly possible that the stars will find themselves in the same room a lot going forward. If only Matt Czuchry had been at the Emmys this year as well. Then we would have had a real Team Jess and Team Logan (Dean who?) showdown.
The future of this fictional 'ship may have been left ambiguous, but a red carpet reunion every so often never hurts. Rory and Jess will live on forever, no matter what anyone says.